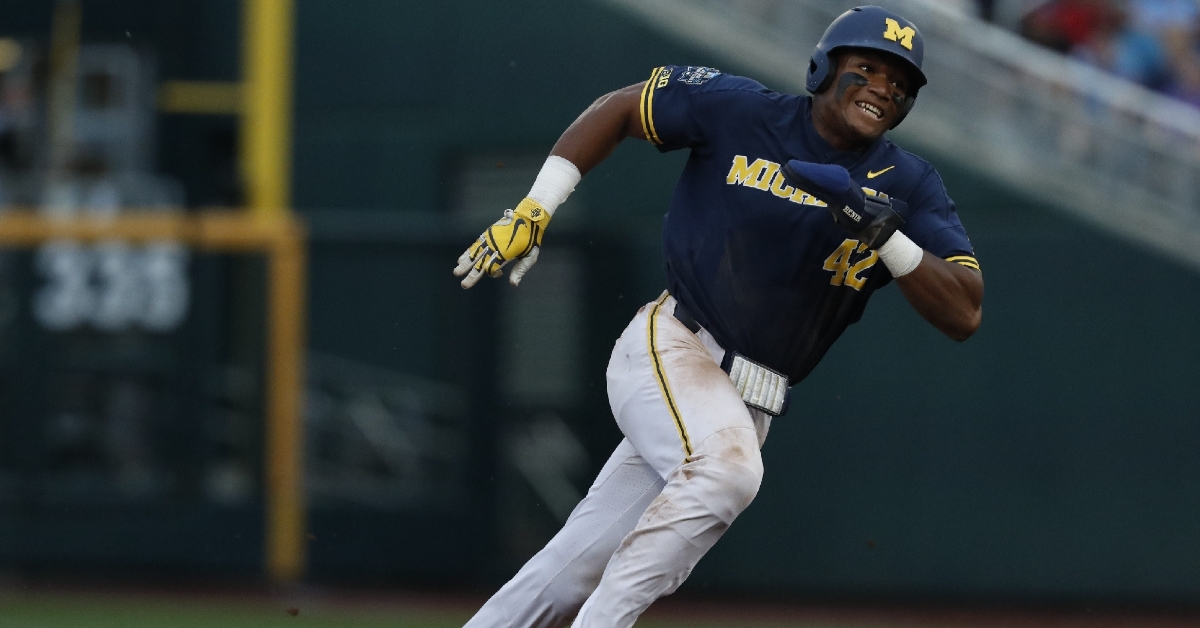 | | |
| --- | --- |
| Getting to know: Cubs Draft pick Jordan Nwogu | |
---
After going pitching in round two as many expected they would do in round one, the Cubs went back to a bat in round three, drafting the University of Michigan OF Jordan Nwogu. Taken with the 88th pick overall, Nwogu went well above his 108 ranking in terms of an overall prospect and allowed the Cubs to sneak in and take him from other teams.
Some may see this pick as a bit of a reach, but there is plenty to like about this selection. For starters, Nwogu will have no trouble being durable during an MLB season, as he has been regarded as one of the most physical players in the entire draft. Standing at 6-3 and 235 lbs, he is good size for an outfielder, and you can see why he is a physical specimen on the field.
During his sophomore season in college, Nwogu finished the season with a .321 batting average, and the Wolverines in runs scored with 58. Add in his 12 homers, 46 RBI's, and 16 stolen bases, and you can see the type of player he is on the diamond and someone that comes with high upside also. That sophomore season came on the heels of a freshman season in which he hit .349 with six homers and 21 driven in. Before 2020 was cut short, Nwogu was off to a blistering start hitting a 353 with two homers and four RBI's in 10 games.
Not only is he a top-notch player on the field, but he is a top-notch student in the classroom also who drew interest on the defensive side of the ball as a football player too. Hence where the physicality comes in. Ultimately, Nwogu chose to stick with baseball, and that has certainly worked out for him thus far. Nwogu has been the Wolverines' best offensive performer since 2019 and offers a ton of offensive upside, given his physical stature at the plate.
His large frame helps him generate impressive exit velocities, and he has shown the ability to crush fastballs all over the park. Nwogu does need to work on his swing a little bit as he has a very unorthodox swing, and the bottom half of his body tends to be out of sync. However, his impressive hand-eye coordination has made that swing work, and he has shown he can control the strike zone but needs to work on laying off some breaking pitches to reach his full potential.
From a size standpoint, Nwogu reminds me a lot of Jorge Soler, just not quite as tall. For his size, he brings with him good speed which allows him to run the bases not only well, but aggressively also. The downfall with his speed, however, is that it doesn't translate defensively as he tends to struggle tracking balls and doesn't get the best of jumps off the bat.
What Nwogu lacks in defensive ability, he certainly makes up for in pure arm strength as that has improved a ton in college, but still isn't where it needs to be. After playing in CF this spring and showing some defensive concerns, Nwogu will most likely be heading to left field in the Cubs system where they can hide his defensive issues as much as possible early on and let the bat do the talking.
I mentioned who I saw a little bit of in terms of size, but from an overall play standpoint, Nwogu reminds me a lot of Brian Jordan from the 1990s as someone who is physical and can bring a ton of power with him. He has big-time potential and will provide the type of power you would expect from a corner outfielder even if he is still raw with some of his game.
Another plus to his game, which is why I feel the Cubs elected to make the pick has to be his overall plus athletic ability. Nwogu was always a two-sport star heading into college, and ultimately, he decided baseball was the way to go. Not only does he give you that plus power, but as mentioned earlier, he offers excellent speed for his size, which is what makes him one of the most intriguing players in this year's draft. His bat will always be what gets him by, but he isn't afraid to take walks either and could be on the verge of an annual 20/20 type player.
Regardless of what the Cubs' future is for him long term, they have a solid outfield bat to place in their system for the time being and will get a chance to see how fast of a learner he is. If he continues to let his bat do the talking and improve his defense, then you're looking at a potential starter down the road on this roster.
Upgrade Your Account
Unlock premium boards and exclusive features (e.g. ad-free) by upgrading your account today.
Upgrade Now