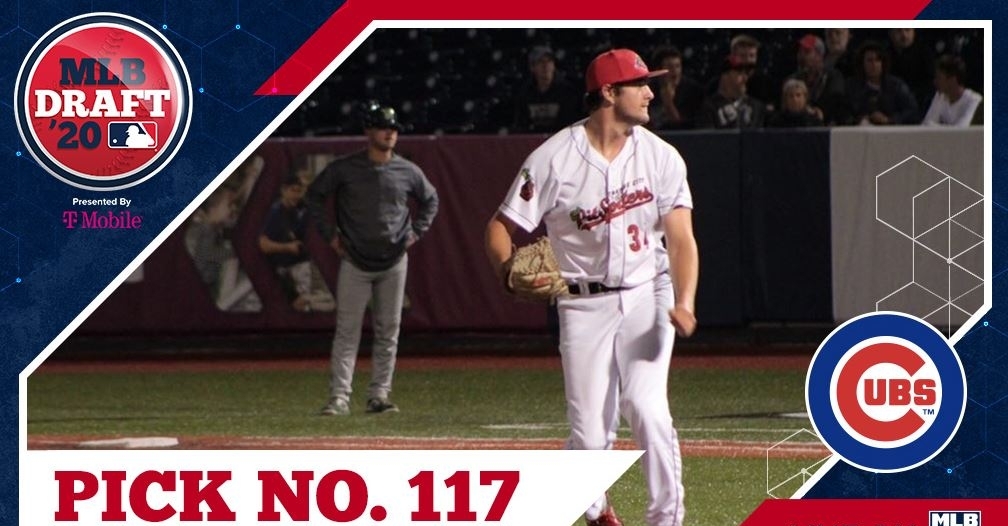 | | |
| --- | --- |
| Getting to know: Cubs Draft pick Luke Little | |
---
| | | |
| --- | --- | --- |
| Tuesday, June 16, 2020, 5:01 PM | | |
The Cubs added to their pitching depth in a big way as they selected JUCO standout Luke Little in the fourth round. One of my favorite prospects and quite possibly one of the most intriguing arms in the entire draft-eligible field, Little is everything, but little when he is standing on the mound staring you down.
Standing at 6-9, the San Jacinto product has the look of Randy Johnson on the mound with a delivery similar to Josh Hader and Andrew Miller. Those three names are intimidating enough, and then you add his stuff to the mix, which we will get to in a little while. Ranked as the 166th best overall prospect, Little was not only the second pitcher taken in this year's draft by the Cubs but the second lefty and also brings a lot of excitement to the Cubs and their fans.
In 17 appearances this season, including six starts, Little was impressive posting a 3-1 record, two saves, 2.04 ERA and 69 strikeouts all in just 35 1/3 innings of work. That comes out to a whopping 17.58 strikeouts per nine-inning average, which is excellent any way you look at it. He did, however, struggle with his command at times averaging over nine walks per nine innings, but there is a ton to like about his arm and what he brings to the table.
For starters, his imposing figure on the mound is going to make him an intimidating presence and most likely a tough out for both lefties and righties if he can harness his command a little bit more. Then next thing that every scout has taken notice of is his heater as Little can flat out throw gas from the mound.
Little is the type of lefty that every team dreams about having as he sits 97 mph plus and will often touch the 100-102 mph range without much effort. There is even video from an indoor workout last month that saw Little touch 105 mph making him the hardest thrower in this year's class so you can see why the Cubs jumped on him.
Cubs are hyped about their new draft pick, Luke Little ??

6'8"
Lefty
105mphpic.twitter.com/bx0Oci6LHO

— sportsthread (@sportsthread) June 12, 2020
With the addition of Little and Carraway from the second round, the Cubs now have three pitchers in the system who can touch triple digits along with Brailyn Marquez and all three throw from the left side.
The one thing that has scouts the most concerned right now is his control as that has been average at best and has held him back a little. Still with that fastball, and then adding in a slider, curveball mix to go with that heater, any sort of improved or consistent control could make this man a force in the late innings for the Cubs long term. Little also needs to work on a consistent delivery on the mound as he often had different deliveries throughout a game.
One of the things I am most concerned about at this point is his commitment to South Carolina this fall. While a fourth-round slot is going to come with some nice cash, the Cubs may have to pay a little bit extra to pry him away from the Gamecocks next season to stash him in their system somewhere.
Little hails from a JC that knows all about pitching, producing 18 major league arms, including the likes of Roger Clemens and Andy Petitte. As mentioned earlier, Little likes to sit around the 96-98 mph range consistently with his fastball but has the highest maximum velocity of anyone in this class when he can crank it up in short spurts (bullpen work).
Cubs take Luke Little, who reportedly hit 105 mph in a recent bullpen session. Kiley McDaniel fears he's just a big arm guy without command and secondaries.

But he's a 6'8" lefty that can throw over 100 mph. Get this guy in the pitching lab, maybe he becomes a thing. pic.twitter.com/0dM7hZlCdY

— Matt Clapp (@TheBlogfines) June 12, 2020
Despite dropping tons of weight this offseason and doing a great job of getting in better shape, scouts still don't like his arm action as a pitcher despite the ability to throw a more consistent release point off the mound pitch for pitch. He has shown the ability to start and pitch relief, but given what that video showed in terms of fastball velocity, the Cubs would be wise to use him out of the pen and get the full heat version of him instead of scaling him back as a starter.
Little was always viewed as one of the hardest throwers when he was announced to be eligible for this draft, but up until this past spring, his command issues were just as popular as his heater. Even with an impressive strikeout rate, Little still walks more than a batter per inning, which is going to be a problem in pro ball. He is a big man who has battled some injuries in the past, but after taking the time to get himself in the best shape of his life this past offseason, Little seems primed to break out as an elite bullpen arm with the potential to be a dominating closer.