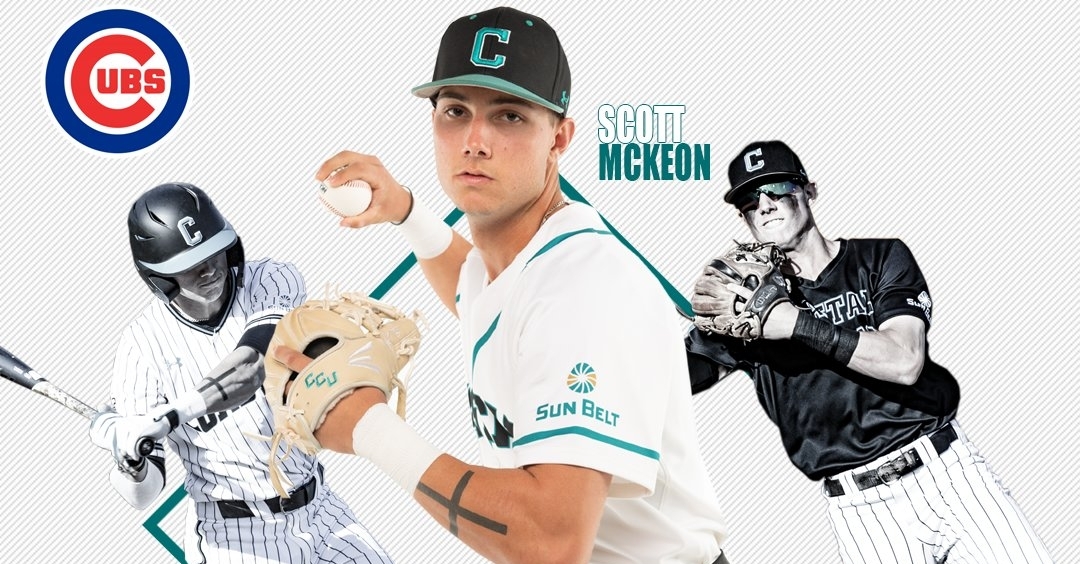 | | |
| --- | --- |
| Getting to know: INF Scott McKeon | |
---
| | | |
| --- | --- | --- |
| Friday, June 19, 2020, 9:10 AM | | |
For the first time in as long as I can remember, I was watching the undrafted free agent wire more than the actual MLB draft this season. That wasn't by choice considering the draft was shortened by 35 rounds this season, but there were so many good prospects out there that would have been drafted than now had to decide to come back to school or take the chance in the minor leagues.
With players only being able to sign for 20K or less, the decision for most of these players to elect to return to school was a no brainer. However, for a lot of the upperclassmen, returning to school wasn't as clear and dry as you would think, especially when you consider incoming freshman classes that could be taking up roster spots.
Another highly-regarded undrafted free agent was Scott McKeon (INF Coastal Carolina), as the Cubs were able to sign him to a minor league contract. Ranked 438 in the Baseball America top 500 prospects, McKeon was on the verge of a strong draft pick only to settle for the undrafted route. It is something the Cubs were happy he did as he ranked as the 10th best-undrafted player giving the Cubs of the top 10 in that category.
McKeon spent just two seasons with Coastal Carolina and played all over the infield with most of his defensive success coming at second base. During his time in college, McKeon ripped the cover off the baseball, hitting .344 for his career, including .359 in the brief season this year. The power is not there yet, but he does have a little bit in that bat as he connected for seven homers and 48 RBI's.
The thing I like most about him is his ability to use the gaps to his advantage as he connected for 19 doubles and five triples, showing that he can use the whole field to his advantage if given a chance. While not the fastest player on the field, McKeon does offer surprising speed as he reads pitchers very well, finishing a perfect 9-9 in stolen base attempts at the college level.
Previously drafted in the 21st round by the Detroit Tigers in 2019, McKeon chose to come back to college in hopes of improving that stock. While he would have most likely gone higher this year, the question is how much higher, which leads me to wonder why he wouldn't want to come back to school one more year.
McKeon is as durable as they come as he started all 16 games at shortstop this season, extending his streak to 79 consecutive games. That has allowed him to rank in the top 10 in tons of offensive categories in the Sun Belt as he proved to be a reliable bat and glove over the past season plus for Coastal Carolina.
Before attending Coastal Carolina, McKeon attended Brunswick CC, where he began to show Division capabilities as a player. As a sophomore, he was named third-team All-American playing in 49 games and hitting 339 collecting 71 hits that season with three homers, 15 doubles, two triples, 40 RBI's, 56 runs scored, and 15 stolen bases.
His freshman season was even better despite playing in just 22 games that season. Not only did he post two doubles, three triples, four steals, and 13 RBI's in limited action, but he was tough to get out leading his team with a .434 batting average that season. He also walked 14 times compared to just five strikeouts, as he has shown great patience and pitch recognition at the plate. Some of that discipline went away at the NCAA Division level, but there is no reason to believe he cannot learn to be patient once again.
I don't see McKeon as someone who is going to play every day for any organization. Instead, I look for what a lot of teams look for as a utility infielder who can give more than one position days off during the week. In terms of who I compare him to on the Cubs, I think he fits a lot of the David Bote mode as someone who can play three infield spots. As far as an MLB comparison goes, he reminds me of Jordy Mercer.
Scouts see McKeon as a solid defender in the middle infield, especially the SS position, and think he could stick there for his primary position with less bouncing around. They do question whether his offensive approach will have the ability to translate and stick at the pro game, but that question will be answered soon enough once he gets on the field.
Scott McKeon got his first career hit against Maryland this weekend pic.twitter.com/2oXs0iM0zy

— Coastal Baseball (@CoastalBaseball) February 18, 2019