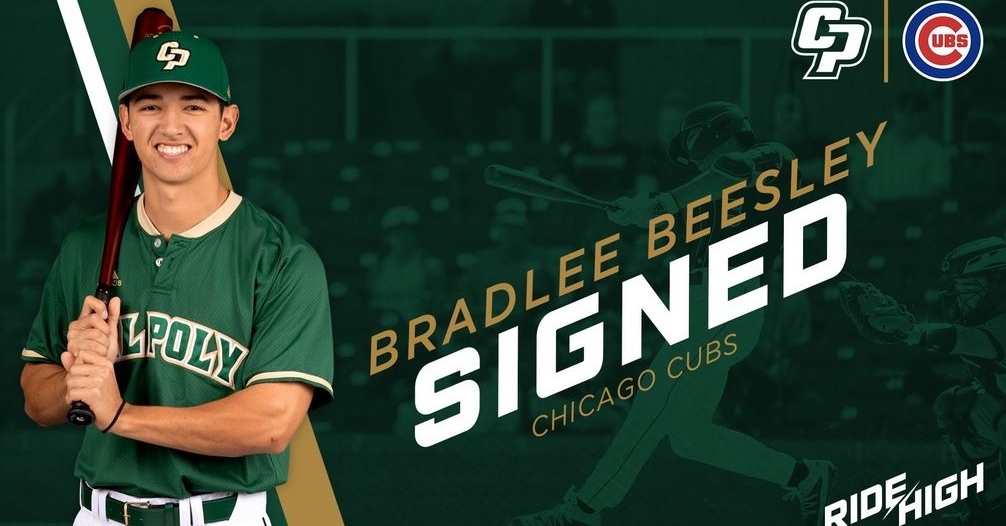 | | |
| --- | --- |
| Getting to know: OF Bradlee Beesly | |
---
With just five rounds in the MLB draft this season, lots of players were going to be left unsigned with a big decision to make regarding their future. Not only would a lot of players be left behind, but a lot of good prospects who are going to have to decide to sign for 20K or return to school.
While there is no limit or timeframe as to when these players must sign with an organization, the Cubs certainly did their homework during the early stages of the Undrafted free agent process as they were one of the busiest teams once the signing period began last Sunday. To date, the Cubs have added nine undrafted players to their roster and possibly ten depending on the report of a high school arm from Puerto Rico.
One of the undrafted picks could be the biggest steal in the group as the Cubs signed OF Bradlee Beesly from Cal-Poly after his name wasn't called. Beesley is a name that a lot of scouts have grown to love as he ranked No. 429 on Baseball America's top 500 prospects ranking him near a 15-18 round talent. Not to mention he entered the undrafted signing period as the sixth-best undrafted prospect, and you can see the reason why the Cubs pounced on the chance to bring him to the Cubs organization.
Beesley is not a big player by any means, as he stands just 5-10 and weighs 180 pounds. Beesley would have been drafted had the draft been the normal amount of time, but he had a lot more hype early on during his college career than he does now. Throughout four collegiate seasons, Beesley played in 180 games and put together a 286-career average with four homers, 91 RBI's, and 21 steals. His 65 walks and 103 strikeouts shows he is all about contact and does not have a ton of power in his game just yet.
While a .286 average isn't terrible, he started his college career by hitting .305, which was the best he hit for Cal-Poly. He followed that season up with a .277 average and a career-high three homers. He posted a .283 average as a junior with a career-high 35 RBI's that season.
Coming off another strong summer season in 2019, Beesley got off to a concerning start in 2020 as his averaged dipped to a career-low .262 before the season was shut down. At that time, Beesley had zero homers and nine RBI's while drawing seven walks and 12 punchouts. Yes, there was plenty of time for him to turn things around, but considering the trend we have seen since he started college, it shouldn't come as a surprise to see him struggling a little bit after having a solid year the season before.
Looking at the college stats and you would feel a little underwhelmed by this pick. However, what made Beesley stand out for the Cubs was his play with wood bats in the Cape Cod League as the Cubs generally like to take players with wooden bat experience.
Given that his size pegs him as one of the smaller players in this draft, Beesley is going to be a high contact outfielder with a similar body type to Tony Campana and will bring you some speed to the table also. He may never be a starter at this league. Still, if he can make consistent contact and use the speed he has to his advantage, your going to have an excellent utility outfielder in the mold of Chris Coughlan who can play anywhere in the outfield.
Beesley knows what he does well, which is make contact, and he uses that to his advantage by spraying the ball around all over the field. Since he lacks power, I would like to see him walk a little bit more, but he has a lot of former Cub Ryan Theriot in his game where he knows he is undersized, but gets the bat on the ball to make contact.
Not only has he thrived with putting the bat on the ball, Beesley is a plus runner, which allows him to stick in CF more often than not, but he has moved around. His defense is average and won't jump out at you, and the same can be said about his arm. However, the one thing he has going for him defensively is that he has all the instincts and tools you look for in a young player to get comfortable at any of the three OF spots.
Given the amount of experience he has as opposed to other drafted or undrafted players, Beesley could move a little bit faster through the system, given his familiarity with wooden bats and high contact rate. It all comes down to where he fits with this team to see how far and how quickly the Cubs will push him through their minor league system.