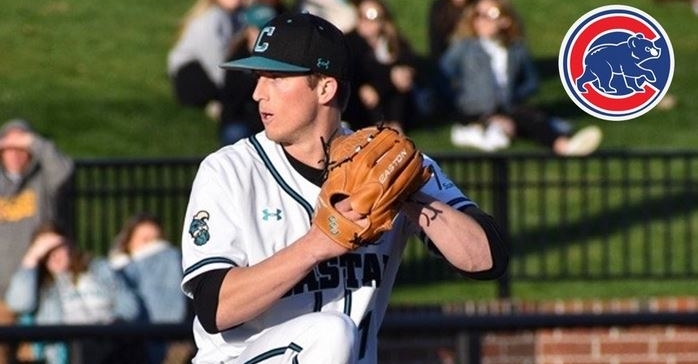 | | |
| --- | --- |
| Getting to know: P Scott Kobos | |
---
| | | |
| --- | --- | --- |
| Tuesday, June 23, 2020, 8:07 AM | | |
Immediately after taking Scott McKeon from Coastal Carolina, the Cubs remained active in the undrafted free agent market taking McKeon's collegiate teammate in left-handed starter Scott Kobos. Much like his teammate McKeon, Kobos didn't start his career at Coastal Carolina and didn't even start his career as a pitcher either.
Upon attending UNC Ashville out of high School, Kobos was primarily an outfielder who showed great potential with the bat. During his freshman season he played in 46 games, 37 which were starts where he hit just a 254 that season with 10 doubles, one homer and 17 RBI's. He totaled just 36 hits that season at the plate which led to the question of whether he can stick at being a position player long term.
That question was shortly answered in 2017 when the Cleveland Indians drafted him in the 38th round before Kobos opted not to sign and headed off to St. Johns River State College. It was there when Kobos became a two-way player and put his full potential as a pitcher on display. Not only did he see his plate production dramatically increase to the tune of a 305 average and three home runs, but it was also what he did on the mound that had scouts talking.
Kobos saw action in 13 games on the mound that season posting a 6-3 record in the process to go with a solid 3.01 ERA. What also stood out was his 68 strikeouts in 71 innings as he averaged nearly one strikeout per inning pitched. Not bad for someone who didn't pitch at all his first year of college. Following his year at the Junior College ranks, Kobos was headed back to D1 committing to Coastal Carolina before a medical redshirt saw him make just two starts in 2018.
Looking to breakthrough in 2019, Kobos was no longer a two-way player and focused primarily on the mound that season. Coming off his redshirt season, Kobos battled through some minor injuries once again, but still managed to start five games and see action in 14 total games. His 2-2 record with a 6.04 ERA was not that appealing, but his one strikeout per inning pitch was still a positive sign in terms of his overall development.
Fully healthy this season, Kobos was hoping to bust out this year, but with COVID 19 ending things before they could get rolling, once again Kobos was held to just five games on the mound making four starts. Looking at his numbers this season, and once again they were not that impressive as he posted a 1-3 mark with a 5.59 ERA but continued his one strikeout per innings pitched average.
From a stats side of things, this is a very surprising pickup for the Cubs because he simply didn't do anything to help his case in college. However, as we have seen in the past when it comes to the pitchers, they Cubs show interest in he must have something special they like and hope to groom him in their pitching lab.
At 6-2 200 pounds, Kobos is a decent size for a lefty, but as mentioned earlier his stats are very underwhelming and there isn't much out there on him in terms of film. Obviously, the Cubs saw something in him they like so hopefully he can prove a lot of us wrong that don't but into this pickup.
From a velocity standpoint, Kobos is certainly not going to blow you away as he sits generally in the 87-88 range but has touched 90 on rare occasions. Also, along with a slower than an ideal heater, Kobos doesn't offer much of a breaking ball as his slider is his best secondary pitch, but even that needs some work to become a reliable offering. Kobos is another pitcher to recently go through Tommy John surgery, but unlike those in the past, he hasn't seemed to recover as well as most in terms of success.
This is certainly not a signing that you would expect to see in Wrigley for at least the foreseeable future. This is also not the typical signing Theo would make if he were looking to add to the starting rotation. Instead, Kobos is going to be an arm the Cubs play with over the next few years to see where he is going to fit with this team.
Obviously, he is going to be coming out of the bullpen, but what will his role be. Will he be an inning eater that comes into blow out games to just eat innings? Will he be a swingman that can start doubleheader days and fill any role that is asked of him in relief. For me at this point, Kobos is going to be molded into a matchup lefty that is going to focus on getting lefties out. That way his workload can be monitored, and they don't overwork him during the development process.