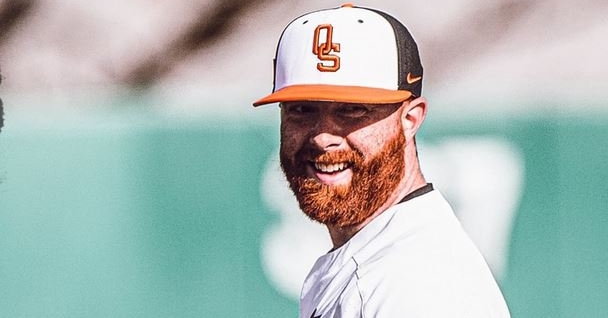 | | |
| --- | --- |
| Getting to know: RHP Ben Leeper | |
---
| | | |
| --- | --- | --- |
| Thursday, June 25, 2020, 6:01 PM | | |
If you want to look at under the radar undrafted free agent signings, the Cubs would be a good team to look at as they made a killing this year. One of those names happens to be Oklahoma St. righty Ben Leeper as he will bring his full-grown red beard to the Cubs organization looking to make things happen in the future.
Take away his poor performance in 17 games during the 2018 season in which his ERA was over 12.00 bringing his career ERA to 7.25 across four seasons, and you will see a pitcher who knew what he was doing on the mound and wasn't afraid of change. Entering Oklahoma State as a starter, Leeper quickly saw that chance diminish as injury following his freshman season forced him to miss all of 2017 before that horrendous 2018 bumped him from the rotation permanently and landed him in the pen.
Hoping to rediscover some of his magic of the past, Leeper did take some bumps along the way but has shown significant improvement ever since. Pitching out of the pen full time for the first time in 2019, Leeper saw action in 29 games throwing just over 31 innings during that season. His 4-4 record doesn't come as a surprise, but his 4.31 ERA was a bit high but got better as the season went on. The command is where he needs to get better as he struck out 43 men in 31 innings but also walked 23 in the process.
His improvement that season continued into summer ball, where he pitched to the tune of a 3.60 ERA in 10 games despite walking eight men and striking out 12 in just ten innings. This spring was when it appeared that Leeper was back to his old self, and judging by the way he pitched on the mound, I'm sure the Cubs, as well as other teams, saw that too.
Even though this season was cut short less than a month after it began, Leeper was a busy man out of the Cowboys pen to start the season as he tossed seven innings of work in six games over the first two weeks of the year. Leeper picked up a victory in relief already, but it was his 2.45 ERA that stands out the most to me this year as he was throwing the best he has thrown since his freshman season. While his command was still not excellent as he had 14K/6BB, he was striking out an average of two hitters per inning this season, which is nearly double from what he previously did.
@OSUBaseball thank you for all the memories. @Cubs Time to get to work #FlytheW pic.twitter.com/ZrJVsYt7OE

— Ben Leeper (@Ben_Leeper5) June 14, 2020
Leeper was regarded as one of the prospects to come out of Texas, posting a 20-5 mark with a 1.15 ERA throughout his high school career. A big reason for those numbers came from his dominating junior season in which he went 11-1 with a 0.90 ERA and 106 punchouts that season. Now two years removed from his injury, Leeper appears to be healthy once again, but the question now is, what are his long-term options as a pitcher?
Leeper ideally would love to be a starter, but I believe the Bullpen is in his long-term future, especially when you consider he led Oklahoma St in saves with seven in 2019. It was in that same season in which he did not allow a run over his first 15 innings, showing that he can be elite when you need him to be. I believe Leeper will be a multi-year project to figure out his true role on this team. However, he is another pitcher that has seemed to find a home in the pen, which is something the Cubs do need.
RHP ANGEL GONZALEZ: While this signing is not official yet, it appears the Cubs have agreed to terms with 17-year old Puerto Rican righty Angel Gonzalez.
While there is not much information on this kid yet, what we do know is that he is a lengthy righty at 6-1 168 lbs. but has been seen getting his heater up to 94 MPH already. While he mostly works in the high 80's attacking hitters with that heater, seeing that he has already been clocked at 94 at his age, and you can see why the Cubs have interest in him thus far. If he can continue to build strength and add some more weight, you can expect that velocity will go up also.
As I mentioned, this is a reported deal, and nothing is official yet because this signing is not mentioned anywhere on the Cubs undrafted free agent lists. However, he is worth noting that if this deal pans out, you have another young arm that you could mold into something great.