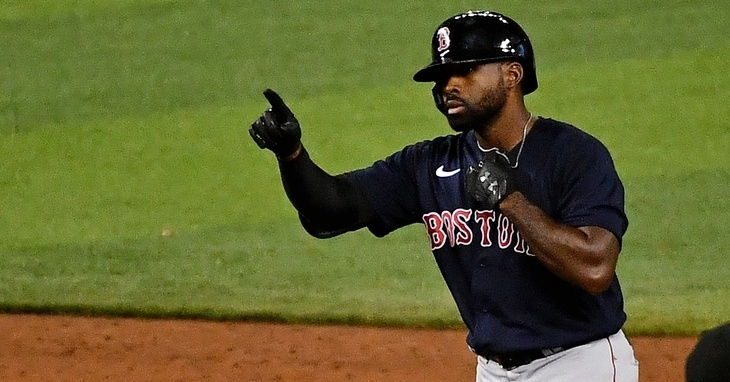 | | |
| --- | --- |
| Jackie Bradley Jr. could be a solid option for Cubs | |
---
I am not sure if many Cubs fans remember this, but the Cubs and Red Sox have discussed multiple trades across the past few seasons. Last offseason and even earlier this offseason, we heard Kris Bryant's name pop up with the Red Sox. That appears to have been just a smokescreen, but having the Cubs players mentioned with Red Sox players is something that has been going on for years.
2018 was the closest the two sides ever came to making a deal, and oddly enough, it revolved around Kyle Schwarber. The 2016 World Series MVP was coming off a terrible 2017, and this was before he improved as a left fielder. Many teams viewed him as a full-time DH at that point, so it didn't come as a surprise to see AL teams call the Cubs about him.
The Red Sox were one of those teams, and the player mentioned in exchange for Schwarber was Jackie Bradley Jr. At that time, the Cubs were looking for an everyday centerfielder and a potential player to bat leadoff. Bradley Jr. offered both of those options, so you can see why the Cubs had an interest. Those reported talks never materialized into anything more, but the Cubs have always been rumored to be in on Bradley.
Could this be the year the Cubs make a run at him? With him electing to go the free-agent market instead of re-signing with Boston, the Cubs would be able to make a run at him this offseason. Sure, it would cost them more money than had they flat out traded for him, but they can also get him now without having to give someone up in the process. That seems like a win-win for the Cubs at this point.
Free agent Jackie Bradley Jr. is drawing interest from the Phillies, Cubs, and Blue Jays, among other teams, as I mentioned this morning on @MLBNetwork. Bradley, 30, is coming off a season in which he posted a 118 OPS+, his best since 2016. @MLB

— Jon Morosi (@jonmorosi) December 15, 2020
Bradley Jr. was the final draft pick that Theo Epstein made as a member of the Red Sox before joining the Cubs. Viewed as a top 100 prospect for a couple of seasons, it only took him two years to reach the majors before taking on a full-time role in 2014. However, even with playing every day, Bradley Jr. took a little while to get into a groove as things didn't go smoothly his first three seasons.
After hitting just 189 in 37 games as a rookie in 2013, the Red Sox were expecting big things from him in his first full season in 2014. Despite playing in 127 games that year, Bradley Jr struggled to do much of anything. He hit just a 198 that season with one homer and 30 RBIs. He did manage to go 8-8 in stolen bases and started his career 11-11, but his production was far from the elite status he earned.
2015 saw Bradley bounce back a little bit but only saw him play in just 74 games. Not only did his average soar up to .247, but the power came with it hitting 10 homers and 43 RBIs. This season appeared to be the beginning for Bradley as he started to look more like the prospect the Red Sox envisioned.
Throughout the next five seasons, Bradley Jr. was a pure model of inconsistency, having his best season as a player in 2016. In that season, he hit .267 with a career-high 26 homers and 87 RBIs, showing Boston the type of player he could be. Over the next three seasons, Bradley Jr. saw his average drop from .267 to .245 to .234 to .225. The power also went down significantly from 26 homers down to seasons of 17 and 13. He did respond with 21 homers in 2019, but the .225 average left much to be desired for once again.
This season, Bradley Jr. was off to what could have been his best overall season as a pro. Granted, the Red Sox underachieved this season, Bradley Jr. certainly did not. In 55 games, Bradley posted a career-best .283 average with a career-high .364 OBP. His seven homers and 22 RBIs put him on pace for a 20 homer 75 RBI season, much better numbers than he typically brought. The thing that stood out the most was his plate discipline.
Known for striking out 150 plus times with fewer than 50 walks, Bradley took 23 free passes this season instead of 48 strikeouts. Not saying he would have kept that pace up all season, but if he had, Bradley would have approached 70 walks, and his strikeouts would have been close to his average. Shortened season or not, Bradley had a great year.
The now 30-year-old free agent will have an interesting market this offseason, and there is no idea what he is asking. From a talent standpoint, he has all the tools to be a solid addition to any team. A left-handed-hitting bat that has shown signs of power, but his glove typically does the talking. Bradley has been known for his gold glove caliber defense, something the Cubs could use in the outfield.
Bradley Jr. may have never panned out as the Red Sox, or anyone thought he would, but now a free agent, teams will be getting him for a fraction of what he once was worth. The Cubs have reportedly shown interest in him previously. Maybe they do again for a cheap one year prove it deal to plug an outfield hole.