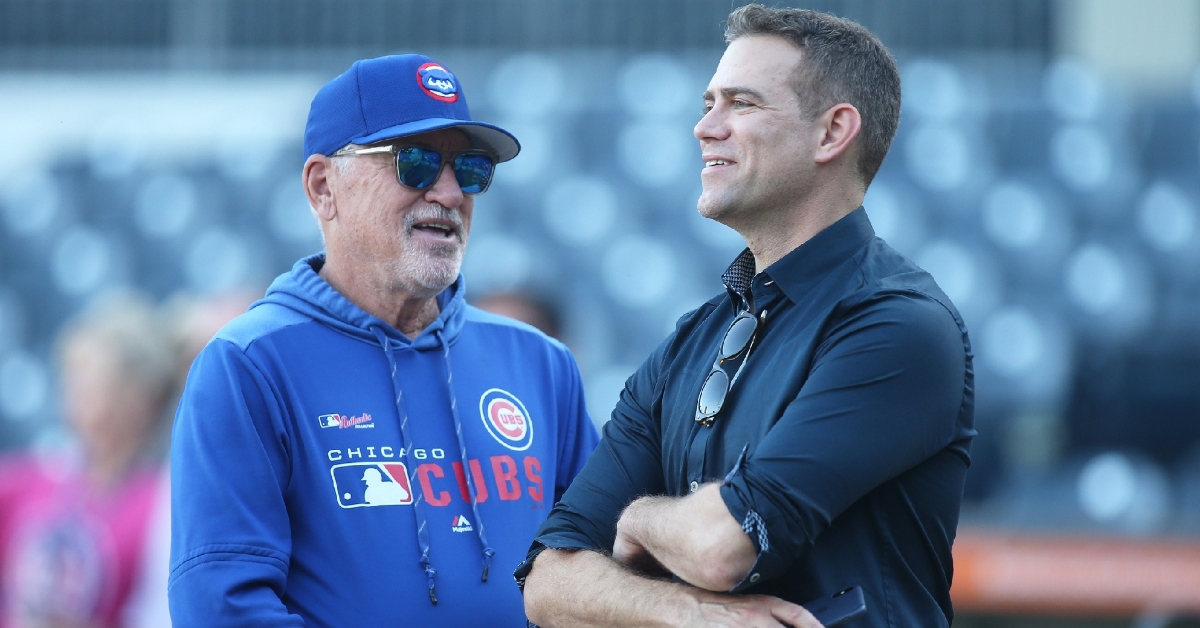 | | |
| --- | --- |
| Joe Maddon and Theo Epstein feud (or lack thereof) | |
---
| | | |
| --- | --- | --- |
| Saturday, March 7, 2020, 12:02 PM | | |
A lot was made about Joe Maddon's revenge game against his former team last week when the Angels took on the Cubs on a national ESPN broadcast.
While most of the stories and pictures were taken on that day consisted of a peaceful return filled with hugs, smiles, and laughter as most of the 2016 World Series core celebrated and reminisced with the man who took them there.
The narrative out of each clubhouse was that it was time to part ways, but that doesn't take away from the incredible accomplishments that this group achieved. But it is also impossible to ignore or recognize the fact that Joe Maddon and Theo Epstein have been disagreeing through the media over the last couple of weeks.
Before the Cubs moved on from Maddon and hired the favorite for the job in David Ross, who had been being groomed by the front office for the job since his storybook retirement in 2016, they met the media in St. Louis as the season was concluding and addressed the lame-duck manager and his status for the future — as they called it — a mutual split.
As Epstein, Jed Hoyer, and Maddon met the media, the messages coming out of the mouths of the Cubs brass were those of appreciation when those same mouths weren't sipping wine. The group had decided that it was time to part ways and that it was not because of philosophical differences that many believed that the groups had.
But as Maddon returned home to the West Coast and joined the Los Angelos Angels and Ross settled into Maddon's old office on the Northside, the silence between both sides was broken once teams started reporting to Arizona for Spring Training.
Two-time all-star Javier Baez, who Maddon always let play the way he plays, made remarks that he appreciates the new structure under manager David Ross, and cited feeling unprepared for various games last year as he slipped into a bad routine because nothing was mandatory.
Kris Bryant responded to David Ross' initial speech at the first full-squad workout by saying that he wanted to run through a wall.
Were these remarks shots at Joe Maddon and the loose way he ran a ball club?
While last week's game made it seem like there were no hard feelings between either side — the responses to various vague statements ignited a response from Epstein as many people have noticed a "feud" form.
Joe Maddon told Forbes, "There was just, you can say, philosophical differences," which contradicted what was said in that press conference in St. Louis.
Maddon also mentioned not noticing the lack of preparedness in Javier Baez, before commenting on the way Epstein and Co. tried to change everything that was working.
"Philosophically, Theo needed to do what he needed to do separately," Maddon told ESPN. "At some point, I began to interfere with his train of thought a little bit. And it's not that I'm hard-headed. I'm inclusive. But when I started there – (20) 15, 16, 17 – it was pretty much my methods. And then all of a sudden, after '18 going into '19, they wanted to change everything."
Which is an interesting claim from Maddon since if your recall 2015-2017, the Cubs ended up in the NLCS or better, and in 2018-2019, the team collapsed down the stretch.
After initially declining to comment about some of Maddon's statements, Epstein eventually caved and spoke up.
"(Maddon's version) would conflict with some of the things that he and his agent were saying and doing toward the end of the season,'' Epstein told reporters. "It doesn't mean it's not true. And if that's how he feels, especially with the benefit of hindsight, I'm not going to dispute it. But it doesn't really reflect the conversations we were having up until the very, very end – the last day or two – when we talked about (parting ways) being best for everybody.''
Epstein also said: "I think his approach was more that things would work themselves out, these are great players, let them play, these things will work out… But from my perspective, there was a little bit more cause for concern.''
That cause for concern was likely what ended up terminating the relationship. But, of course, leave it to Joe Maddon to smooth things over with his easy-going personality.
"But he and I are still good friends. And I like the man a lot. It was just time for him to get someone else and time for me to work somewhere else. That's all," Maddon said. "A five-year shelf life in Chicago is almost equivalent to five to 10 somewhere else. At the end of the day, man, there's nothing to lament there. That was the five most successful years the Cubs ever had."
That is what is most important to remember. The Cubs had their most successful years with Maddon at the helm, and it was simply time for a change for each side.