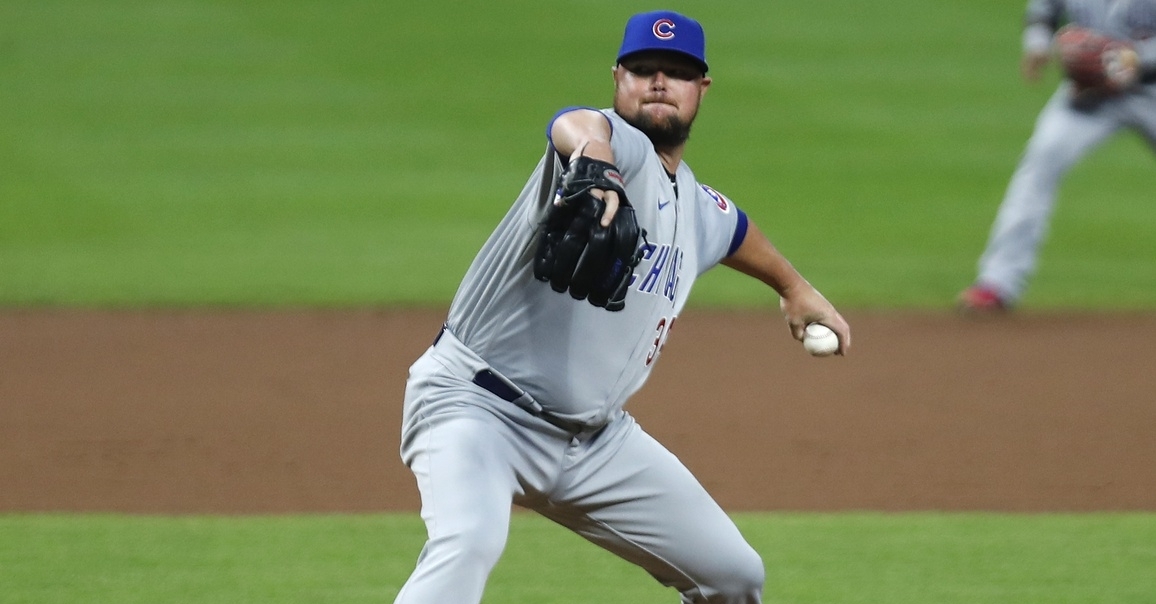 | | |
| --- | --- |
| Jon Lester pitches five innings of no-hit ball as Cubs stave off Reds | |
---
| | | |
| --- | --- | --- |
| Tuesday, July 28, 2020, 12:21 AM | | |
CINCINNATI — Jumping out to a 4-0 lead in the top of the first at Great American Ball Park, the Chicago Cubs (3-1) won their first road game of the season on Monday night. The Cincinnati Reds (1-3) were on the losing end of the 8-7 National League Central clash, which was delayed an hour and 47 minutes due to rain.
Jon Lester pitched five scoreless innings of no-hit ball for the Cubs, but, due to a pitch count, he was pulled without having a chance to pursue a no-hitter. Reds starter Wade Miley, on the other hand, was dreadful in his 1 2/3 innings pitched, giving up six runs, five of which were earned. Speaking of shoddy pitching, a grand total of eight batters were hit in Monday's game, and all of the HBPs were clearly unintentional.
In a contest that did not feature much quality pitching outside of Lester's performance, the Cubs took a 6-0 lead in the top of the second and led 8-1 at the seventh-inning stretch. The Reds did no go away quietly, however, but came up just short after challenging the Cubs' bullpen.
Jon Lester of the @Cubs threw 5.0 no-hit innings tonight before being removed from the game.

The last pitcher 35 or older to start and not allow a hit in his season debut? Nolan Ryan in 1990.#WhereStoriesPlay

— Stats By STATS (@StatsBySTATS) July 28, 2020
Righties were all over Wade Miley

?? 4 hits
?? 5 RBI

The Reds starter lasted only 1.2 IP. pic.twitter.com/vs4a1ENjGO

— Marquee Sports Network (@WatchMarquee) July 28, 2020
---
Inning-by-Inning Breakdown:
---
T1: All four runs scored in the top of the first came with two outs. Following a lengthy rain delay, the first inning did not go Miley's way. Willson Contreras put the Cubs on the board with an RBI double, and Steven Souza Jr. followed that with a two-run double in his first regular season at-bat with the Cubs. Souza missed all of last season with an injury before signing with the Cubs in the offseason. David Bote plated Souza with an RBI single.
Score: Cubs 4, Reds 0
Another XBH for Willy! pic.twitter.com/bvvVsx8Mzv

— Chicago Cubs (@Cubs) July 28, 2020
First regular season at-bat since 2018, @SouzaJr rips an RBI double ?? pic.twitter.com/vKtYIYJF5q

— Marquee Sports Network (@WatchMarquee) July 28, 2020
---
B1: Lester issued a two-out walk but forced former Cub Nicholas Castellanos into grounding out to end the inning.
Score: Cubs 4, Reds 0
---
T2: Kris Bryant walked with one out, and Anthony Rizzo was then hit by a pitch for the third time in the young season. Javier Baez scored Bryant and moved Rizzo to third with a double to left, and a passed ball enabled Rizzo to touch home. Later in the inning, Miley beaned Contreras and was subsequently removed.
Score: Cubs 6, Reds 0
---
B2: Needing just 10 pitches to record three outs, Lester breezed through the second frame.
Score: Cubs 6, Reds 0
---
T3: Tejay Antone, who replaced Miley on the bump, pitched 4 1/3 innings out of the bullpen, including a scoreless third.
Score: Cubs 6, Reds 0
---
B3: Lester committed the first error of the Cubs' season when he failed to corral a slow roller hit onto the infield grass. He made up for it by drawing an inning-ending popup soon afterward.
Score: Cubs 6, Reds 0
---
T4: Baez hit a scorcher that Reds shortstop Freddy Galvis was able to field. However, Galvis airmailed his throw to first base, and the error allowed Baez to reach second base. Baez was left stranded, though, as the score remained 6-0.
Score: Cubs 6, Reds 0
---
B4: Bote committed a fielding error on a grounder hit by the leadoff man in the bottom of the fourth, but Lester proceeded to record three straight outs.
Score: Cubs 6, Reds 0
---
T5: Antone continued to stop the bleeding caused by Miley's woeful outing. The Cubs were sat down in order.
Score: Cubs 6, Reds 0
---
B5: Upon hitting a batter with two outs, Lester was paid a visit on the mound by skipper David Ross, Lester's former catcher. Ross presumably opted to give Lester one more batter, resulting in a flyout. Having thrown 76 pitches in his first start of the season, Lester was taken out between innings.
Score: Cubs 6, Reds 0
---
T6: Going yard for the third time in 2020, Rizzo jacked a 364-footer out to right field off Antone. The dinger occurred with two outs.
Score: Cubs 7, Reds 0
Great American Small Park pic.twitter.com/jlQmt8OSbh

— Marquee Sports Network (@WatchMarquee) July 28, 2020
---
B6: Reliever Dan Winkler made his regular season debut with the Cubs and walked the first two batters before fanning Castellanos. Rowan Wick replaced Winkler on the hill and gave up an RBI base knock to Jesse Winker. Wick was able to get out of the inning without allowing any additional runs to score.
Score: Cubs 7, Reds 1
---
T7: Bote came through with two outs again, doubling to deep center field and plating Contreras, who singled earlier in the inning. Brooks Raley pitched the seventh for the Reds.
Score: Cubs 8, Reds 1
---
B7: Duane Underwood Jr. was taken deep by Tyler Stephenson in Stephenson's first-ever big-league at-bat. The solo jack traveled 415 feet out beyond center field. With two outs and runners on first and second, Ryan Tepera relieved Underwood. Castellanos, who was traded to the Cubs at last year's trade deadline and signed with the Reds in the offseason, came through with an RBI base knock off Tepera.
Score: Cubs 8, Reds 3
---
T8: Hit for the fourth time in four games, Rizzo absorbed a pitch to lead off the eighth. Raley gathered himself and worked a scoreless inning.
Score: Cubs 8, Reds 3
---
B8: Tepera remained in the game and struck out the first two batters he faced in the eighth. He was later replaced by James Norwood with two outs and two on base. Norwood allowed the baserunners to advance via a wild pitch soon after entering and then gave up a two-run single to Joey Votto. Souza dove in an attempt at catching Votto's blooper hit to right field but came up short. Due to the three-batter minimum rule, Norwood was forced to remain in the game. Much to the Cubs' relief, Norwood was bailed out by an inning-ending fielder's choice.
Score: Cubs 8, Reds 5
---
T9: The North Siders went three up, three down in the ninth, leading to the first save opportunity of the season for Cubs closer Craig Kimbrel.
Score: Cubs 8, Reds 5
---
B9: Kimbrel walked Castellanos to start the bottom of the ninth. A wild pitch resulted in Castellanos taking second. He then took third on a groundout. Next, Kimbrel walked Josh VanMeter, with the Cubs arguing that VanMeter went around on ball four. VanMeter proceeded to steal second. The Cubs challenged that Baez tagged out VanMeter, but the call was upheld, leading to Kimbrel walking the third batter of the inning to load the bases with one out. The high-paid closer imploded at that point, hitting a batter to force in a run and walking a batter to force in another. Jeremy Jeffress was brought out of the bullpen at that point, and he enticed Phillip Ervin to swing and miss at a pitch that was up and in on a full count. Jeffress then nearly hit Votto with a pitch that the veteran Red dodged out of instinct. Jeffress survived, though, forcing Votto to hit a game-ending lineout that prevented an epic Cubs collapse.
Final Score: Cubs 8, Reds 7
They all count the same. pic.twitter.com/YvLvpKf9Zg

— Marquee Sports Network (@WatchMarquee) July 28, 2020
---
Statistical Breakdown:
Chicago Cubs: Batting: 4 2B, 1 HR, 7 RBI, 6 2-Out RBI, 5-12 RISP, 9 LOB; Fielding: 2 E; Pitching: 6 H, 7 R, 7 ER, 9 BB, 7 K, 1 HR, 3 HBP, 0 IBB, 2 WP
Cincinnati Reds: Batting: 1 HR, 7 RBI, 3 2-Out RBI, 3-10 RISP, 13 LOB; Baserunning: 1 SB; Fielding: 1 E, 1 PB; Pitching: 8 H, 8 R, 7 ER, 3 BB, 13 K, 1 HR, 5 HBP, 0 IBB, 0 WP
---
Studs of the Game:
Chicago Cubs: Jon Lester (SP): 5.0 IP, 0 H, 0 R, 0 ER, 1 BB, 1 K, 0 HR, 1 HBP, 0 IBB, 0 WP; Anthony Rizzo (1B): 1-2, 3 R, 1 RBI, 1 BB, 0 K, 1 HR, 1 2-Out RBI, 2 HBP
Cincinnati Reds: Tyler Stephenson (C): 2-2, 2 R, 1 RBI, 1 BB, 0 K, 1 HR
---
Duds of the Game:
Chicago Cubs: bullpen: 4.0 IP, 6 H, 7 R, 7 ER, 8 BB, 6 K, 1 HR, 2 HBP, 0 IBB, 2 WP
Cincinnati Reds: Wade Miley (SP): 1.2 IP, 4 H, 6 R, 5 ER, 2 BB, 3 K, 0 HR, 2 HBP, 0 IBB, 0 WP
---
Up Next: Barring another pregame rain delay, game two of the series will begin at 5:40 p.m. CDT on Tuesday, July 28. A battle of replacement pitchers will take place at Great American Ball Park, as the Cubs' Alec Mills (0-0, 0.00) is set to square off against Tyler Mahle (0-0, 0.00). Mills is filling for the injured Jose Quintana, and Mahle is pitching in place of the injured Anthony DeSclafani.
---
Box Score:
Chicago Cubs at Cincinnati Reds
Jul 27, 2020
1
2
3
4
5
6
7
8
9
R
H
E
Chicago (3-1)
4
2
0
0
0
1
1
0
0
8
8
2
Cincinnati (1-3)
0
0
0
0
0
1
2
2
2
7
6
1
W: Jon Lester (1-0) L: Wade Miley (0-1) S: Jeremy Jeffress (1)
---
Highlights:

Tags: Chicago Sports Baseball
,
Jon Lester
,
Willson Contreras
,
David Bote
,
Kris Bryant
,
Anthony Rizzo
,
Javy Baez
,
David Ross
,
Rowan Wick
,
Duane Underwood
,
Ryan Tepera
,
James Norwood
,
Craig Kimbrel
,
Jeremy Jeffress
,
Alec Mills
,
Jose Quintana