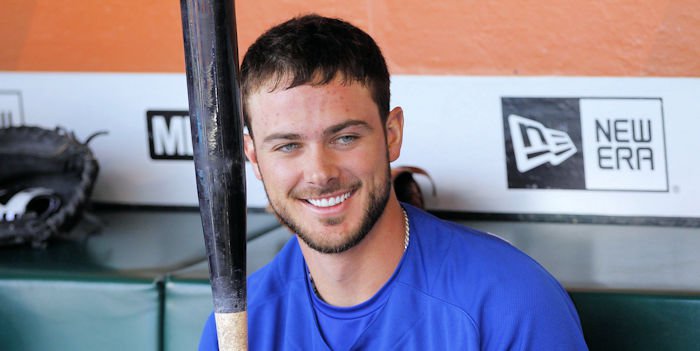 | | |
| --- | --- |
| Kris Bryant at leadoff means three things for Cubs | |
---
| | | |
| --- | --- | --- |
| Thursday, February 20, 2020, 12:21 PM | | |
The leadoff spot in the Chicago Cubs' lineup has been a ginormous question mark ever since Dexter Fowler departed from the Northside and signed a large contract with the St. Louis Cardinals.
"That leadoff spot has been a real thing around here since Dexter left," Cubs' manager David Ross said. "I know it's going to be a story and a thing and a lot of attention is going to be paid to it. It always has, so I want to make sure I cover all my bases before I commit to something."
Since then, former manager Joe Maddon tried everything he could to fill the shoes that Fowler left, and somehow create that you go, we go mentality from the beginning of every game.
Players like Kyle Schwarber, Ian Happ, Albert Almora, Jason Heyward, and even Anthony Rizzo (who has actually been successful and is, as he claims, the statistically greatest leadoff hitter of all time) are some current Cubs who have had their shot at the top of the order.
For new skipper David Ross, the leadoff hitter is one of the most talked-about topics. In theory, that is the first decision Ross will ever make in a game. However, in just his first few weeks with the full squad in Arizona for spring training, Ross has a plan to address the number one spot in his lineup.
The solution: Kris Bryant.
Reports from Cubs camp is that Ross has approached Bryant about hitting leadoff for the Cubs in 2020 and that he is all in to be that guy.
"Kris Bryant is a really good at-bat, gets on base, is probably one of our best baserunners," Ross said. "His baseball IQ is extremely high. When you talk about putting the best players at the top of the order, I want to put him at the top."
Bryant said: "I'm here to do whatever you want. If you need me to be that guy for you, I'm your guy. I think I have the right mindset because I've always been the type to say, 'Give me that fifth at-bat because I want it.'"
Not to knock Joe Maddon, but Ross also made mention that he does not plan to switch Bryant out of the leadoff spot any time soon.
"This is a commitment on his part. It's really easy to change the lineup in my seat, but I think that screams panic when you start to change all that," Ross said. "This is one of the best players in baseball, and how he goes about his business, I want representing our team night in and night out. He's on board with that."
Here's why the move makes sense. A leadoff hitter should be a guy that sees a lot of pitches, walks a lot, gets on base frequently, and runs the bases well — those are all fundamental aspects of his game, and that doesn't even include his power which he is often known for.
Bryant has a career .385 on-base percentage, averages 85 walks a season, comes around to score 112 times per season, and averages almost ten steals a year — not to mention in terms of power his 162 game averages include 32 home runs and 92 RBIs.
The Cubs employing Bryant at the top of the order means three things.
1. The Cubs' best three hitters start off the game, as Ross has mentioned the plan of having Anthony Rizzo follow him, which would only leave it logical to assume Javier Baez will hit third as the Cubs plan to stack righty then left to alternate since MLB has implemented a three batter minimum for pitchers
2. The Cubs finally have a prototypical leadoff man in terms of contact ability, on-base skills, and speed on the base paths — they are lucky because he is also one of the most fundamentally sound base runners in the league and has some of the best right-handed power in the National League. Now picture having a guy that can put you up 1-0 at any point in time, but also that guy getting on base almost 40% of the time for Rizzo, Baez, Schwarber and Willson Contreras to drive in.
3. While some speculate that leading off with a slugger limits RBI opportunities, that argument can easily be countered by showing how successful the likes of Mookie Betts, George Springer, Charlie Blackmon, among others, have been at the top of their prospective lineups.
Just imagine being an opposing pitcher…Ross has thought about that:
"I would hate to be on the other side and look at that big boy step in the box to lead things off and what he can do."
Warm it up, Kris, he's about to.
[Quotes in the article from Ross and Bryant are credited to ESPN, Chicago Tribune and Chicago SunTimes]

Tags: Chicago Sports Baseball
,
Dexter Fowler
,
David Ross
,
Kyle Schwarber
,
,
Jason Heyward
,
Anthony Rizzo
,
,
,
Willson Contreras
,
Joe Maddon