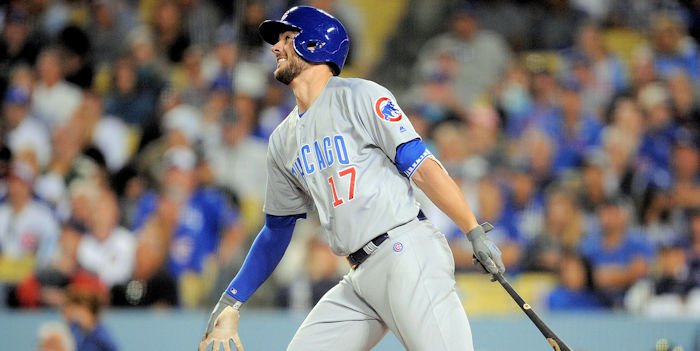 | | |
| --- | --- |
| Kris Bryant to have MLB service-time hearing this week | |
---
The biggest news coming out of the Chicago Cubs organization this week has been the announcement of David Ross being named as Joe Maddon's replacement as Cubs manager. But there is another story coming out of the Cubs organization that should not go unnoticed.
April 17th, 2015 was a big day in my life. First of all, the 17th of April is both my mother and girlfriend's birthday. But that spring day in 2015, I got the experience of a lifetime. I was able to throw out the first pitch at Wrigley Field, ahead of a day game against the Padres. What else happened that day? Kris Bryant debuted for the Chicago Cubs.
Bryant's call-up was well anticipated across all of MLB. He even received a billboard around Wrigley Field before he had even seen a major league pitch. Bryant was coming off a few years of success. He was given the award for best college player and top minor league player in consecutive years, and he seemed clearly ready to play in the bigs.
However, the Cubs decided to keep him in the minors when the season began. He stayed in the minor leagues for just eight games and was brought up on April 17th - in what seemed to be a calculated move by the Cubs.
The current collective bargaining agreement set the date in 2015 as the deadline for players to be called up the big leagues to get paid as a big leaguer. That date served as the deadline for a player to receive service time.
The rule was set in place so that players who get called up due to injury or serious other reasons do not have to get paid, and the organization can hold on to their players. Instead, it turned into organizations manipulating their young prospects and stealing an extra year of team control from them.
Kris Bryant played 151 games, batted .275 and blasted 26 home runs and drove in 99 runs. Bryant stole 13 bases, scored 87 runs, and was even named to an all-star team. Bryant's success was noticed, and he was rewarded for it, as he was named the National League Rookie of the Year. So Bryant's year of success was so well thought of that he received the most prestigious award a rookie can receive, but he did not receive payment the same way the rest of the big leaguers did.
He essentially played MVP level baseball for basically free for the Cubs, which is something he has not forgotten nor his agent.
Bryant's grievance toward the Cubs for manipulation is service time is being held as a hearing this week. The 2016 MVP is essentially asking the major leagues for a year of service time back.
This would, of course, mean that instead of Bryant hitting the open market after the 2021 season would get pushed up a year. So he would then hit free agency after next season, 2020.
It has been pretty well documented that Bryant's agent is Scott Boras. While Boras is known for sending his players to free agency and demanding high salaries, it seemed unlikely that the Cubs would be able to extend Kris Bryant anyway.
If they can keep him for two more years, they would most likely try and squeeze every ounce of production out of him as they can - while they attempt to prolong their championship window. But, Theo Epstein has mentioned that no player is untouchable, and listening to offers for Bryant would be something that could be effective in the Cubs' effort to rebuild on the fly and extend the Championship window.
If Bryant wins his hearing, the Cubs would be even more so pushed to attempt to trade the young star - and maximize his return as opposed to losing Bryant for nothing in just a year.
The Cubs will have a decision on their hands regarding many people's favorite Cub.
The hearing is set for this week, and whatever is announced will be pushed forward as soon as possible.
Upgrade Your Account
Unlock premium boards and exclusive features (e.g. ad-free) by upgrading your account today.
Upgrade Now