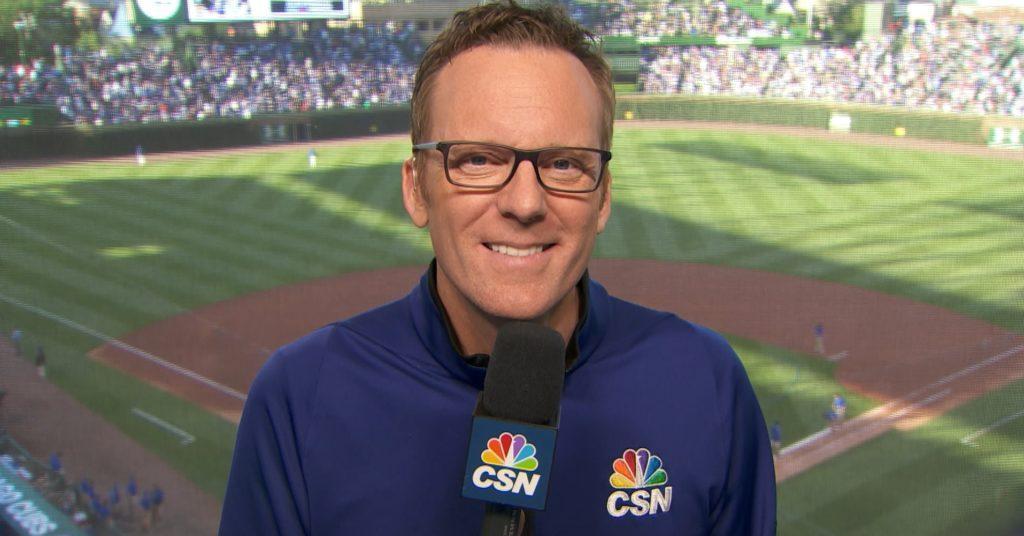 | | |
| --- | --- |
| Len Kasper leaving Chicago Cubs for White Sox | |
---
It has been an offseason of transition for the Chicago Cubs in 2020, and it continues that way with some stunning news.
Popular TV play-by-play announcer Len Kasper is leaving the Cubs for the White Sox after 16 seasons, which matched Harry Caray's 16-year career with the Cubs. Kasper was the National Sports Media Association's Illinois Sportscaster of the Year in 2016.
According to multiple sources including The Athletic, he will be announced as the new radio voice of the rival White Sox on Friday morning.
Kasper will fill in for the vacant play-by-play spot in the radio booth alongside Darrin Jackson on ESPN 1000.
"Broadcasting baseball on the radio has always been my dream," Kasper said in a statement. "I am happy the White Sox were interested in having me handle their play-by-play responsibilities, and I am appreciative that the Cubs were willing to let me leave that organization on such great terms. I have always been fascinated by the creative freedom radio allows its broadcasters, and baseball is such a great game when presented on the radio. I have been dreaming about doing this since I was 12 years old, listening to Ernie Harwell, and I didn't want my career to pass without experiencing this great game nightly from the radio booth. I want to thank both the Sox and Cubs for allowing me to live out this baseball dream."
Chris Myers is reported to be the leading candidate to replace Kasper alongside Jim Deshaies. The 61-year-old has been with Fox Sports for the past 22 years and was an ESPN anchor from 1988-1998. He also worked part-time with Marquee last season.
Best of luck to Kasper in his new gig on the Southside. As a writer and a baseball fan, I have enjoyed listening to you call Cubs games over the last 16 years. It amazing how time flies.
A huge, enormous THANK YOU. To the @whitesox for welcoming me & the @Cubs for an amazing 16 yrs. The support from the fans is overwhelming. I deeply love the game, this city & the GREAT people w/ the Cubs & Marquee. & now excited to join the Sox/ESPN 1000 family. I'm a lucky dude

— Len Kasper (@LenKasper) December 4, 2020
Len Kasper loves radio. Always has. I've been with him during playoff games, when he was dying to be part of the action any way he could. I hope he gets to call lots of them for years to come. Very happy for a pure baseball fan, a good friend, and a great professional.

— M@ (@MattSpiegel670) December 4, 2020
The loss of @LenKasper is, without exaggeration, the worst thing the Ricketts have done or permitted since buying the team. He's been the best TV play-by-play man in the majors for 15 years, and is about to become one of the two or three best radio PBPers.

— Matthew Trueblood (@MATrueblood) December 4, 2020
@LenKasper was a big part of me coming to Chicago. I cherish our time in the booth and am happy you get to scratch that radio itch. Good Luck my friend!

— Jim Deshaies (@JimDeshaies) December 4, 2020
Len Kasper leaving the Cubs for the White Sox is one of the more stunning sports stories in Chicago ever. Wow.

— Matt Lindner (@mattlindner) December 4, 2020
Len Kasper is the absolute best in the business and I'm very sad to lose him as a regular contributor to the station.

— Shane Riordan (@shane_riordan) December 4, 2020
Cubs organization currently pic.twitter.com/hU76GlMlSh

— Wrigley Report (@wrigleyreport) December 4, 2020
I had the privilege of being in the booth with @LenKasper and @JimDeshaies for the final @WGNTV @Cubs home broadcast. Good luck to #LenKasper, one of the best to ever do it for the Cubs. pic.twitter.com/WNeikobyep

— Mike Lowe (@MikeLoweReports) December 4, 2020
The White Sox stealing Len Kasper from the Cubs: pic.twitter.com/5uWH319kkd

— Tom Paints (@tom_paints) December 4, 2020
Len Kasper will be talking at 9am about the departure to the White Sox. Someone said it well yesterday. Theo was a punch to the face we knew was coming. Schwarber was a gut punch that took our breath away. Len going to the White Sox a direct kick in the ballsack.

— Barstool Carl (@barstoolcarl) December 4, 2020
I just wish the Cubs/Marquee would use their independence to be bold, modern, and progressive/inventive, but somehow, heading into 2021 with their own brand new network, it feels like 2004.

— Michael Cerami (@Michael_Cerami) December 4, 2020
"What do you have against the Marquee Network? Believe me, you won't be booing about that in a year." - Tom Ricketts in January

11 months later & the Cubs TV play by play announcer for 16 years, Len Kasper, walks away from Marquee to join the White Sox.pic.twitter.com/eu8PNcjCCY

— Cubs Live (@Cubs_Live) December 4, 2020
Now that the cats out of the bag, welcome to ESPN 1000 @LenKasper!

— Jesse Rogers (@JesseRogersESPN) December 4, 2020
@LenKasper So bummed. Such a loss for Cubs fans. Happy for you and the new opportunity and that you'll still be in town.

— Sarah Spain (@SarahSpain) December 4, 2020
16 incredible seasons and countless "Oh baby!" calls, you brought so many iconic Cubs moments to life.

Thank you, @LenKasper. pic.twitter.com/mcywyPnS0C

— Chicago Cubs (@Cubs) December 4, 2020
2,400+ games over 16 seasons.

You were the voice of it all, and more importantly, a great teammate. Thank you @LenKasper. pic.twitter.com/mkrTmOpBuN

— Marquee Sports Network (@WatchMarquee) December 4, 2020