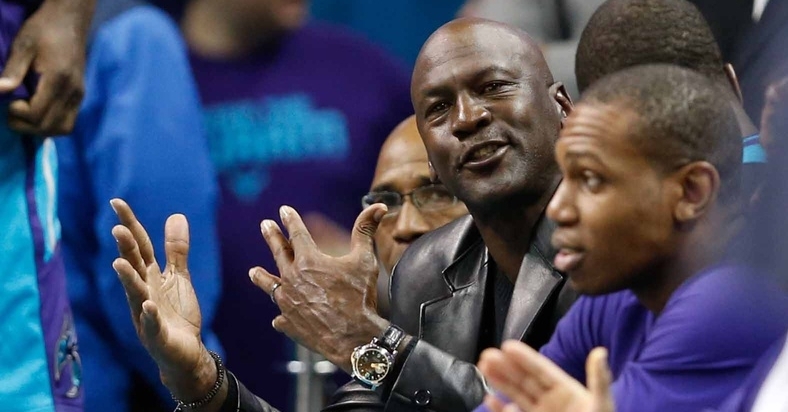 | | |
| --- | --- |
| Michael Jordan: Through the eyes of Chicago | |
---
For me, watching the Last Dance has truly opened my eyes to the greatness that Michael Jordan was and the true heroism that he played with on a game by game basis.
This beautifully crafted documentary by ESPN has also opened my eyes to two things: an immense pride that Jordan played in our city, and an affirmative answer as to who is the greatest ever to lace them up.
The biggest threat to Jordan's throne has been Lebron James, so instead of saying Jordan's numbers lineup despite retiring twice during his career, or saying he has never lost an NBA final or saying that he never left the Bulls to join a better team, he just worked harder — I decided I would reach out to some of the Chicagoans who did get to watch him play.
Here's what they had to say:
Some related it to baseball to make it more relatable for me.
Jim Smith: I have to put it in relative terms when you're locked in, and the baseball is as big as a beach ball, and you can't make an out. That was his everyday! And it was sheer enjoyment to watch.
Others commented on how he would fare in the modern-day NBA.
Jordan Stopka: It was like watching a man play pickup in his driveway with nine high school players. With the new superstar rules in the NBA, he would drop 45 every night.
Some couldn't even put it into words.
John Piszkiewicz: Tough to explain. You had to be there.
Some kept it brief.
Lisa Fiorante: It was amazing...
Some compared him to other players.
Bill Sieja: I saw him and I saw Kobe too. There was a similarity in their desire to win. Michael was the absolute best, and Kobe was right behind him. It was all about their confidence and always wanting the ball. I could say I was in awe to watch MJ. I really have not watched too much basketball since. If I did, I watched Kobe.
Some commented on his fame.
Ken Erdey: Saw watched, interviewed him for many years. As an athlete, what you see on screen was even more impressive in person. What you see of him about the media was just as accurate. The man was so great, and that greatness caused a lot of backlash from being as famous as he was. He literally was the MOST famous person I ever covered. Truthfully I think he was over it.
Some even talked about how he got them into basketball.
Sue Dixon: I didn't really watch basketball, but when the Bulls played you did not want to miss Michael Jordan, he was awesome.
But most just spoke of his greatness.
Jamie Sampey: I have watched Michael Jordan play many times. Jordan changed basketball forever. He would fill the stands, and there was never an empty seat. What I remember is him gracefully flying in the air to make every basket! It was like he was flying in the air!!! And of course his Air Jordan's. That's when basketball was fun!!!!
Tom McManaman: Poetry in motion. The most athletic person I have ever seen. The hardest worker on the court and off. The most passionate and intense player on the court during the game and practice.
Linda Strohmeyer: It was awesome. Lucky to see him live several times. You couldn't look away from the floor. He was always doing something you didn't want to miss out on from making unbelievable shots to defensive plays.
John Paul: I saw him (in person) twice. In his first season or two, with hair, as the Bulls faced the Pacers in old Market Square Arena in Indy. Flashy but still young. Talented though. I saw him again in the 90s at the UC vs. Jazz and Karl Malone. He was simply awesome and amazing. Especially because I was sitting in the third row!! With tickets, I'd bought at a scholarship benefit auction. He also played an exhibition game or two in the 90s at the Assembly Hall and, of course, came as a father/fan to watch son Jeffrey play for the Illini in the late 2000s.
Nick Gaseor: I saw him play in person at the United Center when I was about 7-8 years old, and I didn't appreciate the greatness at the time. He would just take over a game if need be—the best athlete of my time.
Joseph Word: Unbelievable... The persistence, determination, and talent came so easy. He will never be matched.
Anthony D'Andrea: His psychological game was as impressive if not more impressive than his physical game. The way he pushed teammates and motivated them when they didn't even realize that was what he was doing. He smiled at his opponents and patted them on the a** because he knew they were also desperate for him to like them. It was often talked about that players like Barkley and Oakley, who were very physical, never knocked him down or fouled him hard because they were his " friends." Soften them up and then destroy them physically and mentally. He was head and shoulders above anyone ever. Never let his opponent have an inch. Unless you lived watching him day after day, you could never truly appreciate who he was—a stone-cold killer.
Brendan Christy: My uncle took me to see him play in 1988 against the Celtics for my 15th birthday. I was a huge Larry Bird fan at the time, but that game made me realize we were watching someone that was changing the game forever right before our eyes. He was such a special player. He scored 50 points and had like five steals and rebounds and 10 or 12 assists. It was the most dominant game I have ever seen before or since. He did it all that game. To describe it, he was so good that hall of famers watched in awe. He really was that good.
Deb Young: Poetry in motion, magical, and it was great having the best there ever was on your team!
And some just kept it simple:
Michelle Smith: Greatness!
Michael Jordan described in just one word; greatness is a perfect way to describe the greatest Bull, basketball player, athlete, and competitor of all time.