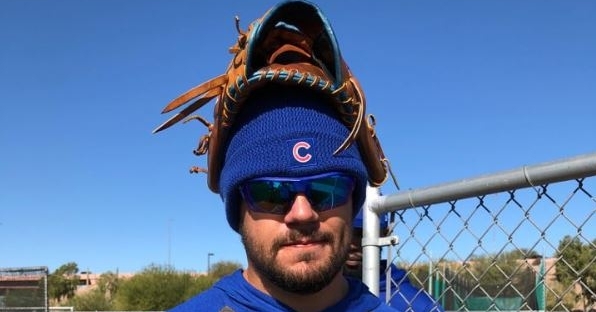 | | |
| --- | --- |
| More from Mesa: Quotes, Videos and News from Cubs Camp | |
---
| | | |
| --- | --- | --- |
| Wednesday, February 12, 2020, 4:56 PM | | |
Let's just start with this. There are real signs that baseball is finally back again. Thus far, the players' attitudes seem to bear a mix of seriousness with a hint of lightheartedness.
The Cubs have a lot of work to do, but it looks like David Ross is on top of his game-plan.
David Ross: Despite saying that he intended to incorporate a lot of Joe Maddon's ways, Rossy seems to suddenly be moving away from that philosophy, perhaps after the comments made by Joe Maddon and Theo Epstein yesterday, pertaining to Joe's final years in Chicago.
"Traditionally, I like a standard lineup as much as I possibly can. I think the flow of a normal, consistent lineup is important to some of the players. It's a real thing, as much as we don't measure it."
This is a complete 180 degree turn from Maddon's approach, and it should help guys be a lot more consistent. If Ross is going to do this, he needs to be prepared. If Jason Heyward bats .205 in April (God help us), Ross cannot be afraid to bench him for someone who'll hit. If Rossy sticks to his agenda of holding players accountable, then he must be able to look at the production of the player versus the size of the guy's contract. In other words, just because you're a $10M+ a year guy doesn't buy you a starting slot.
Even David Ross is practicing, though he's not (yet) donned any catching gear. He literally practiced having to go out to the mound to call for a pitching change, and Tyler Chatwood was the "victim" who needed to be bailed out. Chatty's no rookie and wasn't afraid to take a playful jab at his new boss.
Tyler Chatwood said David Ross came out to the spring training mound yesterday to grab the ball from him, simulating a pitching change.

"He needs to work on his jog out there a little bit," Chatwood joked.

— Tony Andracki (@TonyAndracki23) February 12, 2020
Just my opinion, but Rossy's used to heading to the mound from behind the plate. Despite being a few years older, without any gear on, shouldn't he be able to move a little quicker? Let's get in shape there, Skip.
Rizz: Anthony Rizzo has already had a ton to say about his new boss and the Cubs' new season.
Rizzo on Ross: pic.twitter.com/yfIQTOL8I2

— Mark Gonzales (@MDGonzales) February 12, 2020
Rizzo also says, "I don't even see why we deserve a chip on our shoulder. We didn't make the playoffs. This year, we gotta go out and earn it. I think it's on us to be the best team this year. We got talent, but to be the best team will take us to new levels."
When asked about the lack of roster changes: "I'm very surprised. There was a lot of talk about a lot of change and a lot of turnover. When you hear that, you don't know what's going to happen but I'm happy with everyone we have." Rizzo added, "I think we're a confident group, but I think we're also a very humble group right now."
Rizzo wasn't afraid to avoid a hot topic on day one, jumping right into the mix over the practices and current policies regarding service time manipulation.
Anthony Rizzo bringing some *heat* on day 1 pic.twitter.com/7qMdV5B4R1

— Cam Ellis (@KingsleyEllis) February 12, 2020
CubsHQ spring training videos from Wednesday:
Schwarbs: When asked about his future and his free agency status after 2021, Kyle Schwarber said, ""Do I look like a guy that thinks about his future? I live day by day. I'm just happy I showed up today."
Kyle Schwarber, on getting Spring Training rolling with most of the roster still together... pic.twitter.com/iKuy8jtMAS

— Jordan Bastian (@MLBastian) February 12, 2020
Jon Lester Although it's hard to tell from this angle, but it looks to me like Jon Lester has trimmed down a little bit. Dropping some weight may very well help his velocity, as he starts to wind his career down.
Jon Lester walks off after his first bullpen session of 2019 as he prepares for his 15th season. pic.twitter.com/f0F6xxm6XL

— Jesse Rogers (@ESPNChiCubs) February 12, 2020
Ross talking Lester:
Ross on Lester pic.twitter.com/Itkw7jnRhV

— Mark Gonzales (@MDGonzales) February 12, 2020
A few scenes from Cubs Camp today:
Moments like these. ???? pic.twitter.com/bLUGXRsDZD

— Chicago Cubs (@Cubs) February 12, 2020
Gloves are popping in Mesa! ???? pic.twitter.com/ydb9wR5JBd

— Chicago Cubs (@Cubs) February 12, 2020
Stay tuned, Spring training has barely even started.