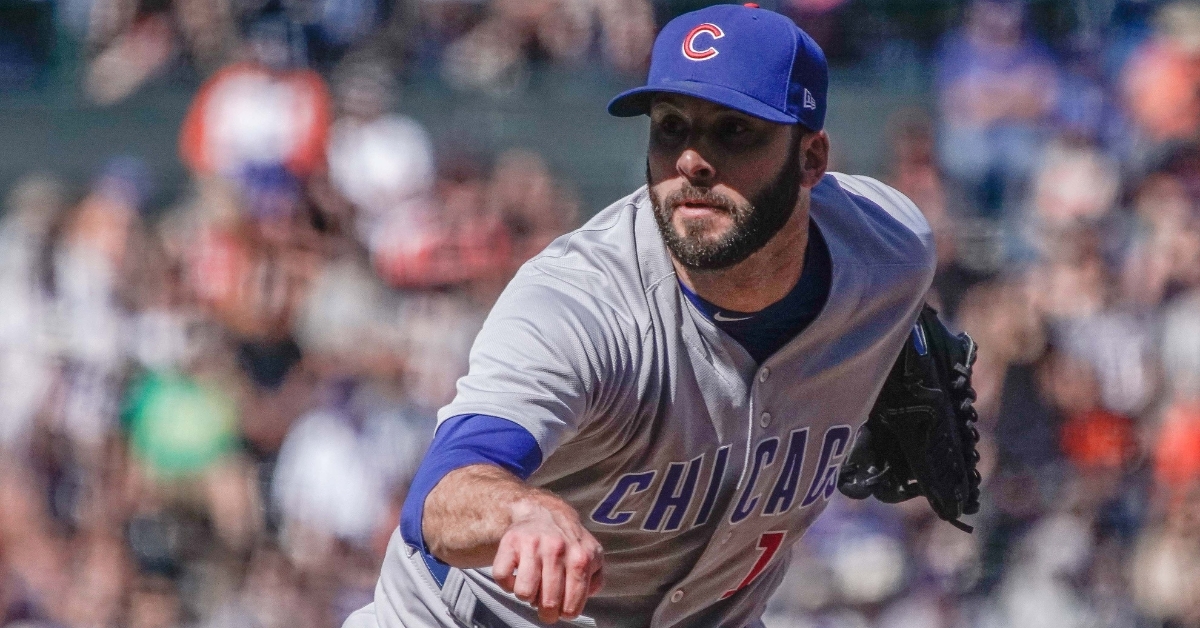 | | |
| --- | --- |
| Non-roster invitees for Cubs: Who stands a real chance? | |
---
| | | |
| --- | --- | --- |
| Thursday, February 6, 2020, 5:07 PM | | |
On Wednesday, the Cubs released their 61-man Spring Training roster, which included 21 non-roster invites. Looking for a handful of diamonds in the rough, as Theo Epstein put it, the Cubs have invited 12 pitchers, four infielders, two outfielders, and three catchers to join them in camp.
Do any of them stand a chance? Maybe a few. With the Cubs bullpen in relative disarray, the team's desire for a leadoff hitter, questions surrounding the second base slot, the fifth rotation spot in question, and the never-ending quest for a bona fide centerfielder, these guys all have at least a slight chance. Let's not fool ourselves though, some stand a much better chance than others.
Due to the volume of players, let's look at the pitchers today.
Pitching hopefuls
RHP (Reliever) Jason Adam: Over his short two-year career in the league, Adam has posted a 4.83 ERA (54 games, 54 IP). This doesn't look very good on paper, but it's important to note that after a 2018 season (31 games, 32.1 IP) that saw him post a 6.12 ERA, Adam turned it around in 2019, pitching to a 2.91 ERA. While dropping his WHIP to a respectable 1.154 with a strikeout to walk ratio of 1.8:1. Adams has spent no time on the IL.
RHP (Reliever) Oscar De La Cruz: De La Cruz has now spent seven seasons in the minors (almost age 25), posting a career ERA of 3.45. The problem is, he's never seen Triple-A and didn't perform well in Double-A, posting a 4.76 ERA over two seasons (47 games, 158.2 IP). He was a starter, peaking at 16 starts in 2018, but has faded into a reliever role. De La Cruz spent 80-days on the suspension list in 2018 for PEDs, but on the other hand, he has incurred no injuries.
RHP (Reliever) Dakota Mekkes: I was absolutely surprised that Mekkes didn't get a call-up last year. He struggled a little in Iowa (two seasons, 4.46 ERA), but this kid has fantastic movement on his breaking pitches, coupled with velocity on his fastball. Including his two seasons at Michigan State, Mekkes has pitched to a 2.85 ERA over five seasons (265.1 IP). No injury history.
RHP (Reliever) Brandon Morrow: I've been hearing for two years now that Morrow was getting healthy and would return to the mound, but it never materializes. He was great when he wasn't injured, but too much cost for the risk. Although his latest contract will only cost the Cubs another million (if he makes the team), consider that he's already cost them upwards of $19M in injury pay and a buyout.
RHP (Reliever) Caleb Simpson: Although he has five minor league seasons under his belt, Simpson didn't play in 2014 or 2015 because of several serious injuries. His career ERA stands at 3.41 (121 games, 145.1 IP), but he's also never seen action in Triple-A.
RHP (Reliever) Brock Stewart: Stewart has seen action in four MLB seasons (three with the Dodgers, last season split between LA and Toronto), and he's bombed. Career ERA of 6.05 (46 games, 105.2 IP). He was injury-free in 2019 (9.82 ERA, 13 games, 25.2 IP), but has a history of oblique and shoulder issues.
RHP (Reliever) Ben Taylor: Taylor has spent two seasons in the majors (Boston, Cleveland), pitching to an ERA of 5.40 (20 games, 56.0 IP). His career WHIP is north of 1.50, and he averages 2.4 home runs per nine.
LHP (Reliever) Rex Brothers: After spending parts of seven years in the majors, Brothers has posted a mediocre 3.79 ERA. He spent 2011-2015 with the Rockies, then 2017 and 2018 with the Braves. His WHIP stands at 1.496, though he keeps the ball in the park, allowing less than one dinger per nine innings.
LHP (Reliever) Danny Hultzen: Hultzen finally made his MLB debut last year with the Cubs, after battling injuries that were thought to be career-ending. Hultzen didn't give up a single run in his limited appearances (six games, 3.1 IP, 0.00 ERA).
LHP (Reliever) Tyler Olson: Olson has bounced around the American League for the last five seasons, spending time with Seattle, NY, and Cleveland. Appearing in 124 games (94.0 IP), Olson has pitched to a 3.83 ERA, but his WHIP of 1.489 is a little alarming. Olson was out for an extended period last year while with Cleveland, missing 59 days due to an undisclosed illness.
LHP (Reliever) CD Pelham: After spending five years in the Rangers' farm system, Pelham got his call to the show last season, but failed to impress, posting an eye-popping 11.97 ERA in 10 appearances (32.1 IP). He served no time on the IL in the majors, leaving only his ability to pitch effectively to blame. The Cubs grabbed Pelham off waivers at the end of November, added him to the 40-man, but then outrighted him to Iowa once they signed Jeremy Jeffress. Pelham does have seven minor league starts under his belt but hasn't started a game since the 2016 season.
LHP (Reliever) Wyatt Short: Short intrigues me. In this new age of two-way players, Short could give David Ross an option, as he also plays left field. He has never seen Triple-A but has posted a 2.75 ERA through four seasons in the minors (196.2 IP). The interesting part is, he's only logged one inning in left field (2018), has no batting stats, but is listed as a pitcher/left fielder by Baseball-Reference.
Of the 12 listed above, I'd think Adam, Mekkes, Short, and possibly Hultzen stand the best chances, but they'll have to be able to bump guys with a lot more experience.
Stop back tomorrow, as I work my way through the remainder of the non-roster invitees.
The #Cubs have invited 21 non-roster players to Spring Training: pic.twitter.com/4uXxv6uVJr

— Chicago Cubs (@Cubs) February 5, 2020