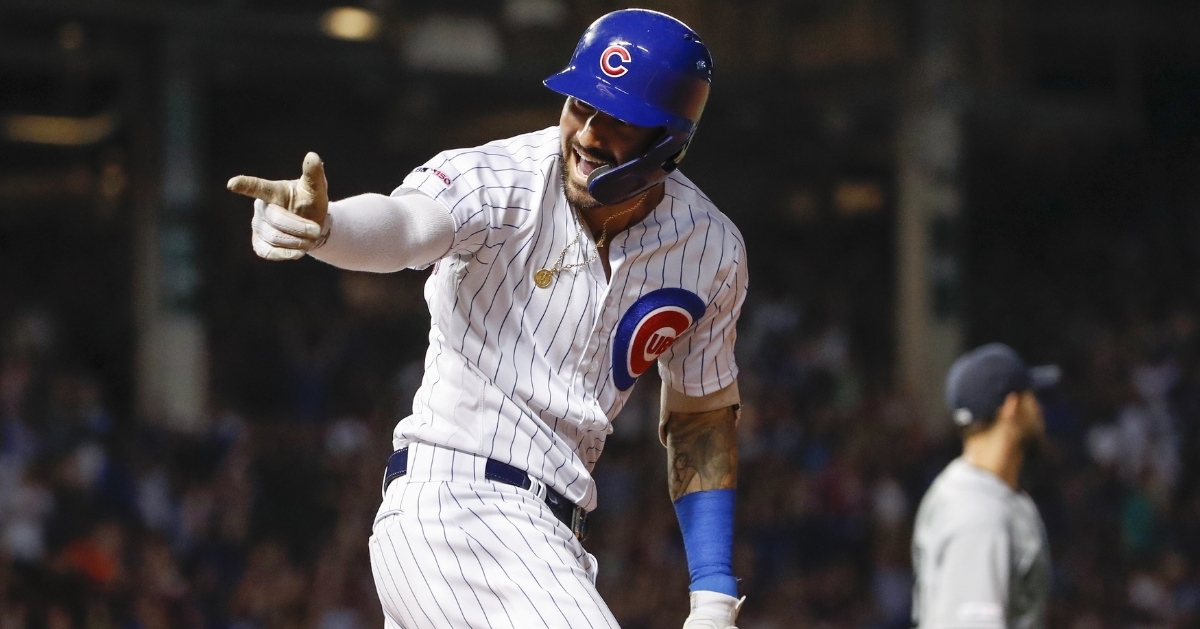 | | |
| --- | --- |
| Odds and Ends: The Case for keeping Castellanos, MLB wants changes to MiLB | |
---
The Case for Keeping Nicholas Castellanos
I still say the Cubs will retain Castellanos, but in an MLB.com article on Friday, entitled "Rumors: Rosario, Castellanos, Andrus, Rendon", the unnamed author points out that despite Castellanos' surge with the Cubs, his defense ranks among the lowest in MLB.
"Also clouding Castellanos' value is his poor defense. Formerly a third baseman and now a corner outfielder, Castellanos ranked dead last in Statcast's Outs Above Average in 2018 (-24), and although he improved in '19, his -7 mark was still among the game's lowest. Castellanos might be more valuable as a designated hitter, but that would mean his market is automatically cut in half.
Castellanos fared well as the Cubs' second-half right fielder this season, posting an errorless defensive effort in 422.2 innings (35.2 of which were played in left field), with a total of three assists. During Castellanos's time with the Tigers this season, Nick committed only two errors in 784 innings (two assists).
The truth is, you'd have to go back to 2017 to start finding any defensive deficiency with Castellanos, and it has to be noted that this was when he played third base. From 2014 to 2017, Castellanos racked up 54 errors for 4,401 innings as a third baseman, which works out to an average of one error per 81.5 innings (equivalent to one error per nine games).
While it looks bad on paper, that's not that bad if you think about it, so long as those errors didn't cost a lot of runs. For his five-year career, Kris Bryant – generally considered of as an elite defender, has committed a total of 70 errors as the Cubs' third baseman (4,930.1 innings), meaning that he averages a mistake about once every 74.1 innings, making him theoretically worse than Castellanos as a third-bagger.
According to an article in MLB.com, Nicholas Castellanos' defense could potentially drive down his free-agent value. At this point, the best thing in the world for the Cubs would be to have teams shying away from a bidding war, which could make Castellanos even more interested in staying with Chicago.
I'm not suggesting that Castellanos could become the Cubs' third baseman (although he could undoubtedly serve as a backup), but what I am suggesting is that if teams gravitate toward his defense based on his errors at third for Detroit, it could make him more affordable for Chicago.
The Cubs wouldn't re-sign Castellanos for his defense, what they want (and need) is his attitude, work ethic, and bat.
Radical Minor League Changes Proposed:
According to David Waldstein of the New York Times , MLB has proposed a plan that would radically change the landscape of the minor league structure and the MLB Draft.
The #Braves announce first baseman Freddie Freeman underwent arthroscopic right elbow surgery on Wednesday of this week. They removed three fragmented loose bodies and cleaned up multiple bone spur formations. He is expected to be ready for Spring Training.

— Kelsey Wingert (@KelsWingert) October 18, 2019
Waldstein had a ton to say in his article, but here are some of the highlights:
Part of the proposal could include a plan to cut the amateur draft in half, to 20 rounds, which would reduce the player pool by about 600 and subsequently eliminate the need for roughly 20 teams.
One plan would convert some teams from the lower-level minor leagues — short-season, rookie ball, and lower-Class A, into a so-called Dream League of undrafted players looking to break into professional baseball. Teams in that league would be co-owned and operated by M.L.B. and Minor League Baseball.
MLB stated, "We are in discussions with the owners of the Minor League teams to reorganize elements of the system with the goal of improving the working conditions of minor league players, including upgrading the facilities to Major League standards, increasing player compensation, reducing travel time between affiliates for road games, improving transportation and hotel accommodations, increasing the number of off days, and providing better geographical affiliations between the M.L.B. Clubs and affiliates."
Pat O'Conner, the president and chief executive of Minor League Baseball, recently sent a letter to member teams, warning of significant impending changes and advising organizations not to make any financial commitments, new lease agreements, or schedules beyond 2020. He also sent a letter to M.L.B. outlining his opposition.
Some team owners are reportedly seeking legal advice in an attempt to block MLB from making any sort of unilateral changes.
From where I stand, it would appear as though this would benefit the players in some ways, improving their facilities and cutting down on travel to the cities in which they play.
"MLB is also insisting that some of the minor league clubs upgrade their facilities so that their top prospects are not working in substandard training rooms with poor nutrition programs. Many of minor league facilities do not match the standards of even small college stadiums."
The idea of reorganizing the league to be more geographically friendly suits me, so long as they overhaul every level. I live 45 minutes from where the Springfield Cardinals play, yet the Iowa Cubs (356 miles from Springfield, Missouri) don't play the Cardinals. Instead of taking the seven-hour bus ride (often how minor leaguers have to travel) to Springfield, the I-Cubs play the Las Vegas Aviators (Oakland Athletics), with Vegas being 1,415 miles from Des Moines.
Certainly, having teams fall off the face of the earth wouldn't be good – especially for draftees who may lose their shot at playing professional baseball, but the truth is, there are currently 256 minor league affiliated teams. If you consider that the 60 Double-A and Triple-A teams carry a 25-man roster, you're looking at 1,500 players, and we haven't even scratched the surface by including the Atlantic League, the DSL, or the numerous Single-A clubs.
Look at all of the Rule-5 Draft candidates – these are guys who were drafted, but primarily never used by their respective teams, forcing them to be redrafted. While it's great to tell your grandkids that you were drafted by the cubs back in 2005, it does little good for your career when you've washed out of baseball after a few years in the minors. This isn't Little League; some guys won't ever make the cut, and to wash them out – even at the expense of losing some of the lesser-known minor league affiliates, would probably benefit the game of baseball over time.
"But many major league clubs do not see the need for multiple levels of Class A teams, and O'Conner said the current proposed plan would eliminate roughly 1,400 players (some of whom are not drafted but signed internationally), or change their status to employees of the minor league teams."
The MLB teams, which generally own (outright) their minor league affiliates are not happy about losing the revenue when teams fold, but by doing so, the clubs would have the opportunity to upgrade the facilities they do keep, enticing more people to come out and watch the teams play. Nobody seems to see it, but this will ultimately increase the players' worth, as the field to choose from will be smaller. While "Billy Smith" may not get drafted out of Northwestern, scouts know who he is, and there's nothing (that I've seen) that says a team can't sign him as a walk-on; the question is, is Billy good enough to take up a roster spot, now that there are fewer spots available?
Professional sports are supposed to encompass the best of the best when it comes to talent, and if some of the guys who made it by the skin of their teeth get eliminated, so that the remainder have better pay and accommodations, then I'm all for it.
The one thing I do take serious issue with is MLB making any unilateral decisions. They've already started tampering with the major leaguers, cutting down mound visits, and instituting the three-batter minimum for pitchers. I think a plan that is drafted by a group consisting of the MLB Players' Association, MLB, MiLB, and the owners could significantly improve conditions for the minor league affiliates, but it has to be a plan which is agreed upon.
For the Cubs' fans, take my word, the Iowa Cubs, and Tennessee Smokies aren't going anywhere, now do I see the South Bend Cubs disappearing from the face of the earth. You might see the Eugene Emeralds shut down – which would be sad for Cubs' fans living in or near Eugene, Oregon, but I think the changes may prove to be good in the end.