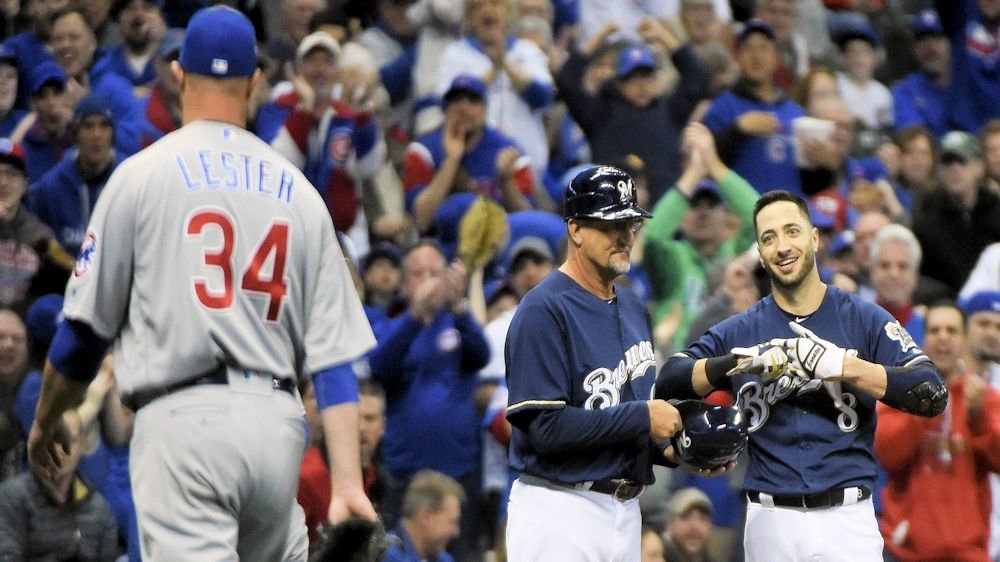 | | |
| --- | --- |
| Offseason Progress Report for Brewers, Pirates | |
---
| | | |
| --- | --- | --- |
| Friday, December 6, 2019, 6:06 PM | | |
The Cubs may have lost a ton of players to free agency, but they kept the non-tenders to a minimum, parting ways with only Addison Russell and Danny Hultzen. For some reason, after losing their allotment of free agents at the season's end, Milwaukee suddenly seems to have decided on conducting a massive overhaul.
Free agents: Starters: LHP Gio Gonzalez, RHP Jordan Lyles, LHP Drew Pomeranz; Relievers: RHP Matt Albers, RHP Jay Jackson; Position Players: 2B Hernan Perez, 3B Mike Moustakas, C Yasmani Grandal, 1B Eric Thames.
Except for Jay Jackson, that's a lot of household names, but that's what happens when you sign rentals. Thames, Grandal, and Moose had quite the impact on Milwaukee's 2019 season, helping them to thrust past the Cubs to earn second place in the division, but they weren't any match for the Nationals in the Wildcard Game.
While the Cubs took a massive hit in the bullpen, Milwaukee suffered an even worse fate with starters leaving for free agency. Losing Gonzalez, Lyles, and Pomeranz was enough to raise the blood pressure of fans in Milwaukee to stroke level, but then they also lost a quality reliever when Albers walked away, hoping for big bucks as a free agent.
Non-tenders: If the list of departing free agents wasn't expansive enough, the Brewers led the way in non-tenders this week, slashing five players from their 25 and 40-man rosters. Non-tendered were SS Tyler Saladino, 3B Travis Shaw, RHP Jimmy Nelson, RHP Junior Guerra, and LHP Alex Claudio.
With their depth chart nearly non-existent, the Crew began dealing, but lost more of their 25-man roster in the process, including more quality arms.
Acquisitions: 1B Chad Spanberger (in exchange, traded RHP Chase Anderson to Toronto); 1B Luis Castro (free agent- minor league deal); RF Alexander Palma (free agent- minor league deal); RHP Eric Yardley (waiver claim – San Diego); 2B Mark Mathias (in exchange, traded C Andres Melendez to Cleveland); RHP Jesus Castillo (free agent – minor league deal); Player To Be Named Later, LHP Eric Lauer and 2B Luis Urias (in exchange, traded RF Trent Grisham and RHP Zach Davies to San Diego).
Despite plugging the hole at second by securing Urias, the Brewers' rotation and pen are now in shambles. Obtaining Lauer may help the rotation some, but he comes nowhere close to replacing either Pomeranz or Gonzalez.
If there's any upside for Milwaukee fans, it's that the team has shaved a ton of payroll, but that isn't always an indication of things to come – especially for a small-market team with a 2019 payroll of only $146.3M. Thus far, Milwaukee's on the hook for just $58.3M in 2020, theoretically leaving them almost $90M if they're to match last year's payroll, but to date, they've not been (seriously) tied to many of the more prominent names in the free-agent pool.
Unless the Brewers plan to make some severe last-minute push for a superstar such as Gerrit Cole or Anthony Rendon, I can't see them winding up in the upper half of the NL Central this season. As of right now, I'd envision them a fourth-place team, earning them a "D."
The Pirates
I've been assigning grades to the teams in the NL Central, based upon what they've done this winter and where they'd finish as of now. If the Cubbies got a "C," which is only good enough for third place, and the Brewers earned a "D" (fourth place), then the Pirates have to earn the "F," placing them in last for 2020.
This team is a wreck. Period.
Last year featured fistfights in the clubhouse, with one of the participants (Felipe Vazquez) subsequently being arrested on about 20 felony charges related to child porn and an illegal sexual relationship with a minor.
Manager, Clint Hurdle, sounded like General MacArthur when he announced that he'd return, only to be fired a few days later, leaving him to storm out of the dugout and ballpark before the Bucs' last game. Then there was the Pirates' 69-93 record, with a home attendance (1,491,439) less crowded than a Black Friday sale at Goodwill secondhand store. The team also fired President Frank Coonelly.
Free agents: Relievers: LHP Francisco Liriano, Position Players: RF Melky Cabrera, OF Lonnie Chisenhall, Imprisoned: Closer, Felipe Vazquez.
Non-tenders: Catcher, Elias Diaz.
Acquisitions: Cash (traded RHP Dario Agrazal to the Tigers).
Outfielder Starling Marté wants out, citing that his fate remains in the team's hands, but the message is clear: He wants to move on, to play for a contender. The Cubs may have some interest in Marté, but that'll depend heavily on whether or not they can re-sign Nick Castellanos, obtain Kevin Pillar, trade for Whit Merrifield, and a ton of other things. Marté will undoubtedly find a new home; it just probably won't be in Chicago.
Now that the Pirates have hired Ben Cherington to take control, they may stand a little better chance, but in no way will they climb out of the basement this season. While many think that David Ross will need his first year as the Cubs' skipper to reorganize the clubhouse, Cherington and the Pirates' new manager, Derek Shelton, have complete chaos to sort through.
The team is still looking to trade key players (Chris Archer was recently mentioned) and hasn't been tied to any one of note. Other than re-signing players to avoid arbitration, the Pirates have done nothing to improve themselves this winter. This looks like another year that Pittsburgh fans may want to hope that the Steelers (7-5) and Penguins (28-15) farewell because the Bucs will stay in the cellar again.