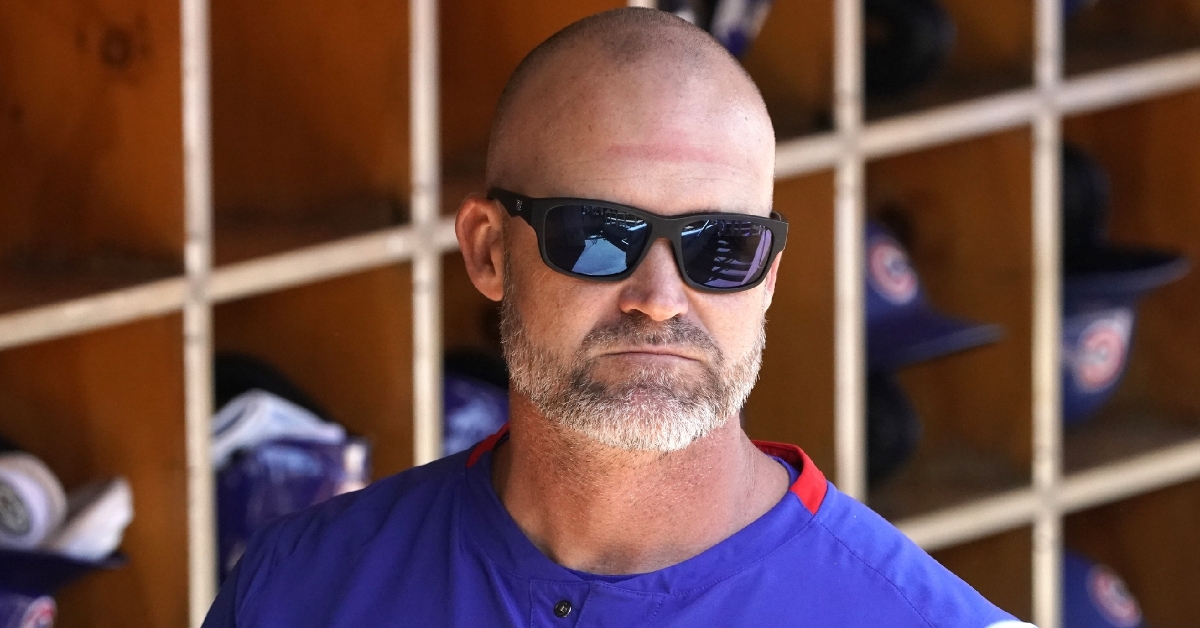 ---
| | | |
| --- | --- | --- |
| Thursday, March 5, 2020, 6:15 PM | | |
The Cubs (5-7-1) had to settle for a 6-6 tie with Cincinnati (4-5-1) on Thursday. This afternoon they returned to Sloan Park to host the Rangers, whose 8-4 record stood as second best in Cactus League play this spring.
Yu Darvish got his second start of the spring but was a late scratch (flu-like symptoms). Bullpen day for Chicago. Jason Kipnis was also scratched for the flu and was replaced by Nico Hoerner at 2B. Rizzo was scratched due to a blister on his right middle finger (replaced by Corban Joseph).
Righty James Norwood would end up facing off against Rangers' righty, Jonathan Hernandez. David Ross' starting lineup consisted of David Ross' starting lineup consisted of Kris Bryant (3B), Ian Happ (CF), Javier Baez (SS), Kyle Schwarber (DH), Willson Contreras (C), Jason Heyward RF), Steven Souza Jr. (LF), Nico Hoerner (2B), and Corban Joseph (1B).
This would be the first time this spring that the Cubs couldn't score. To make matters worse, the Rangers played with a split-squad.
T-1 Norwood got off to a great start, retiring the first two batters on three pitches (GO-6, GO-5). He walked the next man but got a third out on a groundball to Hoerner.
B-1 KB GO-4, Happ hits an infield single to third, but that's followed by Javy's pop out to second and Schwarber's K. Tied 0-0.
T-2 RHP Jeremy Jeffress: FO-7, single to center, force play at second, K.
B-2 Contreras (K), Heyward GO-4, Souza (K). Still no score.
T-3 RHP Dillon Maples: struggled in this, his first spring appearance, He issued a walk to start the frame, then the runner took second on a bad pickoff attempt throw by Maples (error Maples). He'd fan the next man, but not before the runner took third on a passed ball.
The runner would then score on a wild pitch. The next man singled, then Maples got a fly ball to left to end the frame. The Cubs got a force at second. Rangers lead 1-0.
B-3 Hoerner line-out center, Joseph (K), Bryant walk, Happ solid single to the left. Baez grounded out to first on a check swing to end the threat. Cubs trail 1-0.
T-4 RHP Jason Adam set himself up for disaster. Walked a man, then deflected a comebacker that would have almost ensured a double play. He then threw way wide to first, allowing the lead runner to take third. The next walk would load the bases. Adam would finally register a strikeout, but the next man singled, scoring two more. A ground out to first would leave runners at second and third, and then the next single made it a 5-0 lead. Another walk would end his day. This took 34 pitches to record two outs. RHP Bryan Brickhouse replaces Adam: Walk, K. Cubs trail 5-0.
B-4 Schwarber GO-4, Contreras (K), J-Hey walk (Robel Garcia pinch-runs), Souza (K). Cubs trail by five.
Subs Hernan Perez (3B), Miguel Amaya (C), Robel Garcia (RF).
T-5 RHP Wyatt Short: FO-7, BB, 1-4 force place, HBP, GO-4-3.
B-5 Hoerner GO-5, Joseph G)-3, Perez-K. Cub still trail 5-0.
Subs Carlos Asuaje (2B), Jared Young (1B).
T-6 Wyatt Short: GO-6, line out to second, GO-1.
B-6 Happ (K), Baez GO-1, Schwarber infield single, Garcia (K). Subs Ian Miller (CF), Zack Short (SS), Charcer Burks T-7 RHP Oscar De La Cruz: Infield single, line-out, double play, GO-6.
B-7 Charcer Burks (K), Asuaje GO-4, Young GO-6. Rangers lead 5-0.
T-8 RHP Oscar De La Cruz: K, GO-5, GO-3.
B-8 Perez (K), Miller (K), Short walks, Trent Giambrone (replacing Schwarber) walks, Amaya (K). Rangers lead 5-0.
T-9 RHP Oscar De La Cruz: GO-1, GO-5, FO-9.
B-9 Garcia FO-9, Burks GO-3, GO-3.
Final Score Rangers-5; Cubs-0.
Cubs Offense 3 for 30 (.100); 0-3 (.000) with RISP.
Next Game: Tomorrow 2:05 PM: White Sox @ Cubs from Sloan Park. RHP Lucas Giolito vs LHP Jon Lester.

Tags: Chicago Sports Baseball
,
Yu Darvish
,
,
Corban Joseph
,
James Norwood
,
David Ross
,
Kris Bryant
,
Ian Happ
,
Kyle Schwarber
,
Willson Contreras
,
Jason Heyward
,
Jeremy Jeffress
,
Dillon Maples
,
Jason Adam
,
Robel Garcia
,
Hernan Perez
,
Miguel Amaya
,
Wyatt Short
,
Carlos Asuaje
,
Jared Young
,
Ian Miller
,
Charcer Burks
,
Oscar De La Cruz
,
Trent Giambrone
,
Jon Lester