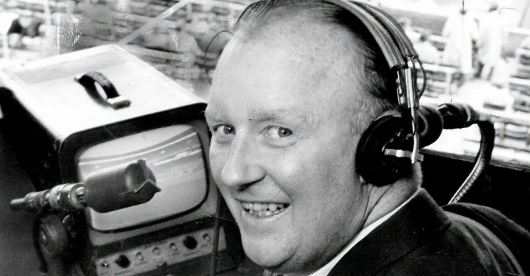 | | |
| --- | --- |
| Remembering Jack "Hey, Hey" Brickhouse | |
---
| | | |
| --- | --- | --- |
| Friday, March 20, 2020, 2:01 PM | | |
These are trying times we are experiencing this spring. Usually, by this time, we have settled into a Cubs lineup and are far enough into enough Spring Training games that we are ready for the regular season to start. With the start of the season seemingly way out in the future, one wonders how the other folks who make their living or part of their living with careers dependent on games being played will fill their time. MLB Network, Marquee Network, radio, and of course, stadium personnel are all part of these folks. Let's hope the delay is not a long one, and we establish some normalcy soon.
One piece of normalcy in seasons past for the Cubs has been their outstanding legends of broadcasters bringing our favorite team's games to us. One of these legends is Jack "Hey, Hey" Brickhouse. He was the one who was bringing the play by play on WGN when I became a Cub fan. He had a high standard to live up to as the broadcast team I was used to for the Braves was no other than Milo Hamilton and Ernie Johnson. The WGN broadcast team at the time was Brickhouse, Lou Boudreau, and Vince Lloyd. The team was a very entertaining and colorful bunch, and they made watching the Cub games fun. Interestingly enough, Brickhouse and Hamilton joined forces in Chicago in 1980 with WGN along with Boudreau.
Jack Brickhouse had a long career being associated with the Cubs for over five decades. He got his start with WGN on the radio side of things in the '40s and announced the Cubs and White Sox games on WGN until the Sox left in 1968. He was also the play by play announcer for the Chicago Bears for 25 years and the Chicago Bulls for a stretch in the '60s and '70s. He retired in 1981 after broadcasting over 5,000 games. Brickhouse was honored by the
Baseball Hall of Fame in 1983 with the Ford Frick Award and was inducted into the American Sportscasters Association Hall of Fame in 1985 along with the voice of the Yankees Mel Allen and Red Sox voice Curt Gowdy. He was able to spend a glorious 38 years at Wrigley, thrilling Cub fans like me with his deliberate play by play. He was very good at his craft and just really fun to listen to. When you heard his voice, you knew the Cubs were on!
One thing you could always rely on from Jack Brickhouse when he was on the air, plenty of time to watch. What I mean by that is he only said what needed to be said during a broadcast, especially on TV. He knew you did not have to give every detail that was happening as on radio as the camera displayed the action for the viewers. Brickhouse had a knack of commenting only on certain things that needed to be discussed without getting in the way of the game. It was like watching the game with your grandfather. Jack Brickhouse was everything Joe Buck is not. He was a pure delight to listen to and stay tuned into because of the stories he, Boudreau, and Lloyd would tell. It felt like you were able to listen in on three friends watching a baseball game.
One of Brickhouse's endearing qualities was his use of phrases to describe the action. His most famous one, obvious for the true Cub fan, is his "Hey, Hey" homerun call whenever a Cub hit a home run. We all waited with bated breath for one of Jack's," back, back, back, hey, hey, he's done it!" He had been around long enough to see seven Cub no-hitters, including one by Milt Pappas in 1972 in which Pappas missed a perfect game by one pitch. He was the voice behind Ernie Banks' 500th homer as well when he was barely able to get two backs out before he had to say Hey, Hey, because Banks hit a screaming line drive homer at Wrigley.
Brickhouse always loved Wrigley Field because the Cubs played day baseball there when most of the other teams switched to night games. Brickhouse always referred to Wrigley as a ballpark, whereas he would describe other teams as having stadiums. One of my best friends in high school had an album we used to play that had Brickhouse, Boudreau, and Lloyd discussion smoking a cigar…it was almost as famous as the Wieboldt's commercials they used to do live. Things that endear them all to my heart!
Jack Brickhouse made being a Cub fan easier somehow in a time when they were not winning much when they incurred the nickname, "Lovable Losers." He never tore the team down and was an eternal optimist about the Cubs chances every year and every game. I am sure he would have been thrilled as they won the World Series in 2016. As one of the voices that captured me and helped me become a Cubs fan 45 years ago, I am sure all of the ex-Cub broadcasters were cheering the Cubs every step of the way!