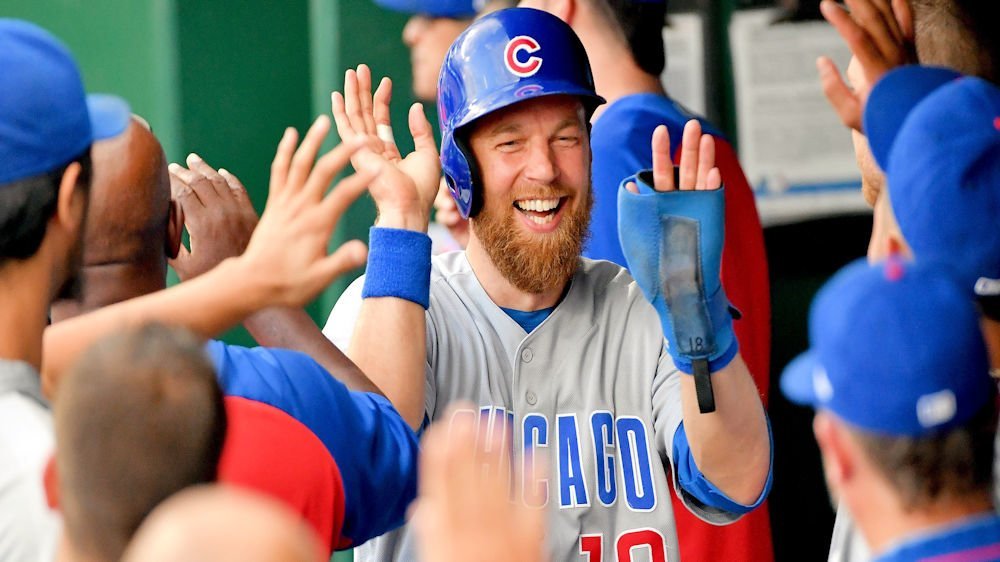 | | |
| --- | --- |
| Report Card Grades: Ben Zobrist and other Cubs second basemen | |
---
It was no secret as to what was one of the most significant holes in the Cubs 2019 as second base was a revolving mystery door. Right from the first game of the season, the Cubs appeared to have no clear answer as to who they wanted to be the primary second baseman for the season. Just when it looked like they may have found the right person, injuries, personal struggles, or just performance-based struggles kicked in, forcing the Cubs to continue to shuffle the deck at that position.
For the season, nine different players saw time at second base, at least with several seeing ten or more games at that spot. With David Bote and Addison Russell listed as SS and 3B on the roster with Ian Happ listed as an outfielder, I will be grading the other four men who saw at least ten games at the second base position in 2019.
DANIEL DESCALSO: Where do we start with this one. Signed last year as a free agent to a two-year 2.5-million-dollar deal, Descalso was looked at as a role player that could potentially fill the void of Tommy LaStella after his trade to Anaheim. After a promising April saw Descalso hitting a .296, the Cubs felt very comfortable giving him a chunk of the playing time early at second base.
However, once the calendar flipped to May, Descalso began to struggle so severely that he was never able to turn it around. Not to mention an ankle injury that sidelined him for two-plus months, and it is safe to say this was a lost season for him. For the season, Descalso hit a .173 with two homers and 15 RBI's. Those numbers were all career-low or near career-low totals for him as he never could get anything going in 2019.
Season Grade F: This signing did not work for the Cubs, and the results on the field showed. Already with limited range at second, Descalso needed his bat to come alive if he wanted to stay in the lineup. Unfortunately, after the first month of the season, that bat was nowhere to be found, and Descalso could be looking for a new team this season as I don't expect the Cubs to keep him around.
ROBEL GARCIA: Garcia was a mystery man coming into the season as all you must do is look at his back story to know what I mean. Drafted by the Indians in 2011, Garcia found himself out of baseball for a few years before linking up with an Italian professional team last season. That is when the Cubs spotted him during an exhibition game with the Cincinnati Reds and decided to bring him to the Cubs organization in 2019.
That decision proved to be a smart one, as Garcia was the biggest surprise in the system this year. Despite his outrageously high strikeout rate, Garcia led the entire Cubs minor league system with 27 homers to go with a solid .278 batting average. Those power numbers earned him not one, but two call-ups this season where he once again flashed that premier power potential.
Known as a dead red fastball hitter, Garcia appeared in 31 games with the Cubs, including 19 starts. Despite his strikeout numbers remaining high with 35 K's in 72 at-bats, the power was also displayed as he connected for five homers and 11 RBI's for the season. One of those homers happened to land in McCovey Cove in San Francisco, a feat that not many left-handed hitters can say they have accomplished.
Season Grade C+: Power numbers aside, Garcia was a pleasant story this season who has an exciting future with the Cubs. Had I graded him solely on his minor league production, and he would have probably received an A. However, I graded him on his major league production instead, which is why he was saddled with a C+ grade. Part of the reason for that grade is his strikeout rate of nearly 50% in the bigs. For him to have any chance of being a permanent fixture with this team, that number needs to come way down.
TONY KEMP: Acquired right around the trade deadline from the Houston Astros, no one exactly knew what type of role Kemp would have on this team down the stretch run. Known as a versatile player who could play multiple positions, Kemp brought a speed factor to the Cubs, which is something they lacked all year.
Initially, it appeared the plan for Kemp would be to use him as a pinch-runner late in games where they then could deploy him as a defensive substitution late. With the Cubs constant struggles in the leadoff spot, Kemp eventually found himself in the lineup where he too took a shot at the top of the lineup without much success. He did flash some great defense at second base, however, which was one of the reasons why the Cubs liked acquiring him in the first place.
Season Grade D: It was hard to grade Kemp because he had such a limited role with Chicago. Yes, he did play in 44 games, but most of those games were off the bench, limiting his overall plate appearances. In 82 at-bats, Kemp hit just a 183 with one homer and 12 RBI's. His solid defense at second base allowed him to see more playing time down the stretch, and he came up with some critical hits the final two weeks of the season.
With the struggles of Descalso last season, I wouldn't be shocked at all to see Kemp brought back next year. Not only is he younger and more versatile than Descalso, but he would come cheaper and would still offer a left-handed bat off the bench. That is undoubtedly something the Cubs should entertain this offseason.
BEN ZOBRIST: The fan-favorite Zobrist has had a memorable time in Chicago, but the free-agent probably wants to put 2019 behind him in a big way. After getting out of the gates slower than he would have liked, Zobrist and his then-wife Juliana filed for divorce, which caused Zobrist to take a personal absence from the team for three months.
Once ready to return to the field in August, Zobrist spend various parts of four weeks rehabbing in the minors with hopes of making it back to Wrigley at some point during the season. That moment came at the end of August when the Cubs brought Zobrist back to Chicago for the stretch run of the season.
What started as minimal playing time the first week or so, quickly turned into a four or five days a week workload as it looked like he never missed a beat this season. He finished the season with a .260 average, one homer and 17 RBI's, but managed to hit .289 after returning from his extended leave.
Season Grade B-: I am giving Zobrist the benefit of the doubt here as he did have to go through a lot this season. Despite that, Zobrist also proved that he still does have something left in the tank should he decide to play again in 2020. With a full offseason now to clear his head that decision won't come easy, but I wouldn't be shocked to see him back in 2020 with the Cubs if the offer fits or with someone else.