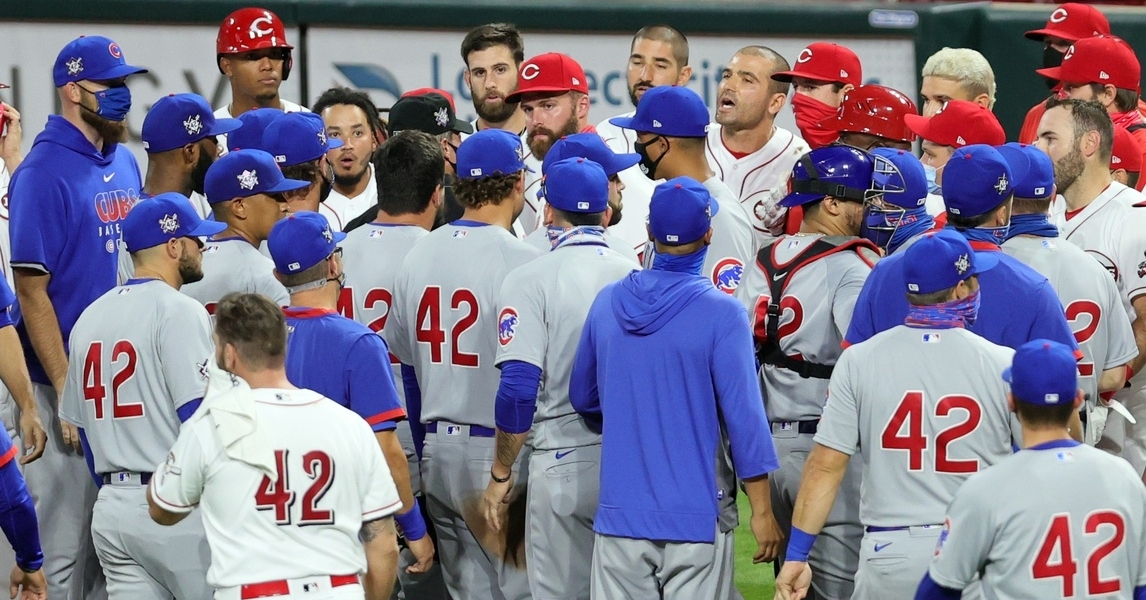 | | |
| --- | --- |
| Saturday night fever: Heated Cubs-Reds matchup ends in walkoff fashion | |
---
| | | |
| --- | --- | --- |
| Sunday, August 30, 2020, 12:14 AM | | |
CINCINNATI — In a seven-inning affair that was jam-packed with intensity, a disastrous outing by Chicago Cubs (19-14) reliever Craig Kimbrel in the bottom of the seventh prevented the North Siders from winning both games in Saturday's doubleheader against the Cincinnati Reds (15-18). The Cubs skunked the Reds 3-0 in the afternoon game but fell 6-5 in the nightcap.
Cincinnati won in walkoff fashion at Great American Ball Park, as a wild pitch from Kimbrel enabled the winning run to come home. A handful of ejections took place in the fourth inning, with a pitch that sailed over Cubs first baseman Anthony Rizzo's head leading to a contentious turn of events. For the first time in a 2020 MLB game, both managers were ejected, but the fourth marked only the beginning of the drama.
---
Inning-by-Inning Breakdown:
---
T1: The Cubs started off on the right foot, as Ian Happ hit his second leadoff home run of the season. The dinger, which boasted the steepest launch angle of any Cubs home run in the Statcast era, bounced off the padding atop the right field wall and ricocheted off the foul pole, making it a homer. Rizzo, who jacked a pair of dingers in the afternoon game, doubled later in the frame but was left stranded.
Score: Cubs 1, Reds 0
.@ihapp_1, corner pocket.@BinnysBev pic.twitter.com/TOlhIYBuFh

— Chicago Cubs (@Cubs) August 29, 2020
---
B1: Alec Mills started on the bump for the Cubs, and, like Reds starting hurler Tejay Antone, he gave up a leadoff round-tripper to begin his evening of work. Joey Votto powered a blast out to right in the Reds' first plate appearance of the game, moving into sole possession of third place on the Reds' all-time home run leaderboard.
Score: Cubs 1, Reds 1
?????????????? homer for Joseph Daniel Votto! pic.twitter.com/rZG9flXmk7

— Cincinnati Reds (@Reds) August 30, 2020
---
T2: Antone worked a three up, three down second inning.
Score: Cubs 1, Reds 1
---
B2: Mills drew a strikeout and a pair of groundouts his second time out.
Score: Cubs 1, Reds 1
---
T3: Antone needed just nine pitches to record three outs.
Score: Cubs 1, Reds 1
---
B3: Mills gave up another leadoff home run. This time, Curt Casali cranked one out to left. Nicholas Castellanos singled later in the inning and scored on a two-run tater by Jesse Winker that sailed over the wall in right.
Score: Cubs 1, Reds 4
Curt Casali has acquired the launch code! ?? pic.twitter.com/HtLzUIQFv6

— Cincinnati Reds (@Reds) August 30, 2020
That ball got outta here in Da Wink of an eye! ?? pic.twitter.com/lwjact9AVz

— Cincinnati Reds (@Reds) August 30, 2020
---
T4: Although the aforementioned home runs were assuredly exciting, the real fireworks began with the first pitch of the fourth frame, as Antone sent a sinker sailing over Rizzo's head. Perhaps, Antone was taken his frustrations out on Rizzo, who had done damage serious damage to the Reds all day long, but the pitch was likely nothing more than a misfire. Cubs manager David Ross was subsequently ejected for the first time in his managerial career, as he stormed onto the field and defended Mike Borzello, a member of the Cubs' coaching staff who was thrown out by home plate umpire Nic Lentz. Borzello presumably barked at Lentz for failing to give so much as a warning to the Reds for the questionable pitch, and Ross backed him up. Once Ross was ejected, Mike Napoli took over as Cubs manager for the remainder of the game.
With two outs and a man on base in the top of the fourth, David Bote energized the Cubs by walloping a mammoth 449-foot rainmaker beyond center field. Bote flipped his bat as he began his home run trot, clearly making a statement in the wake of the dramatics from earlier in the inning.
Score: Cubs 3, Reds 4
David Ross is ejected for the 1st time as @Cubs mgr after Rizzo almost gets beaned and Rossy took umbrage with both teams being warned.#GoCubsGo pic.twitter.com/ufAEvqjlMX

— Billy Krumb (@ClubhouseCancer) August 30, 2020
There has been an ejection. pic.twitter.com/oE2AF4jTd6

— Chicago Cubs (@Cubs) August 30, 2020
---
B4: The bad blood spilled over into the bottom half of the inning, as Votto, Winker and Reds manager David Bell were all ejected as a result of an on-field skirmish. Adbert Alzolay pitched the fourth, and, with a runner at first, he airmailed a pitch over the head of Shogo Akiyama, likely attempting to sending a message because of the Rizzo incident. The Reds took umbrage with it, and Votto had an issue with Rizzo, specifically, as Rizzo might have chirped at the Reds' dugout while manning first base. The benches cleared, but no fighting occurred. Regardless, the Reds were forced to finish out the matchup without their skipper and two of their best hitters.
Alzolay continued to pitch, and he was helped out by catcher Willson Contreras, who fired a perfect throw to third that outed Jose Garcia when he attempted to steal. The Reds failed to push a run across in the roller coaster of an inning.
Score: Cubs 3, Reds 4
The Reds' and Cubs' benches and bullpens have emptied. David Bell, Joey Votto, and Jesse Winker have been ejected. pic.twitter.com/47p6WMqi58

— FOX Sports Cincinnati (@FOXSportsCincy) August 30, 2020
Willy won't let 'em. ?? pic.twitter.com/7V0rBhWYiU

— Chicago Cubs (@Cubs) August 30, 2020
---
T5: Castellanos unintentionally did his former team a favor by botching what should have been a routine catch in right field. He failed to glove a fly ball hit by Nico Hoerner, who reached second as a result of the error. A few at-bats later, Hoerner was plated via a Happ double. Happ took third on a wild pitch but did not score.
Score: Cubs 4, Reds 4
Nick Castellanos drops an easy out pic.twitter.com/TVCxHAHL7e

— Vega (@iamvega1982) August 30, 2020
---
B5: Ryan Tepera worked a scoreless fifth. Other than a walk drawn by Aristides Aquino, who replaced Winker in the lineup, the Reds did not muster any offense in the inning.
Score: Cubs 4, Reds 4
---
T6: Cincinnati was fortunate to give up only one run in the sixth, as the Cubs loaded the bases before the Reds were able to record an out. Reliever Tyler Thornburg got the Reds into the bases-loaded jam before Nate Jones replaced him and did a good job of minimizing the damage. A sacrifice fly by Hoerner scored the go-ahead run, but Albert Almora Jr. then suffered a brutal strikeout, swinging at a strike-three pitch that was well out of the zone. Jason Kipnis stole second, and Ian Happ walked to reload the bases before Schwarber grounded out to allow the Reds to escape the sticky situation relatively unscathed.
Score: Cubs 5, Reds 4
---
B6: Rowan Wick gave up an infield single to lead off the bottom of the sixth but kept the Cubs' lead intact.
Score: Cubs 5, Reds 4
---
T7: With two outs, Jason Heyward singled and then reached third on a Bote single. Kipnis lined out after that.
Score: Cubs 5, Reds 4
---
B7: Kimbrel was brought in with a chance to pick up a save. Instead, he picked up a blown save and a losing decision. A leadoff walk was followed by a strikeout. Kimbrel's first wild pitch advanced the tying run into scoring position. Castellanos walked, and Aquino came through with an RBI base knock. The second wild pitch of Kimbrel's appearance let Castellanos take third. An ensuing walk loaded the bases, yet Kimbrel remained in the game. The Reds nearly won on a walkoff hit by pitch, but Mike Moustakas went around on a checked swing that accompanied a pitch bouncing off the dirt and into his leg. Kimbrel was able to strike out Moustakas, but he threw his third wild pitch mere moments later, allowing Castellanos to hurry home and score the winning run.
Reds reliever Joel Kuhnel earned the winning decision, making him 1-0 on the season, and Kimbrel became 0-1 on the year upon getting handed the loss. Although Kimbrel has had his fair share of struggles this summer, Saturday night's outing marked his first blown save of 2020. Wick was credited with his third hold.
Final Score: Cubs 5, Reds 6
RETURN OF THE PUNISHER! ?? pic.twitter.com/OzIu9PPVX8

— Cincinnati Reds (@Reds) August 30, 2020
You just love to see it! pic.twitter.com/gw41LBw85r

— Cincinnati Reds (@Reds) August 30, 2020

Tags: Chicago Sports Baseball
,
Craig Kimbrel
,
Anthony Rizzo
,
Ian Happ
,
Alec Mills
,
David Ross
,
David Bote
,
Adbert Alzolay
,
Willson Contreras
,
,
Ryan Tepera
,
Albert Almora
,
Rowan Wick
,
Jason Heyward
,
Tyler Chatwood
,
Mike Borzello