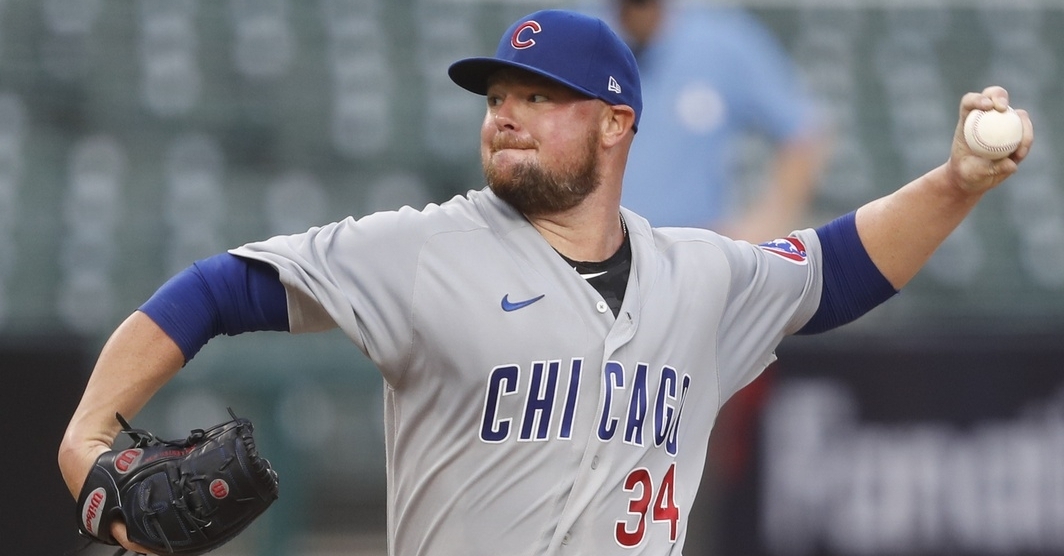 | | |
| --- | --- |
| Series Preview, X-factors and Prediction: Cubs vs. Brewers | |
---
| | | |
| --- | --- | --- |
| Friday, September 11, 2020, 2:06 PM | | |
The only team that can have a winning record against the Cubs in their division is the Milwaukee Brewers. That is unless the Cubs take the series this weekend. With a three-game lead in the NL Central and 15 games to go, the schedule gets tough for the Cubs the rest of the way, starting with Milwaukee this weekend.
In the team's first seven meetings, all of which were at Wrigley, the Brewers managed to go 4-3, but several games could have gone the Cubs way. Sitting in third place in the NL Central and outside looking in for a playoff spot, it is now or never for Milwaukee as you can bet, they will be ready to play. The Brewers are also coming off a 19-0 beatdown of the Tigers on Thursday, so that may give their offense some confidence going forward. Let's look at the matchups and predictions for this season.
Friday at 7:10 p.m. CDT on Marquee Network: Jon Lester (2-2 5.80 ERA 29 SO) vs. Brandon Woodruff (2-3 3-91 ERA 55 SO)
Lester's age is starting to show on the mound, and there's no getting around it. He has struggled for about a month now and won't hesitate to tell you how much. Lester has always been honest about his performances and went as far as using the words I Suck after his last outing.
No one is expecting the 2016 Lester to walk through these doors anytime soon. However, the Cubs hope to see the playoff Lester return to the mound for the stretch run. Even if he isn't going to blow hitters away anymore, having him, battle through six innings will boost the rotation if he keeps them in the game.
Speaking of not being happy with performances, Brewers ace Woodruff is in a similar spot, although for different reasons. Woodruff hasn't had the same struggles as Lester in terms of giving up runs, but he continues to struggle to get deep in games. Woodruff is certainly motivated for tonight's matchup after another rough fifth inning against Cleveland last time out. "I'm doing ok, but not getting through five innings is a disgrace" is what Woodruff had to say after his previous outing. This will be his third start against Chicago this season as he has failed to get through six each time out.
Saturday at 6:10 p.m. CDT on Marquee Network: Kyle Hendricks (5-4 3.41 ERA 44 SO) vs. Brett Anderson (2-3 4.64 ERA 21 SO)
Hendricks finally delivered a strong performance last time out, going eight innings against the Cardinals to pick up a much-needed win. Hendricks has shown moments of greatness this season, as indicated by his opening day complete-game effort against Milwaukee.
The key for him is timing and mechanics, as he has had some issues this season. After watching him his last two times out, it appears those mechanical issues have been fixed. Hopefully, that continues in this one. On the other hand, Anderson is giving the Brewers precisely what they expected when they brought him in this season.
He isn't giving them the length they would like, but he delivers solid outings consistently while pitching to contact and inducing a high ground ball rate. However, the problem with his consistency is that it hasn't been good consistency allowing four runs in five innings each of his last two starts. After a rough beginning to his lone start against the Cubs this season, Anderson kept things close, allowing just 2ER in four innings across a no-decision effort.
Sunday at 1:10 p.m. CDT on Marquee Network: Alec Mills (4-3 4.74 ERA 32 SO) vs. Adrian Houser (1-4 5.48 ERA 32 SO)
Mills delivered what could have been his best start of the season on Monday, and it couldn't have come at a better time. After struggling for the better half of a month, Mills tossed six shutout innings against the Reds, picking up his fourth win.
This will be his second start against Milwaukee this season as one pitch ruined his outing last time. With the Cubs holding onto a 3-1 lead, Mills hung a changeup to Christian Yelich, who crushed it for the game-winning three-run homer. It was that pitch that sent Mills into his struggles as he wasn't the same pitcher for the better half of his next three starts. Hopefully, he can build on his outing from Monday.
To say Houser hasn't been a surprise in a bad way is an understatement. After going 1-0 with a 0.76 ERA over his first two starts, Houser has been awful since his six starts. During that stretch, he has not only gone 0-4 but has posted a 7.34 ERA, which is odd when you think about him having one of the highest ground ball rates in the game. Pitching to contact lately has hurt him, and he will look to do better.
X-Factor: Heart
Normally, when I look at X-Factors for a series, I tend to pick out a player or a position that I think will make the most significant difference. That will not be the case in this series as I am looking for something you can't coach up. Heart, determination, and fight will be the biggest X-Factors for me in this series.
Through seven games this year and much of the season last year, the Cubs and Brewers played each other tough with most games coming down to the final out. The Cubs are the first-place team that the Brewers are chasing, but they are also pursuing a postseason berth. For Milwaukee to make a run at the division once again, this is a series they need to have. They will be motivated and will come ready to play, so hopefully, the Cubs match that intensity.
Prediction: FLY THE W MOSTLY
I said earlier the only team that can have a winning record against the Cubs within their division is the Brewers. I don't think that happens, and I look for the Cubs to find a way to take two of three. Despite Lester's struggles over the past month, both Woodruff and Houser have had struggles of their own.
Lester has a long pedigree of great success, and you would think that he will eventually bounce out of these struggles. The question is, when? Now would be as good of a time for him to get things rolling as the Cubs prepare for their final two weeks before the postseason. Whoever wins this series will undoubtedly earn it, but I am going with the Cubs as they do avoid some of the Brewers better arms in the series?