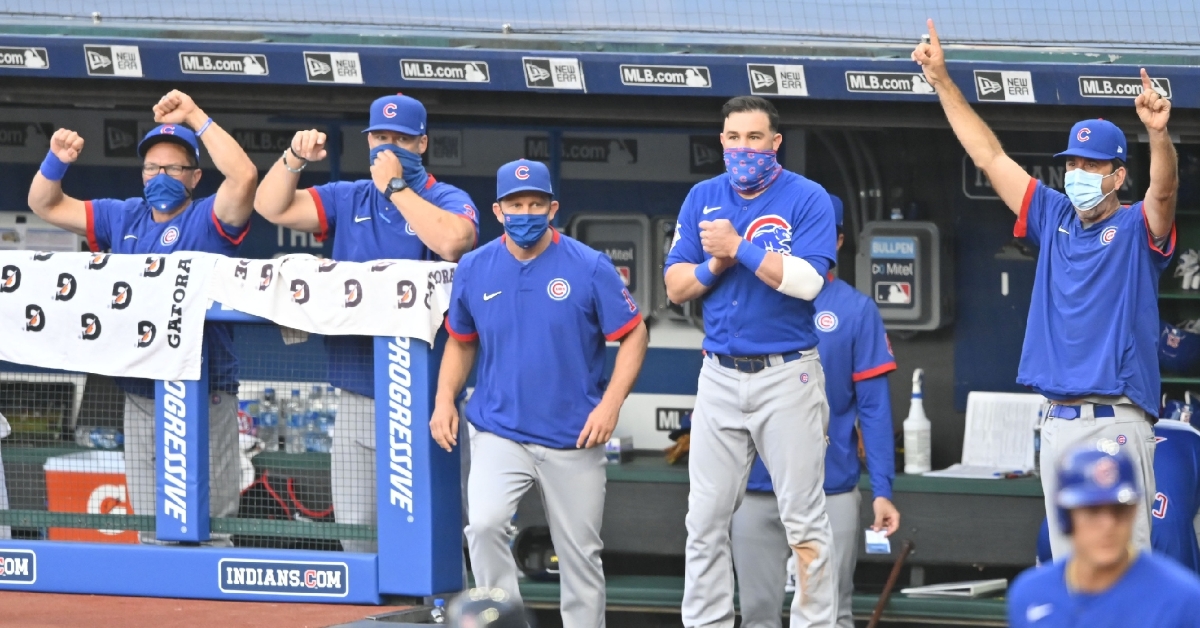 | | |
| --- | --- |
| Series Preview, X-factors and Prediction: Cubs vs. Pirates | |
---
| | | |
| --- | --- | --- |
| Tuesday, September 1, 2020, 12:59 PM | | |
The Cubs spent yesterday off traveling from Cincinnati to Pittsburgh in preparation for their three-game set with Pittsburgh. Well, today, not only will they take the field for the first time in September, but it will be with a much different looking team as the Cubs made several deals at the deadline.
Out is Josh Phegley, Hernan Perez, Albert Almora, and Tyler Chatwood (who will likely hit the injured list). In comes Jose Martinez, Cameron Maybin, Josh Osich, and potentially Kris Bryant and Steven Souza Jr. It looks like the Cubs have an idea in mind of what they want to do and are gearing up for what hopes to be a better September than in years past.
Let's look at the pitching matchups followed by predictions.
Tuesday at 6:05 p.m. CDT on Marquee Network: Jon Lester (2-1 4.55 ERA 22 SO) vs. Chad Kuhl (1-1 2.52 ERA 20 SO)
After a couple of rough outings, Lester bounced back against the Tigers holding Detroit to just one run across five frames. However, he was tagged with a no-decision as the Cubs bullpen couldn't keep Detroit from rallying back.
Lester has had mixed reviews this season, but you do notice one thing about him. When he is on, chances are he will win as he has a 1.75 ERA in three starts as opposed to 8.59 in the rest of his outings. Pittsburgh is certainly a team Lester fairs well against, posting a 3.69 ERA against them over his career with a 7-1 record. Adam Frazier and Kevin Newman have given him the most problems across the lineup.
Jon Lester, Wicked Back Door Cutters (backward Ks).
???????? pic.twitter.com/hkgCk4qFxJ

— Rob Friedman (@PitchingNinja) August 27, 2020
Opposing Lester will be Chad Kuhl, who appears to have found his groove in the rotation. In his last outing, Kuhl lasted six innings against the Cardinals, allowing one run, but his command was not on point as he walked four and struck out just one. This will be Kuhl's second appearance against Chicago, pitching out of relief the first time. Kuhl struggled with his command in that appearance and was tagged for one big inning, which led to the Pirates defeat. Look for Willson Contreras, Jason Heyward, and Anthony Rizzo to continue their big numbers off him.
Wednesday at 6:05 p.m. CDT on Marquee Network: Kyle Hendricks (3-4 4.09 ERA 34 SO) vs. Derek Holland (1-2 7.62 ERA 31 SO)
With the day off on Monday, the Cubs were able to keep their rotation on regular rest. At least for now. Hendricks is one of those pitchers who doesn't like to pitch on extra rest but needs to turn it around in a hurry. After starting the season 3-1 with a 3.07 ERA, things have not gone well in his last three outings.
The righty is 0-3 with a 5.60 ERA across those outings as he looks anything but an ace right now. Much like Lester and many the Cubs, Hendricks has had great success against the Pirates over time. This would be the perfect outing for him to get back to his old self and gain some confidence back also. Frazier and Gregory Polanco will be the key to his outing as both hit north of 350 against him.
Kyle Hendricks has a 2.41 ERA (9 ER/33.2 IP) in 5 starts against non-Reds teams this year. And a 9.58 ERA (11 ER/10.1 IP) against the Reds in '20.

— Jordan Bastian (@MLBastian) August 29, 2020
They will face a familiar face for the Cubs as Derek Holland will be on the mound. Acquired last year for the stretch run, Holland never delivered as the Cubs had hoped, and those struggles have carried over into this season. Chicago has not hit lefties well this season, which could be an advantage to Holland. However, given the trades Chicago made at the deadline yesterday, look for some of those names in the lineup.
Friday at 12:35 p.m. CDT on Marquee Network: TBD vs. JT Brubaker (0-0 4.50 ERA 22 SO)
The Cubs have not formally announced a starter quite yet, but two names appear most likely. If the Cubs plan to keep all their starters on regular rest, you're looking at Yu Darvish and or Alec Mills for this one. With a matchup against Jack Flaherty looming on Friday, you would think the Cubs would save Darvish for Friday.
The other option would be Jose Quintana, as it appears he will be taking Chatwood's spot in the rotation. The problem with that is, Quintana pitched on Sunday in relief and may need a few days off before coming out of the rotation.
Pittsburgh will counter with JT Brubaker as he continues to be a work in progress. Last time out against Milwaukee, Brubaker put together his best start in the Majors, lasting five innings and striking out six while allowing two runs. His pitch count should be much higher this time out, so look for the Cubs to try and work the count and make him throw more pitches.
X-Factor
There are many things I could piece together for X-Factors, but I am looking at the new-look lineup being the key. With Maybin and Martinez's addition against lefties, look for them to be inserted soon. You also have the possibility of both Bryant and Souza coming back, so the lineup will be adding more depth. If Bryant does come back, I hope Ian Happ remains in the leadoff spot, and
Bryant moves down. That move alone makes the Cubs lineup better and deeper.
Nothing official it sounds like a good chance Kris Bryant will be back with the team tomorrow and Steven Souza could be back as well.

— Sahadev Sharma (@sahadevsharma) August 31, 2020
Prediction: FLY THE W
I said this a week ago against Detroit, but these are the Cubs' series must win. Chicago has been lucky enough to maintain their lead in the NL Central despite not playing well as Pittsburgh and Cincinnati did their part to help. Now is not the Cubs' time to fall into that trap as the last two Septembers have not been kind. I look for Chicago to kick September off with a bang and pick up a nice sweep on the road.

Tags: Chicago Sports Baseball
,
Hernan Perez
,
Albert Almora
,
Tyler Chatwood
,
Kris Bryant
,
Jon Lester
,
Willson Contreras
,
Jason Heyward
,
Anthony Rizzo
,
Kyle Hendricks
,
Yu Darvish
,
Alec Mills
,
Jose Quintana
,
Ian Happ