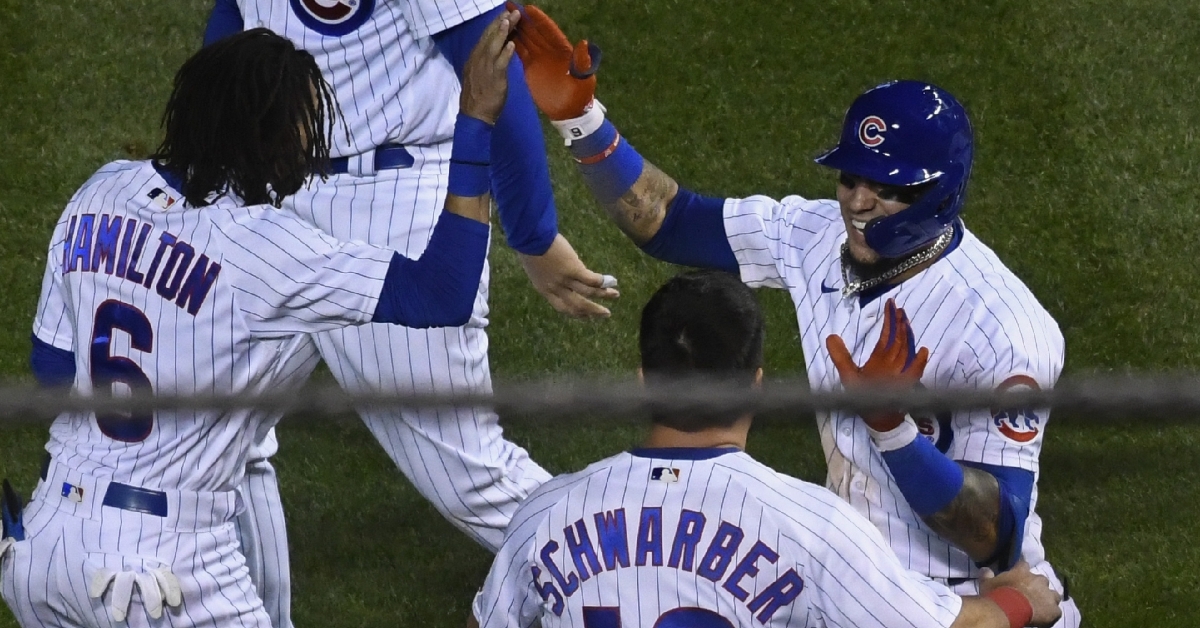 | | |
| --- | --- |
| Series Preview, X-factors and Prediction: Cubs vs. Pirates | |
---
It's crunch time for the teams battling for the postseason as the Cubs sit in first place in the NL Central, holding a 3.5 game lead. While they are in a good position with just seven games left, we saw last season in September what can happen as the Cubs lost nine straight at one point, including a four-game set in Late September.
In September, the Cubs once again return to Pittsburgh, sporting a 5-1 record against the Pirates thus far. Pending another four-game sweep, the Cubs will have a winning record against Pittsburgh and have a chance to not only clinch a postseason berth but clinch a division title during this series. These are the games the Cubs need to win, and they need to come out strong.
Here are the matchups, along with predictions for the series.
Monday at 6:05 p.m. CDT on Marquee Network: Jon Lester (2-2 4.91 ERA 38 SO) vs. J.T. Brubaker (1-2 4.79 ERA 36 SO)
We have finally seen the postseason Lester we have grown to love the last two times out. With this being one of his final regular-season starts, Lester hopes to make that three straight outings heading into the postseason. What better team to do that against than the Pirates who he has had tons of success against?
Lester has pitched to an impressive 3.58 ERA in his career against Pittsburgh and is sporting a 1.64 ERA across 11 innings his last two times out. What does the bulldog have in store this time? Brubaker will be his counterpart as he is looking to get back to his winning ways. Ironically, the lone win of Brubakers' season came against the Cubs in an outing where he made them look silly.
Jon Lester has been one of the best pitchers in @Cubs history. pic.twitter.com/rIxwOb7rms

— Marquee Sports Network (@WatchMarquee) September 18, 2020
Despite a loss last time out, Brubaker may have pitched even better than his outing against Chicago. Against the Reds, Brubaker went 5 1/3 innings allowing just one run. Unfortunately, that was one run too many as the Reds topped the Pirates 1-0. Brubaker had a great approach against the Cubs last time out. Let's see if the Cubs will adjust the second time around.
Tuesday at 6:05 p.m. CDT on Marquee Network: Jose Quintana vs. Steven Brault (1-3 4.04 ERA 32 SO)
The Cubs have been fortunate enough to get by with four starters over the past two weeks, but that will change this week as the Cubs will need a fifth starter Tuesday. Adbert Alzolay seems like the most logical choice, but his worst career outing as a pro was at PNC Park last July. If Alzolay is not the option, Colin Rea and Tyson Miller are other names to watch, as is Cory Abbott.
The Cubs will see a familiar face in Brault as they seem to see him every series. Much like what Mike Montgomery was for this team, Brault is the true definition of a swingman. He lives as a long reliever and fills in the rotation when needed. Brault has never had the most success in the rotation but has seen better results this season.
For the most part, the Cubs have handled him as they have put together some big numbers off him. In his only start against the Cubs this season, Brault silenced the Cubs through three innings, striking out five and only needing 38 pitches to get through those three innings.
Wednesday at 6:05 p.m. CDT on Marquee Network: Kyle Hendricks (6-4 2.93 ERA 61 SO) vs. Trevor Williams (1-8 6.70 ERA 45 SO)
Class was in session once again as the Professor continued to dazzle in September. Across eight innings against the Twins, Hendricks held their offense to three hits allowing no runs, and striking out 10. That brings his September ERA to 1.21 with just three walks and 27 punchouts in four starts. Hendricks will keep the magic working against a team that he did not fare well against last time. This will be his final regular-season start as he should enter the postseason as the teams No. 2.
Kyle Hendricks is the only pitcher in @MLB with three outings of at least 8 IP this season pic.twitter.com/DL4ZHmQcwy

— Chicago Cubs (@Cubs) September 19, 2020
If anyone wants 2020 to end, Williams would be that man as he has struggled all season long. Across his last five starts, Williams has pitched to a 9.59 ERA allowing 11 homers in just 25 1/3 innings. The Pirates are 1-9 in his 10 starts this season. This is what I like to call a prove it start for him as he is looking to carve out a role for 2021. Williams tends to pitch well against the Cubs, but going up against Hendricks will be a tall task if his recent trend continues.
Thursday at 12:35 p.m. CDT on Marquee Network: Alec Mills (5-4 4.14 ERA 44 SO) vs. Chad Kuhl (1-3 5.03 ERA 39 SO)
Mills was unable to honor his no-hitter with a win, but didn't pitch poorly against the Twins. Through six innings, Mills allowed just two runs while striking out seven. He did enter in the seventh but was charged with two more earned runs after failing to record an out.
Not only will this be his final start of 2020, but Mills is also hoping to earn the NO. 3 spot in the Cubs postseason rotation as he has pitched much better as of late. In his last day time start, Mills happened to face the Pirates in which he was lit up in what was his worst outing of the season. Since that start, Mills has gone 2-1 while posting a 2.77 September ERA.
Now that the dust has settled, just wanted to thank everyone who helped me along this crazy journey. I'm not done yet, I've got even more dreams to achieve! pic.twitter.com/FYhNcFzgqZ

— Alec Mills (@ATMills37) September 18, 2020
Kuhl is a mystery to me as he has the potential to be a legitimate No. 1 for this staff. Once Jamison Taillon returns with Mitch Keller, Kuhl could be inserted into the No. 3 role to give the Pirates a solid top three. For that to happen, Kuhl needs to improve his command as walks have been his undoing this season.
In his last start, Kuhl seemed to figure things out a bit as he regained his fastball command to strike out six across five innings while walking just two. He has allowed more than three runs in only three outings this season, but one of those outings came at Chicago's hands. The Cubs need to be patient in their approach with him and make him work, but they can't afford to be too patient and let him settle in.
X-Factor
This series is not about someone or something that in terms of an X-Factor, but more so about history. In this series, the X-factor is the Cubs ability to close out the season strong and make the postseason. We have seen the past two Septembers a team that is destined for the postseason only to crumble the final two weeks.
Once again, the Cubs appear destined for the postseason but lost two games of their division lead over the weekend. Yes, they still have a 3.5 game lead, but what happens if the Cubs drop a pair of games to Pittsburgh and the Cardinals win their next four. You're looking at a 1.5 game lead heading into the final weekend, and the pressure will fall on a Cubs team that hasn't handled the pressure well the past two seasons. The Cubs need to forget about that and come to the park each day to figure out how to win a baseball game.
Could this road trip to Pittsburgh jump start the #Cubs offense? pic.twitter.com/FCM8aR68Od

— Marquee Sports Network (@WatchMarquee) September 21, 2020
Prediction: FLY THE W
The Pirates are reeling right now. Not only did they get swept by the Cardinals this weekend, but they lost three of four to the Reds the series before and have now lost nine of their last 11 games. Unfortunately, that means they are due to break out sooner or later.
The Cubs own a 5-1 record against Pittsburgh this season, but four of those six games have been close. The Pirates continue to face the Cubs tough, and that has me nervous about this series. Regardless, having Lester and Hendricks in the mix and improving Mills, you have to like their chances in the series. I think the Cubs take three of four from Pittsburgh and do enough to clinch the division heading into the weekend.