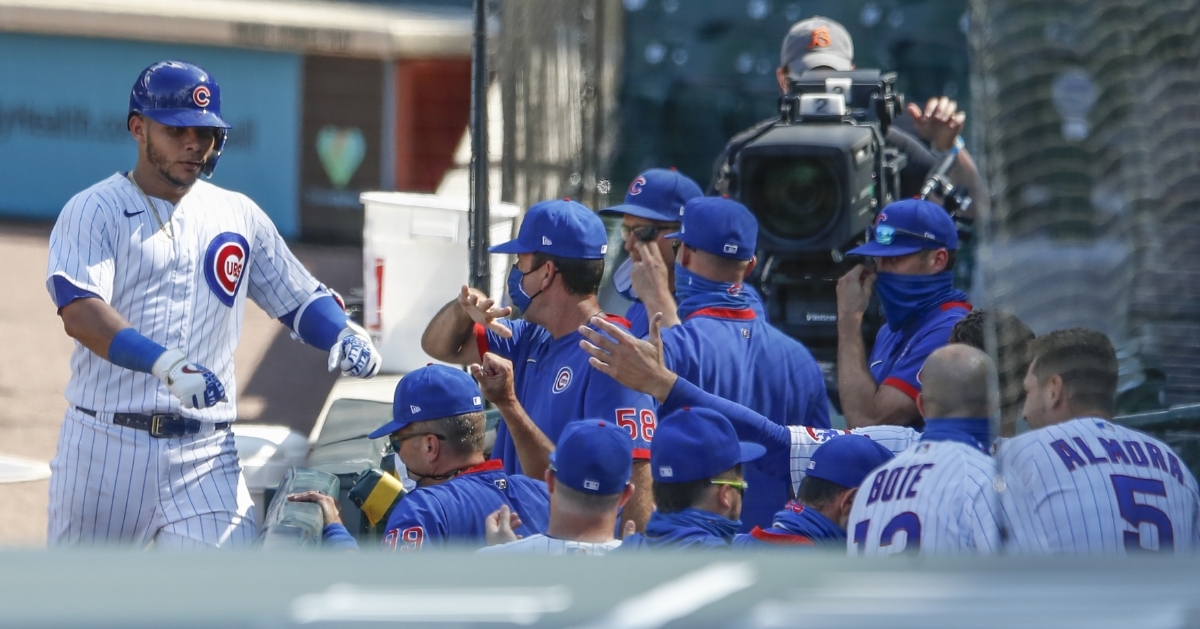 | | |
| --- | --- |
| Series Preview, X-factors and Prediction: Cubs vs. Reds | |
---
| | | |
| --- | --- | --- |
| Tuesday, September 8, 2020, 3:24 PM | | |
The Cubs will continue their eight-game homestand as the Cincinnati Reds come to Wrigley for the first and only time in 2020. Chicago finished the Great American portion of the schedule by going 4-3 against the Reds and looking to take the season series this weekend after losing it last year. The Reds are sitting 5.5 games back at the moment, but have been much more consistent over the past two weeks. This is an excellent chance for the Cubs to either bury them entirely or for the Reds to make a late-season run at the postseason. Here are the pitching matchups along with the series prediction.
Tuesday at 7:15 p.m. CDT on Marquee Network: Tyler Mahle (1-1 3.90 ERA 35 SO) vs. Alec Mills (3-3 5.50 ERA 26 SO)
For Mahle, this is precisely the team he wants to see once again, especially when you look at what he did last time out. As part of their previous series in Cincinnati, Mahle struck out 11 Cubs hitters across six-plus innings on one of his career's better outings. He followed that start-up by going seven innings against St. Louis and solidified his spot in the rotation.
I don't expect Mahle to deliver another 11-punchout game again, but he has had some excellent success against Chicago the last few times, so the Cubs need to capitalize on him early. His command has seemed to get better the deeper he goes, so the Cubs need to get on him early.
Opposing him will be Alec Mills, who needs to get a good start under his belt. Mills got off to a surprisingly great start this season, but his last four starts have been a nightmare. That story can be summed up against the Reds in which he has allowed six runs in nine innings of work. That includes his six-inning outing his first time out and just a three-inning outing last time out.
Mills will not blow you away, so location and changing speeds are the keys for him. Mills has been struggling with his command in recent outings, but it has been the long ball that has done him over the course of his last three starts. The Reds have power across that lineup, so he needs to keep the big bats in check and pitch to contact.
Wednesday at 7:15 p.m. CDT on Marquee Network: Trevor Bauer (3-3 2.05 ERA 61 SO) Vs. Yu Darvish (7-1 1.44 ERA 63 SO)
What better way to spend Roberto Clemente Day than watching a great pitching matchup between Darvish and Bauer. These two squared off a week ago in which Darvish continued to do his own thing, and Bauer took his first career loss against the Cubs.
After his strong start to the season, Bauer has lost his last couple of times out but has pitched well enough to win most of his games. The Cubs had a great approach against him by working counts and taking tons of pitches to get him out of the game early. That will be the key to beating him again as they cannot let him settle in.
Darvish, on the other hand, continues to do his thing as he has now won seven consecutive decisions. Not only that, but he has dominated in all seven of those starts. I hate to say it, but all things have to come to an end sometime. It is just a matter of when in terms of Darvish losing another game. Regardless when that comes, Darvish will still keep his team in the game.
Thursday at 7:15 p.m. CDT on Marquee Network: Sonny Grey (5-2 3.19 ERA 56 SO) vs. Adbert Alzolay (0-1 2.08 ERA 12 SO)
The key game of this series will be the series finale as the Cubs have another tall task. While Bauer may be the best starter in the Reds rotation, Grey is a close second who has handcuffed the Cubs over the past year. Much like Darvish and Bauer, Grey was in the conversation for the Cy Young this season until imploding in the Reds 16-2 loss against the Cardinals. Grey will be given a bit of extra rest after that start and should be ready to go against the Cubs. The Cubs need to get to him early and not let him settle in.
For the Cubs, David Ross is trusting Alzolay to make at least one more turn through the rotation as he gets the start here. With Tyler Chatwood and Jose Quintana scheduled to begin throwing at some point this week, it is up to Alzolay to not only hold down the fort but prove he is worthy enough to remain in the starting rotation long term.
Much like last year, Alzolay's starts have been mixed as he continues to deliver one good outing followed by one not so great outing. Ideally, it comes down to command for Alzolay, and if he can command his pitches, he has the stuff to deliver strong outings. Going against Grey will be a tough matchup for a young talent like Alzolay, but what better way to prove your worth than going against one of the NL's best arms.
X-Factor
We haven't seen the wind blowing out much this season, but it certainly was blowing out the St. Louis series's final two games. With that being said, I would like to think that it will be one of the biggest X-Factors of this series. For guys like Mills and maybe Alzolay, they need the wind blowing in as pitching to contact the wind blowing out is a disaster recipe.
Darvish has been prone to give up the long ball now and then, but at least he has the stuff to make up for it if needed. The wind can change from inning to inning, but that, to me, is the X-Factor in the series. The team who can adapt the quickest should come out on top.
Prediction: FLY THE W MOSTLY
From a pitching side of things, this could not have shaped up worse for the Cubs. Not only are the Reds throwing their two best arms in this series, but outside of Darvish, the Cubs are throwing an unproven hurler and their worst starter this series. On paper, that would tip the odds in the Reds favor.
However, there is a reason why the games are not played on paper. The Cubs know the Reds are going to be motivated with the goal of getting back into the division race and postseason one way or another. On the flip side, the Cubs will be hungry to win this division race and know they need to beat teams to get it done.
It won't be easy, but I like the Cubs to take two of three from the Reds. Until Darvish loses, it is hard to bet against him at this point. I like Grey to beat Alzolay on Thursday, which leads the game tonight as the turning point in the series. I don't think Mahle will duplicate the game he had last time out against the Cubs, and if Mills can keep things close, the Cubs can hit the Reds pen.