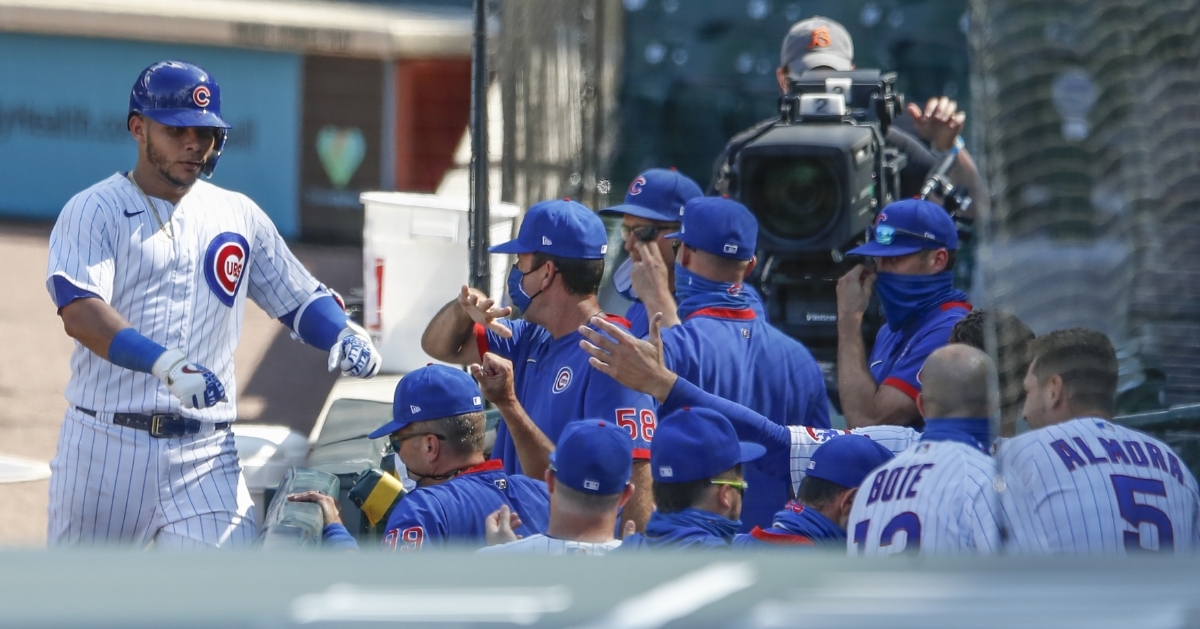 | | |
| --- | --- |
| Series Preview and Prediction: Cubs vs. Royals at Kauffman Stadium | |
---
| | | |
| --- | --- | --- |
| Wednesday, August 5, 2020, 2:14 PM | | |
The Cubs completed the two-game sweep of the Royals at home to begin the week, but now they are headed west for part two against Kansas City. This will be another two-game set as the Cubs will look for three consecutive series sweeps and five-straight series wins to open the season.
This is an unfamiliar place for the Cubs as they have not played a ton in KC. The last time these teams met at Kauffman was in 2018 when the Cubs took two of three from the Royals. Things weren't easy for the Cubs against the Royals as they struggled to put them away at Wrigley and struggled to put them away in KC. Despite that, they should again take this series or, at the very least, split the series.
Here are the matchups.
Wednesday at 7:05 CT on MARQUEE (Darvish 1-1 2.70 ERA vs. Kris Bubic 0-1 4.50 ERA)
We saw the excellent Darvish last time out against Pittsburgh as he continues his impressive second-half run from last season. While the strikeout numbers are not typical Darvish yet, his walk numbers are outstanding thus far, which is huge for the Cubs. It is no secret that Darvish has not lived up to his contract outside the second half of last season, but in 16 road starts a season ago, Darvish posted a 3.09 ERA.
This is a Royals team that can strike out a ton, and Darvish could easily feast on this lineup for his first double-digit K game of the season. On the flip side, KC also has hit their fair share of homers this season, which continues to be an issue for Darvish. Only Whit Merrifield and Alex Gordon have seen Darvish more than eight times, with both hitting above .250.
Opposing Darvish will be rookie Kris Bubic, who is coming off his major league debut against the White Sox. In his first start, Bubic was tagged for three runs in four innings, two of them earned while striking out three. He not only pitched his way into some early trouble but found ways to pitch his way out. Look for him to be stretched out a little more depending on how he maneuvers through this lineup. This will be the Cubs first-ever look at him.
Thursday at 6:07 CT on FOX (Tyler Chatwood 2-0 0.72 ERA vs. Brad Keller 0-0)
Can Chatwood make it three for three to start 2020? It is certainly worth asking the question and not out of the possibility given the lineup he will face. Chatwood has been nothing short of amazing in his two starts this season and has been the Cubs best pitcher two times through the rotation. This will be his first road start of 2020 as he looks to continue the success at Wrigley to the road.
The biggest reason for Chatwood's sudden resurgence has been his ability to locate the fastball and throw the rest of his pitches for strikes. When on, he is tough to hit, and the Royals will need to be patient and capitalize if he is off. Maikel Franco has seen him the most going 2-7 off Chatwood in his career.
Last season's opening day starter, Keller will come off the injured list to make his first start of 2020. Keller tested positive for COVID-19 earlier this summer and has been inactive since but is now ready to go. At this point, there are no limitations on a pitch count, but one has to think he won't surpass 70-80 pitches in this one given he had no real camp.
This will be his second career start against the Cubs facing off with them back in 2018. In that start, Keller pitched well enough to win, but the offense couldn't back him up with the Cubs winning 5-0 behind Mike Montgomery. Most of the Cubs in this lineup have experience against him, but look for Jason Kipnis to get the start as he has posted a .375 average in eight trips to the plate against Keller.
X-Factors
Normally, I would highlight a player I would see as an X-factor, but today I look at a variety of players. I look for the Cubs role players to be the X-factor in this series, mainly guys like Kipnis, Souza Jr., and potentially Josh Phegley as the roster shrinks from 30-28 on Thursday. This is when players who are on the bubble need to prove they belong, so look for Ross to give plenty of at-bats to different guys off the bench in the next couple of days.
Prediction
As much as I want to pick another sweep, I think the Royals will get one game in KC. It may not be a bad outing from starting pitching, but the bullpen can't keep living dangerously in the ninth as they have been recently. Eventually, that will come back to bite them, and this may be the series that happens. Regardless a 10-3 or 11-2 start is impressive.