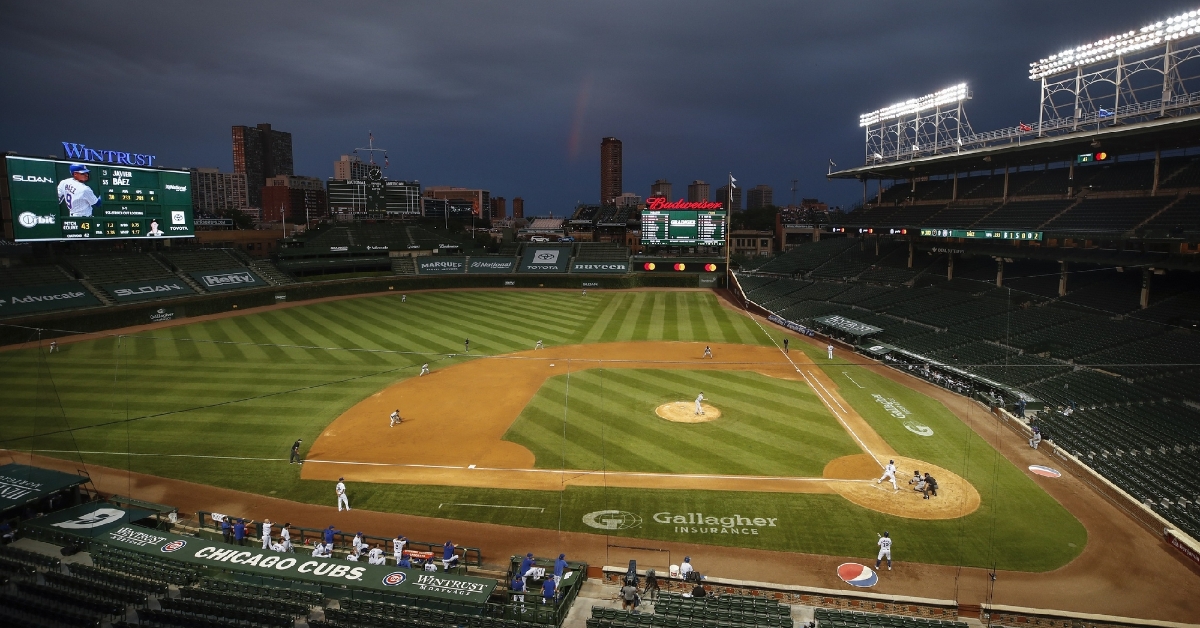 | | |
| --- | --- |
| Series Preview and Predictions: Cubs vs. Royals at Wrigley Field | |
---
As the Cubs continue their five-game homestand, they welcome the Kansas City Royals to Wrigley for a rare two-game set. This is what we like to call a wrap-around series as the Cubs will not only face KC the next two days at home but will then head to Missouri to take them on for two more.
As mentioned in the previous series with Pittsburgh, these are the types of teams that the Cubs need to beat as they are better in every area. It wasn't as easy as the Cubs would have liked over the weekend with Pittsburgh, but the Cubs did what they needed to do, earning the series sweep to improve to 7-2 and 5-1 at home. Here is how the two-game home portion of this series shakes out.
Monday at 7:15 p.m. CT on Marquee network: Daniel Duffey vs. Alec Mills
In two starts this season, the Royals have seen the good Duffey and the bad as the Left-hander is still searching for his first win of the season. Entering his start with a 0-1 record and a 5.79 ERA, Duffey is coming off an eight-strikeout performance in which he allowed just three hits in five innings. Unfortunately, those hits did the damage as he was tagged for four earned runs. Jason Kipnis, Josh Phegley, and Steven Souza Jr are the only hitters with experience against Duffy with Kipnis owning a 316 average in 21 at-bats.
Opposing him will be former Royals prospect Alec Mills as he will make his first start against his former team. Part of an impressive nine-game run from Cubs starters, Mills will look to build off his six-inning outing in Cincinnati while the Cubs await to decide what to do with Jose Quintana in a few weeks. However, Mills has struggled at Wrigley Field, posting a 4.64 ERA as opposed to 2.67 on the road.
Tuesday at 7:15 p.m. CT on Marquee Network: Brady Singer vs. Kyle Hendricks
This will be Hendricks' second start at Wrigley this season as he looks to rebound from a rough outing last time out in Cincinnati. There is no better place for him to do just that as Hendricks continues to cruise at home, posting an ERA near or below 2.00 at his home park. This will be his first career start against the Royals as Maikel Franco has seen him 14 times posting a 143 average.
The Royals will be turning to Singer in this one as he searches for win No. 1 this season. In his first two trips through the rotation, Singer hasn't pitched bad as he sports a 0-0 record with a solid 3.60 ERA. The righty is in his first season with the Royals and has allowed two runs in five innings in each of his first two starts. This will be his first career start against the Cubs as no one in their lineup has seen him.
Team X-factors
Once again, this series will ultimately come down to pitching, particularly the Cubs bullpen. Through nine starts this season, the Cubs starters have dominated, whereas the bullpen has been awful. After tossing five scoreless innings of relief against Pittsburgh yesterday, let's hope that turns the corner for a team desperately seeking bullpen help.
Whenever the Cubs face a pitcher for the first time, you never know what to expect. Sometimes the Cubs come out and mash the baseball. Yet, there are other times when the Cubs hitters make that starter look like CY Young. Chicago needs to attack both Duffy and Singer, but they need to remain patient to work the count and wait for their pitch.
It will be a nice homecoming for former Cubs outfielder Jorge Soler as this will be his first appearance at Wrigley since his trade. We all saw what he could do when healthy last season, so limiting the bat's damage will be crucial. Despite the Royals not winning a ton of games right now, they have hit the ball out of the yard a ton early, which the Cubs will have to limit to have a chance.
Predictions
This is a short two-game series, and the Cubs have their best pitcher at home going in game two, so I like Chicago to sweep the Royals for the Wrigley portion of this series. The Cubs bullpen is finding a rhythm that comes in handy against teams that lack real offensive talent. They will look to continue that here, but the Royals are more than capable of putting runs on the board.
Ultimately this game will be decided in the first five innings, which the Cubs starters continue to put a hurt on teams. They have not only limited their opponents offensively but have been treated by a Cubs offense averaging around six runs per game. I will be watching the next four games very closely, especially when it pertains to Whit Merrifield. We know the Cubs have been in trade talks regarding him for two seasons now, and if the Cubs were to pursue him this season again, these next four games would give them a sample size about what he can do for them.