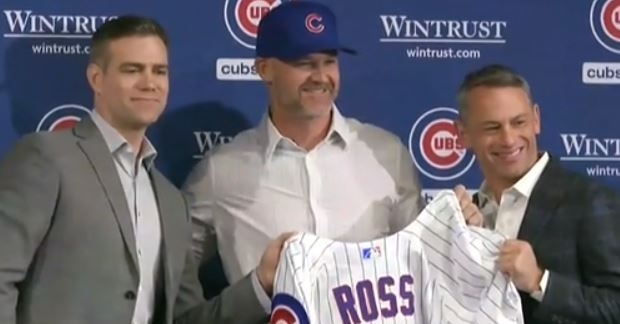 | | |
| --- | --- |
| The Dawn of a new era: David Ross speaks out | |
---
| | | |
| --- | --- | --- |
| Monday, October 28, 2019, 2:18 PM | | |
It's officially official: David Ross is the 55th manager of the Chicago Cubs. Theo Epstein, Jed Hoyer, and David Ross held a 30+ minute press conference and media session this morning, and the message couldn't be any clearer: David Ross wants to win.
"I know what winning looks like." I also know what losing looks like, and I'm prepared to have those hard conversations. If I see something, I'll say something."
Before I get started on the contents of the presser, let me be the one to address the white elephant in the room. David ross will wear #3 again, furthering my prediction that the Cubs will be parting ways with Daniel Descalso. Not that Descalso can't take a new number, but to me, this seems to be a little bit of an ominous foreboding for Descalso's future with Chicago.
#Cubs fans, your new manager, David Ross pic.twitter.com/FNGjZR3dRd

— Kelly Crull (@Kelly_Crull) October 28, 2019
I digress.
The first several minutes of the press conference seemed almost like Rossy was under some sort of obligation to explain his qualifications to the fans. While I understand that he understands the scrutiny being placed on him by the fans and media, the best thing he can do is get this team out there and winning, come March.
"In spring training, I got to do some coaching."
Once the seemingly obligatory "justification session" was over, Ross began by stating that he's had his eye on a manager's position throughout his entire career. While Theo refused to say that Ross' tenure with the front office in Chicago was "grooming him" for the position, Epstein did admit that they wanted him to learn about as many facets of the game as possible (I think they were grooming him, which is absolutely fine).
Accountability was the word of the day, and Ross used it frequently. While not clearly outlining what accountability would look like, Ross strongly emphasized that some players would be getting face to face meetings to discuss certain things and to let them know what to expect (no names were mentioned).
Accountability is precisely what this team needs, and I don't care if we're talking about Nico Hoerner or Jon Lester. The hard truth is, this team has dropped the ball for the last three years. Losing sucks, and it would certainly appear as though Ross wants to put an end to the complacency that has bitten this team squarely in the derriere since 2016.
Ross (in agreement with Theo) says that if the team wants to fall back to 2016, then they need to reminisce about the hard work and all of the grinding it took to get there, but they cannot any longer use 2016 as "a crutch."
"I expect professionalism."
While I don't think Ross needed to spend so much time justifying himself, his qualifications, or Theo's decision to hire him, he'd probably have been remiss, had he not addressed the friendship (former teammate) issue. He relayed how conversations during mound visits with Lester couldn't have been aired on TV, stating that they were often far from friendly.
"I didn't shy away from the tough conversations... There's a misconception of the fun-loving, Grandpa Rossy."
"I think there's a little bit of a misconception of the fun loving 'Grandpa Rossy'...I don't think that's me in the dugout."

David Ross says he won't shy away from tough conversations as

href="https://twitter.com/hashtag/Cubs?src=hash&ref_src=twsrc%5Etfw">#Cubs
manager. ??: https://t.co/YR6vl9PyoK pic.twitter.com/hrJvfCbLNq

— Cubs Talk (@NBCSCubs) October 28, 2019
Ross admits that he has learning to do and says he won't be afraid to rely on his bench coach, batting and pitching coaches, and so on. When asked about his coaching staff, Ross says that will all come together down the road a little way, but for right now, he was intent on learning and preparing for spring training. Ross says that he has sent a text message to the current coaching staff, but I find it intriguing that he neither confirmed or denied that any of them would remain.
"I've been part of a lot of winning teams. Respect, trust, commitment, effort, hard work, and accountability. Players can expect that from me, and I will expect that from them.
Then, of course, you have the people wondering (or rather expecting) that Ross will be nothing more than a puppet on a string for Theo, taking managerial direction through a Bluetooth headset, as Theo calls the game from his suite.
"I will be making my own decisions," Ross said, as he looked for Theo to support his statement.
Theo: "If you want a puppet, you don't want David Ross."

— Mark Gonzales (@MDGonzales) October 28, 2019
After relaying that Ross was his own man and not afraid to disagree with the Cubs front office, Theo relayed a story about when Ross was a second-string catcher in Boston. Theo says the front office wasn't liking some of the things that Ross was doing with a new pitcher as he called the game, so Theo went to offer Rossy a little friendly advice.
After hearing Epstein out as he spoke about scouting and analytics, Ross was expected to agree, change his format, and get on with life. According to Theo, that was hardly the way that it worked. Instead, Ross pointed out what he saw and basically told Theo and the Boston brass that he stood by his decision and was going to continue with what he was doing.
(So far, I definitely liked what I was hearing…)
Ross addressed the road-woes issue and said that the team needed "to find a better routine on the road," but admitted that what the secret to doing that was, is something that will have to be discovered.
If there was one thing I cringed at, it was when the conversation about Joe Maddon came up. Of course, Ross couldn't slam Joe, and he certainly couldn't start calling him out on what he saw as Maddon's flaws, but damn, Rossy! Don't say that you'll be incorporating a lot of Maddon's ways in your strategy; Joe's ways are what got us to this point, for crying out loud.
Ross - on replacing Maddon-I will take some of his style but I will put my own stamp on this . Big shoes to fill .

— Bruce Levine (@MLBBruceLevine) October 28, 2019
Yes, Maddon was an accomplished manager, and indeed he taught you some things, but just pay the man lip service via a canned answer and then move on. You're the new era, the next era, and right now, you are what this team is all about. In fairness, Ross did say that he'd had a lot of good managers and that he'd taken in the good and bad from all, but for obvious reasons, he spent (in my opinion) a little too much time on Joe Maddon. Yes, some of the fans (and presumably players) are clinging to Joe, but (as Joe might say), "That ship has sailed, brother."
Ross: "I got a lot of respect for Joe (Maddon)." will bring some of his style about how he went about things. "(But) I'm going to put my own stamp on it."

— Mark Gonzales (@MDGonzales) October 28, 2019
I like that Ross has said that he wants to put his stamp on this team, and he should do just that, as this team needs to move in a completely different direction as they enter 2020.
Rossy understands the need for accountability in the clubhouse as well, and much like I've been saying, he agrees that there's a ton of leadership already on the roster.
"Wins and losses come and go. Accountability must be there every day, and there are a lot of leaders in that clubhouse."
If there were one thing I would have liked to have seen out of Ross today, it was more assertiveness. I understand the jitters, but all eyes are upon you, David, and the naturally soft voice isn't what I wanted to hear. Not saying that you should have ripped Theo a new rear end for not hiring you last year (although that would have been classic), but you needed to get that "in your face tone" when talking about 2020. These fans are cynics, and while you don't have to prove anything to them, other than that this team will win under your command, I think they needed to hear that inner-Mike Ditka come out for just a minute or so.
All and all, I feel confident in Ross. I think he's going to experience the learning curve, just like anyone else who's thrust into a new position. Still, with a little luck, an excellent coaching staff, and a worthwhile roster, I'm confident that he'll be able to be successful as a manager in Chicago.
I give this presser a solid "A:" Now let's do this. Monday's the day, Theo – grab Jed, grab Rossy, and don't forget to snatch a check from Tom. Stay tuned, boys and girls, the fun is about to begin.
Now let's get to work. pic.twitter.com/tw2iA1GMDt

— Chicago Cubs (@Cubs) October 28, 2019