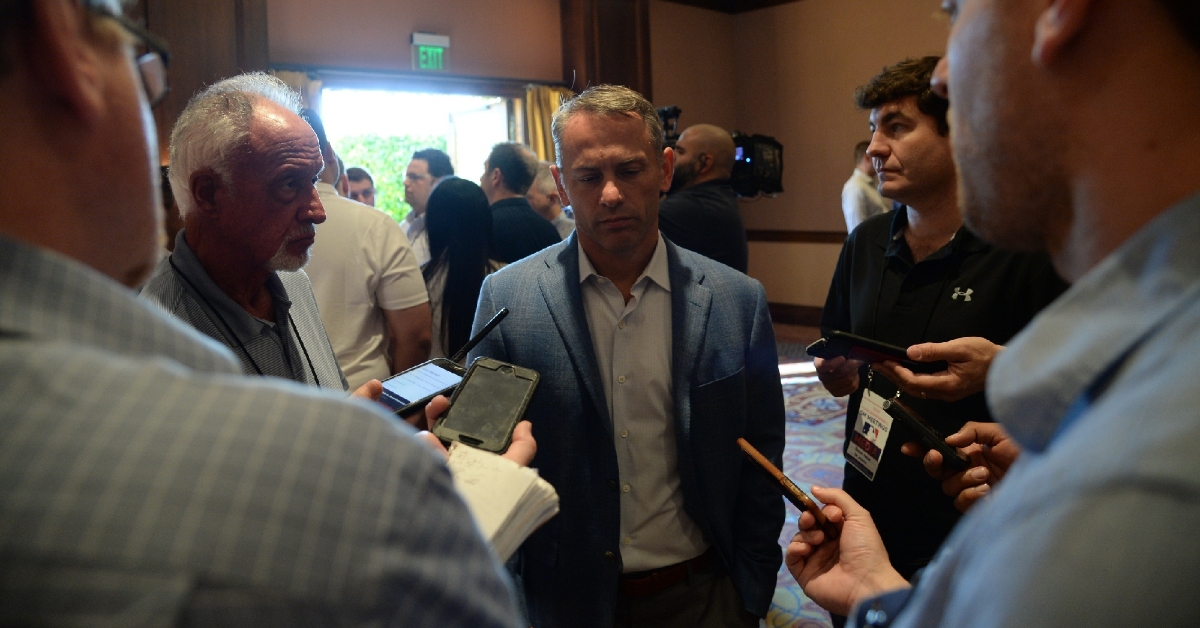 | | |
| --- | --- |
| The latest MLB rumblings from Scottsdale | |
---
Even after the declaration of free agency and the deadline for clubs to pick up options, the MLB Hot Stove season still seems a little surreal until the week of the GM Meetings. All of the sudden rumors start to reemerge but carry with them a bit more credibility – or at least it seems – as for the first time in a year, all of the big wigs are stationed together in one city.
MLB has cleverly disguised the meeting as a set of conferences, lectures, and a tradeshow for the latest equipment and technology. Still, most realize that the actual "meetings" take place in the GM's suites, long after the last vendor has closed down his kiosk for the day. If someone from one of the teams gets one too many Manhattan's in them, all the better, as there's never a reporter far off, ready to pounce on whatever tidbit of information pours out of the slightly, mentally altered individual who spews it. Man, I love this stuff.
News pours in so fast during this time of the year, that I can barely shut my computer down for a much-needed rest (I mean me, not the computer) before my newsfeed is jammed up again. The media members on the scene don't always send things right away, but instead, they wait until they get back to their rooms to fire off the little tidbits that didn't rank as "high priority" during the day. Here's the best of the latest Scottsdale tidbits that came trickling across my desk.
CUBS
Brian Cashman on Theo and Company: Brian Cashman (Yankees) offered up some strong praise for Theo Epstein, Jed Hoyer and the rest of the Cubs' front office, saying, "That's as creative and dynamic of a front office as you're ever going to find. Their strategies are pretty strong on a year in and year out basis. Whatever course they are plotting is the smart one. And even the courses in more recent years that haven't played out the way they hoped, I can tell you, sitting in my office, every decision they made makes a ton of sense. It's still a game that comes with no guarantees."
High praise from someone who served as Theo's counterpart for several years while Theo was in Boston.
Hoyer on Andy Green: Jed Hoyer offered up this tidbit about the new Cubs' bench coach: "Excellent in-game strategy. Always thought ahead, very well, in-game. We thought it was a good pairing with David [Ross]."
Reunion with Morrow? I can't see it – not in a million years – but according to an MLB Trade Rumors article, the Cubs are again showing interest in Brandon Morrow.
Granted, Morrow would probably sign for a ton less than what his contract would have paid, had the Cubs picked up that option, but even for $5M a year, I wouldn't be taking the chance. Morrow's not like Kendall Graveman or Drew Smyly, who weren't paid as much to convalesce after Tommy John. Still, instead, Morrow might be paid millions while awaiting the next unfortunate breakdown. Do. Not. Do. This.
Trades coming… no… really…: According to Jed Hoyer, chances are, the Cubs will be dealing from the core this winter. Not that this isn't something that I and others have been saying for months, but it appears to be becoming more and more "official."
Cubs are clear that they will consider trading from their excellent core — Bryant, Contreras, Baez, Schwarber, etc. "We've had a stable core for 5 years ... We're going to have change." — Cubs GM Jed Hoyer

— Jon Heyman (@JonHeyman) November 12, 2019
The irony of it all is that Jed made this comment on the heels of his remarks denouncing trade rumors as fodder for clickbait articles.
Jed Hoyer on trade rumors involving Cubs players:

"People are gonna put stuff out there about our guys and there's definitely some clickbait opportunity about our guys. We have a lot of guys who have been All-Stars and you can put a story out pretty easily that gets clicks."

— Tony Andracki (@TonyAndracki23) November 13, 2019
Hamels isn't close to being done: According to Cole Hamels agent (John Boggs), Hamels has "at least five good seasons left in him."
Cole Hamels Drawing Significant Interest https://t.co/mOwAl0oCeH pic.twitter.com/jOokaC9qYc

— MLB Trade Rumors (@mlbtraderumors) November 13, 2019
"It's cool for him to think about coming home to San Diego," Boggs said. "More than anything, he wants to compete for a championship. The chance to win is what's going to drive his decision-making."
Scuttlebutt from Scottsdale:
Nationals: Rumors say that Anthony Rendon attempted not once, but twice, to offer the Nationals a deal to keep him. Now it's Mike Rizzo's turn to grovel.
Rizzo expects to meet with Scott Boras in Scottsdale this week to discuss both Strasburg and Anthony Rendon, who they did trade offers for throughout the season. Rizzo added that he and Boras have not spoken yet.

— Jesse Dougherty (@dougherty_jesse) November 12, 2019
Dodgers: Taking a little jab at the Mets from last year's winter meetings, Dodgers' president Andrew Friedman says, "Our mindset is to be aggressive, without reaching the point of stupidity."
Friedman also addressed the allegations about the Astros stealing signs, saying that he wouldn't talk too much about it, calling it "sour grapes to speak to it."
Indians: The Indians are reportedly receiving a lot of trade calls about superstar SS Francisco Lindor (no surprise there), but Indians baseball president Chris Antonetti said: "My expectation is Frankie will be the shortstop Opening Day next year."
Blue Jays: Jays' GM Ross Atkins on Ken Giles: "We've been really focused on acquiring players. We really haven't engaged on trading players away much at all." Atkins added: "We're optimistic we'll be able to acquire [starting] pitching."
Concerning shortstop Bo Bichette, Atkins says, "He wants to be the best player in the game. He wants to be in Hall of Fame discussions. It's so inspiring to be around . . . When he's saying those things, you believe him."
Atkins on Nate Pearson joining the rotation: "It depends on our offseason, his offseason, our Spring Training. He's so young in his professional career . . . There's development left for sure. But man, he's exciting. He's driven to be great."
Manager/Coach watch:
Rocco Baldelli, Mike Shildt Named Managers Of The Year https://t.co/0kmEYLolgb pic.twitter.com/dTrMfGntT2

— MLB Trade Rumors (@mlbtraderumors) November 12, 2019
Giants: SF has announced their new manager, and Joe Espada has lost out for a second time; the Giants have chosen Gabe Kapler.
White Sox: Sox hire Scott Coolbaugh as asst hitting coach. Coolbaugh was the Triple-A hitting coach for the Dodgers last year.
Angels: The Halos have hired Tony La Russa as a special assistant in baseball operations.
Tony La Russa Joins Angels As Senior Advisor https://t.co/J6igCgvY0K pic.twitter.com/epFLxeGS5g

— MLB Trade Rumors (@mlbtraderumors) November 12, 2019
Mets: The Mets have spoken to Fredi Gonzalez about their bench coach opening. Gonzalez is expected to interview with team officials in New York after the GM Meetings. He joins Jerry Narron as a known candidate for the position.
Phillies: As per Jon Heyman: "Nats assistant hitting coach Joe Dillon would figure to have an excellent chance to win Phillies hitting coach job. There are a few candidates left, but he may be favored. Girardi loves Nats hitting coach Kevin Long, and Dillon has Long's endorsements."
Word is Twins bench coach Derek Shelton had a fantastic interview in Pittsburgh, and even with a new Pirates GM (even since the interview), Shelton figures to have a decent chance. He has links to the 2 favorites for Pirates GM, Ben Cherington and Matt Arnold

— Jon Heyman (@JonHeyman) November 12, 2019
Clint Hurdle: What an ending. With a few games to play in 2019, Hurdle announced to reporters that he'd "definitely be returning." With a game left to play in 2019, Pirates ownership announced that Hurdle wouldn't be back. Given the opportunity to manage the Bucs last game of the year, Hurdle had a bit of a hissy-fit, packed up his stuff and left the ballpark. Last night, he announced his retirement.
Upgrade Your Account
Unlock premium boards and exclusive features (e.g. ad-free) by upgrading your account today.
Upgrade Now