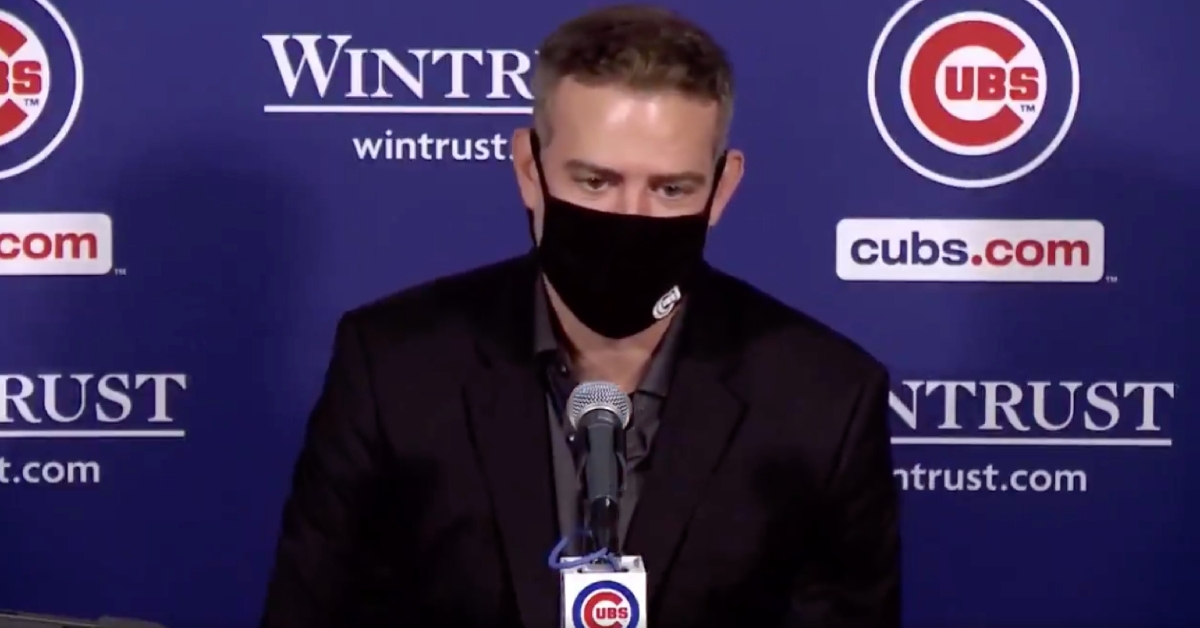 | | |
| --- | --- |
| Theo Epstein needs to embrace change this offseason | |
---
| | | |
| --- | --- | --- |
| Tuesday, October 13, 2020, 10:34 AM | | |
Last week, Theo Epstein met the media following the Cubs' fourth consecutive disappointing end to the season. This time, another late-season offensive collapse occurred. The Marlins were the beneficiary this year, as Miami came into Wrigley Field and swept the Cubs in a three-game series by winning two games.
In those two games, the Cubs scored just one run in 18 innings. Theo's annual end-of-the-year press conference has been eerily similar to the last two seasons. After 2018 Theo claimed that "Our offense broke" and previous season announced "A reckoning is coming" and after now three straight years with the rhetoric being the same: A core of offensive pieces failing to finish strong — there was a heightened pressure on Epstein to both say the right things, but also mean them.
These last two seasons that called for change have been met with the signings of Daniel Descalso, Stephen Souza Jr., Jason Kipnis, and a few midseason additions like Craig Kimbrel, Rowan Wick, Nicholas Castellanos, and Andrew Chafin, to name a few. The point is, not much has changed aside from the man calling the shots in the dugout — and as a result, the results haven't changed either.
For a team that showed so much promise and potential when their youthful group of to-be stars won the organization's first World Series in over 100 years to now, the so-called window on this group is closing quickly, and an organization that promised sustained success must act soon before the foundation evaporates.
In a year that saw a global pandemic shorten the marathon of a 162 game MLB season to 60 games, and limit the finances of each team's spending and revenue without fans — the offseason that approaches becomes crucial for the game as a whole to grow and progress, as well as the Cubs' organization to plan for the future.
The free-agent class is a solid one, but baseball's economic landscape is unknown. It is incredibly hard to believe Theo Epstein and company are planning on going all-in on signing players like Trevor Bauer when they have undergone a budget crunch over the last three seasons, have other in-house players to pay, have lost over 70% of revenue from the short season and no fans, have a group of players that are only under contract for one more season and have failed to live up to expectation recently.
And it would also be insane to think that the Cubs will plan to make a few minor moves and roll out nearly the same lineup of aging players with less and less years of club control after doing so three years in a row and failing to garner a different ending. The reason I use the word insane is that the definition of insanity is doing the same thing over and over again and expecting a different result.
It is unknown what the budget from Tom Rickets may look like for Theo Epstein and Jed Hoyer in the 2021 season. It is also unknown what the trade market will look like if the Cubs try to shop one of their players who has one year of club control left after a lousy offensive showing statistically in 2020, it is unknown the attitudes of other teams in the division plan to do as 2021 approaches, and above all, it is unknown what the entire economic landscape will look like over the next year and beyond as the next collective bargaining agreement approaches.
The one thing that seems like a known thing is that Theo Epstein plans to return to the Cubs, finish out his time in Chicago, and then depart after the 2021 season. What seems unknown is what any other factor may look like from now until November of 2021.
But one thing is for sure, Theo and the Cubs can not do what they have done over the last few years. They have shown extreme loyalty to a core of players that have struggled to live up to expectations, and in 2020 were simply below average. They have organizationally failed to produce sustainable big-league pitching and instead had to throw money at pitching problems. And above all, they have been unable to act upon their words after the last three disappointing endings to seasons.
"Sort of simply hoping for a better outcome moving forward doesn't seem like a thoughtful approach," Epstein said. "So, embracing some change, even significant changes is warranted."