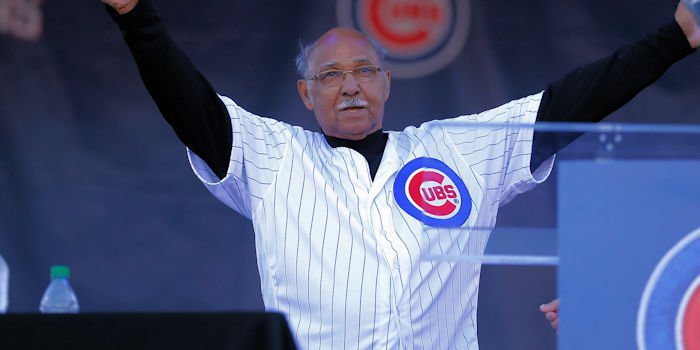 | | |
| --- | --- |
| This Week in Chicago Cubs History: Kerry Wood's dominance, Billy Williams, Starlin Castro | |
---
| | | |
| --- | --- | --- |
| Sunday, May 10, 2020, 9:21 AM | | |
As we finish another work week, it is time to look at what happened the week of 5/4 through 5/8 in Cubs history. May was one of the busiest months when looking at Cubs history, but there are so many events that all of us have come to remember and will not soon forget. From the 1970s through the 1990s, these events helped change the franchise and brought new meaning to be a Cubs fan.
May 4: This was one of the quieter days of the week, but that was not the case in 1974. Facing off against the Cincinnati Reds with a crowd of just under 18,000, the Cubs were not looking good early as Roger Nelson had the Cubs guessing through eight innings. Nelson was completely on point in this one as he held the Cubs scoreless through eight innings and was backed by a Tony Perez RBI in the fourth after helping himself out with an RBI in the third to give the Reds a 2-0 lead heading to the ninth.
With just three outs to go in the game, Carmen Fanzone starter to swing the momentum in the Cubs favor as he managed to reach base via an error in the ninth. Sweet Swinging Billy Williams followed that up with an RBI single to get the Cubs on the board before Jerry Morales tied things up with an RBI triple, and just like that, we were heading to extras.
It was at the bottom of the 11th when the Cubs were able to complete the comeback as Williams came up to bat yet again. With Fred Norman now on the hill, Williams showed off that perfect left-handed stroke to take him deep as the Cubs rallied for the 3-2 win over the Reds.
May 5: Another quiet day in Cubs history, 1946, would be the first of two memorable Cinco De Mayo days as Hank Borowy was part of this day. In a matchup with the Phillies, the Cubs busted the game wide open with an 11-run seventh inning on their way to a 13-1 victory. Borowy not only started that game but threw a complete game in the win while driving in four runs at the plate on a pair of doubles in the seventh.
Fast forward 55 years and you had our next big day in 2001 when the Dodgers traveled to Wrigley. Leading Los Angeles 4-1 heading into the seventh, the Cubs erupted for 16 runs off the Dodgers pen scoring eight runs each in the seventh and eighth innings before rolling 20-1. This marked the first team since 1928 to score that many runs in consecutive innings, which is an impressive feat.
May 6: This day in Cubs history needs no introduction as he head right to 1998. On a cold, rainy afternoon at Wrigley, young fireballer Kerry Wood toed the rubber to take on the vaunted Houston Astros offense highlighted by the Killer B's. It may have been Wood's fifth career start, but on this day, he looked like a Hall of Famer, making an all-star lineup look like little league players.
Using a ridiculous 98 MPH heater that he was painting the corners with, to go along with two nasty breaking balls, Wood allowed just two base runners on the afternoon. One was a hit past the third baseman, and the other was an error. That wasn't the significant part of the game, however.
Not only did Wood shut down the Astros en route to his 2-0 shutout win, but he did so by striking out that lineup 20 times without walking a single batter. That is tied for the Major League Record and is both the Rookie and National League record. What made that game that much more impressive along with it being just his fifth start was the quality of hitters he was baffling on the day.
From the likes of Craig Biggio, Jeff Bagwell, David Bell, and Moises Alou, the Astros simply had no chance in this one as the middle of their order went 0-9 with nine K's. Regardless of what anyone says about no-hitters and or perfect games, to me, this was the most dominating pitching performance in MLB history given how easy he went through that lineup.
May 7: Another big day in Cubs history was that of May 7, as tons of memorable events happened on this day. From winning ten straight games in 1906 to improve to 16-6 that year to Bill Lee's four-hit shutout in 1934 for his MLB debut, these moments are important although not the biggest in Cubs history.
Lee was very busy on this day as seven years later as he hit two homers in a Cubs 11-2 win over the Phillies. Those happened to be the only home runs of his career as he retired in 1947. Perhaps the two most notable May 7 events occurred in 1992 and 2010, respectively.
Starting with 1992, and you have Sammy Sosa hit his first of his franchise-record 545 home runs with the Cubs in a 9-2 victory over the Astros. At that time, no one knew the type of hitter we were getting with Sosa.
However, with that being said, arguably the best moment in Cubs history on this date was in 2010, when the first of a plethora of young talent busted through on the big stage.
His name was Starlin Castro, and he was making his MLB debut at Cincinnati against a good Reds team. Known for being a good hitter in the minors, Cubs fans got to see how good he really was as he put on a show for them. In his first at-bat on the MLB roster, Castro took a fastball the other way and put it over the right-field fence for a three-run homer for his first MLB hit.
Later that game, Castro cleared the bases with a triple as he picked up a pair of hits and six RBI's in his debut. Mike Fontenot helped the Cubs offense in that game also, as his grand slam was the ultimate backbreaker as the Castro led Cubs picked up a 14-5 win. Castro would spend the rest of that season as well as the next five manning the shortstop position as he was traded away following the Cubs 2015 NLCS appearance.
May 8: This was an unusually quiet day in Cubs history as no significant events took place that I could find.