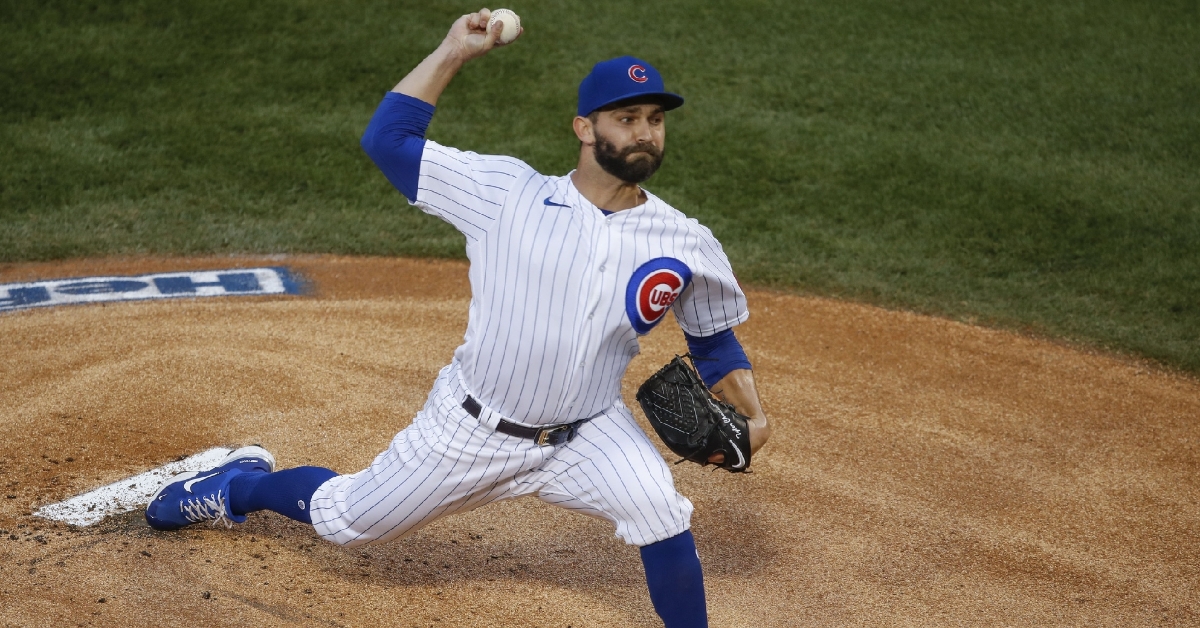 | | |
| --- | --- |
| Tyler Chatwood impresses as Cubs fend off pesky Pirates | |
---
CHICAGO — Matching a career high with 11 strikeouts and setting a new career high with 20 swinging strikes, Chicago Cubs (6-2) starter Tyler Chatwood was marvelous in his 6 2/3 innings pitched on Saturday, retiring 14 in a row at one point. Chatwood's scoreless outing contributed to the Cubs downing the Pittsburgh Pirates (2-6).
Chicago won 4-3 at Wrigley Field without the services of starting third baseman and leadoff man Kris Bryant, who was a late scratch due to gastrointestinal issues. David Bote replaced Kris Bryant at third, and center fielder Ian Happ replaced Bryant in the leadoff spot. Happ, shortstop Javier Baez and left fielder Kyle Schwarber each homered on the night, providing the Cubs with all four of their runs.
The Cubs entered the ninth inning leading 4-0, but the Pirates were able to tally three runs before placing the potential tying run on base. Pittsburgh was unable to completely erase its deficit, however, as the Cubs survived, giving Chatwood the winning decision.
Ask us how Tyler Chatwood is looking. pic.twitter.com/c43n0p4Cob

— Chicago Cubs (@Cubs) August 2, 2020
---
Inning-by-Inning Breakdown:
---
T1: Surprisingly, Chatwood's marvelous performance started off on the wrong foot, as Adam Frazier hit a leadoff double in the first at-bat of the game. Frazier eventually made it to third base on a wild pitch, but Chatwood tallied three straight strikeouts to leave him stranded.
Score: Pirates 0, Cubs 0
---
B1: The Cubs also wasted a leadoff double in the opening frame. Happ smacked a ground rule double into the ivy, and Anthony Rizzo was walked after that. Rizzo received a favorable call on ball four, and Baez, whose at-bat followed Rizzo's, received a not-so-favorable call on strike three. The inning ended on a double play groundout that Schwarber hit into.
Score: Pirates 0, Cubs 0
---
T2: Bryan Reynolds drew a leadoff walk, but a great play by catcher Willson Contreras resulted in him getting tagged out in a rundown. Contreras scooped up a pitch in the dirt and charged after Reynolds, catching him in no man's land between first and second. Reynolds was tagged out as a result.
Score: Pirates 0, Cubs 0
---
B2: Contreras experienced offensive success in the bottom half of the second, hitting the Cubs' second leadoff double in as many innings. A wild pitch by Pirates starter Mitch Keller advanced Contreras to third, but, not long after that, Contreras was thrown out while attempting to score on a routine chopper hit to shortstop.
Score: Pirates 0, Cubs 0
---
T3: Chatwood recorded three outs in nine pitches as part of an uneventful top half of the third.
Score: Pirates 0, Cubs 0
---
B3: Happ broke the scoreless tie with a 405-foot solo bomb hit out beyond center field. Two at-bats later, Baez cranked a two-out dinger that sailed 448 feet over the center field wall. Soon afterward, Keller was removed from the game due to tightness in his side.
Score: Pirates 0, Cubs 2
A double and dinger for @ihapp_1 after two at-bats!@BinnysBev pic.twitter.com/YSMHuruhWX

— Chicago Cubs (@Cubs) August 2, 2020
Javy hurts a baseball. pic.twitter.com/PS0Bo3MWJH

— Chicago Cubs (@Cubs) August 2, 2020
---
T4: The fourth was another easy inning for Chatwood, as the Bucs went down in order.
Score: Pirates 0, Cubs 2
---
B4: The Cubs went three up, three down in the fourth inning, too.
Score: Pirates 0, Cubs 2
---
T5: Chatwood struck the side out swinging.
Score: Pirates 0, Cubs 2
---
B5: Pirates reliever JT Brubaker notched two strikeouts in a scoreless fifth.
Score: Pirates 0, Cubs 2
---
T6: Chatwood extended his streak of consecutive outs to 14, as the Pirates failed to reach base yet again.
Score: Pirates 0, Cubs 2
---
B6: The Cubs put together a two-out rally that was sparked via Contreras getting hit on the forearm by a pitch that ricocheted all the way back to the screen behind home plate. Trainers checked on Contreras, who toughed it out and remained in the game. Brubaker then gave up a single and walked a batter to load the bases before drawing an inning-ending lineout.
Score: Pirates 0, Cubs 2
---
T7: With the bases loaded and two outs, Chatwood was removed from the game, and reliever Jeremy Jeffress bailed him out by forcing a groundout to get the Cubs out of the jam.
Score: Pirates 0, Cubs 2
---
B7: Brubaker continued to perform at a high level, putting together another scoreless inning.
Score: Pirates 0, Cubs 2
---
T8: With Jeffress on the hill, the Pirates suffered two groundouts and one strikeout in the eighth. The second groundout came about because Rizzo made an excellent diving stop at first base.
Score: Pirates 0, Cubs 2
---
B8: Following a leadoff walk of Baez, Schwarber went yard. Playing in his 500th career game, Schwarber belted a 375-footer to the opposite field. The dinger to left doubled the Cubs' lead. Reliever Michael Feliz, who gave up the long ball, exited the contest with an injury soon afterward. During the course of the inning, Contreras singled but was then caught stealing.
Score: Pirates 0, Cubs 4
A big little poke. pic.twitter.com/pPOtv8ycdw

— Chicago Cubs (@Cubs) August 2, 2020
---
T9: Light rain fell throughout the later innings, but the Cubs were able to finish off the victory without a rain delay interruption. Kyle Ryan and Rowan Wick toed the rubber for the Cubs in the ninth. For the second straight night, Colin Moran hit a ninth-inning home run for the Pirates. His two-run shot off Ryan cut the Cubs' lead in half. In the wake of the dinger, Reynolds doubled, and, after taking third due to fielder's indifference, he scored on a groundout. Wick replaced Ryan and walked a batter before drawing an inning-ending groundout to salvage the win for the Cubbies.
Final Score: Pirates 3, Cubs 4
Another day, another Colin Moran homer. ??#LetsGoBucs pic.twitter.com/XQTzkaL2Wj

— Pirates (@Pirates) August 2, 2020
---
Statistical Breakdown:
Chicago Cubs: Batting: 2 2B, 3 HR, 4 RBI, 1 2-Out RBI, 1 GIDP, 0-5 RISP, 7 LOB; Baserunning: 1 CS; Pitching: 6 H, 3 R, 3 ER, 3 BB, 13 K, 1 HR, 0 HBP, 0 IBB, 1 WP
Pittsburgh Pirates: Batting: 2 2B, 1 HR, 3 RBI, 0-5 RISP, 5 LOB; Fielding: 1 DP; Pitching: 8 H, 4 R, 4 ER, 4 BB, 6 K, 3 HR, 1 HBP, 0 IBB, 1 WP
---
Studs of the Game:
Chicago Cubs: Tyler Chatwood (SP): 6.2 IP, 3 H, 0 R, 0 ER, 2 BB, 11 K, 0 HR, 0 HBP, 0 IBB, 1 WP; Ian Happ (CF-LF): 2-4, 1 R, 1 RBI, 0 BB, 0 K, 1 2B, 1 HR
Pittsburgh Pirates: Bryan Reynolds (LF): 2-3, 1 R, 0 RBI, 1 BB, 1 K, 1 2B
---
Duds of the Game:
Chicago Cubs: Kyle Ryan (RP): 0.1 IP, 3 H, 3 R, 3 ER, 0 BB, 1 K, 1 HR, 0 HBP, 0 IBB, 0 WP; David Bote (3B): 0-4, 0 R, 0 RBI, 0 BB, 0 K, 0-1 RISP
Pittsburgh Pirates: Josh Bell (1B): 0-4, 0 R, 0 RBI, 0 BB, 3 K, 0-1 RISP, 1 defensive assisted DP
---
Up Next: The Cubs will aim for a sweep in the series finale at the Friendly Confines on Sunday, Aug. 2. On what is expected to be a warm, somewhat overcast afternoon at the ballpark, Cubs ace Jon Lester (1-0, 0.00) will square off against Pirates hurler Steven Brault (0-0, 0.00). The first pitch is scheduled for 1:20 p.m. CDT.
---
Box Score:
Pittsburgh Pirates at Chicago Cubs
Aug 1, 2020
1
2
3
4
5
6
7
8
9
R
H
E
Pittsburgh (2-6)
0
0
0
0
0
0
0
0
3
3
6
0
Chicago (6-2)
0
0
2
0
0
0
0
2
-
4
8
0
W: Tyler Chatwood (2-0) L: Mitch Keller (1-1) S: Rowan Wick (1)
---
Highlights:
8/1: CHC vs PIT

Tyler Chatwood tied a career high with 11 strikeouts as the #Cubs won a 3rd straight series to start the season! #WhereStoriesPlay

Posted by Chicago Cubs Highlights on Saturday, August 1, 2020
Upgrade Your Account
Unlock premium boards and exclusive features (e.g. ad-free) by upgrading your account today.
Upgrade Now

Tags: Chicago Sports Baseball
,
Tyler Chatwood
,
Kris Bryant
,
David Bote
,
Ian Happ
,
Javy Baez
,
Kyle Schwarber
,
Anthony Rizzo
,
Willson Contreras
,
Jeremy Jeffress
,
Kyle Ryan
,
Rowan Wick
,
Jon Lester