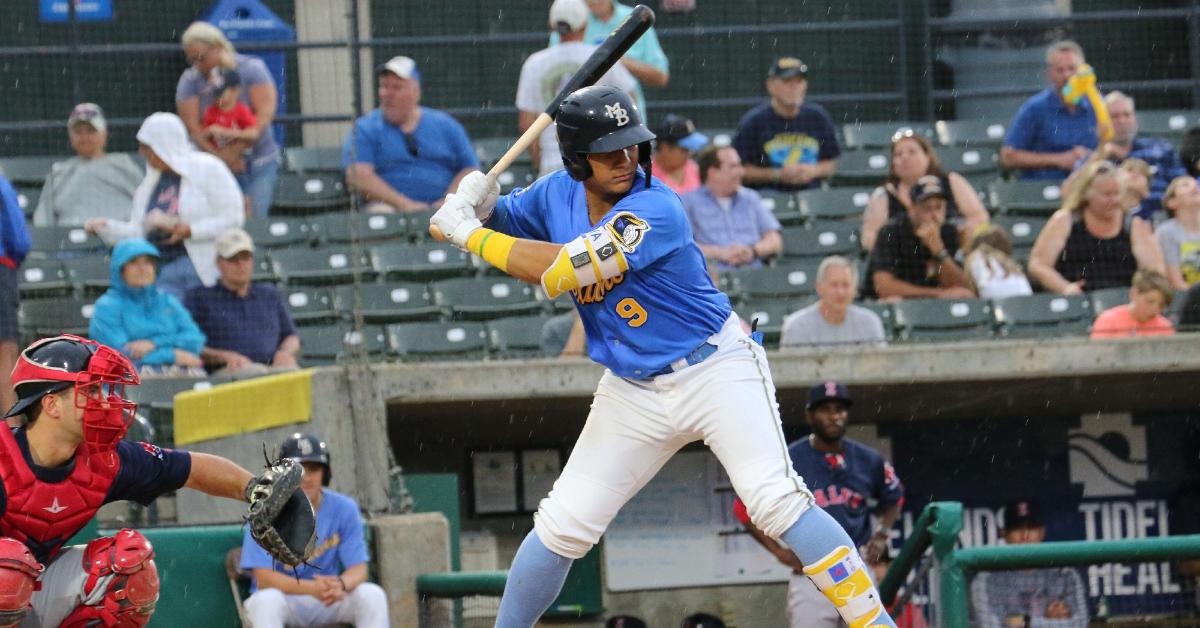 | | |
| --- | --- |
| What to expect from Myrtle Beach Pelicans in 2020? | |
---
| | | |
| --- | --- | --- |
| Friday, January 24, 2020, 6:01 PM | | |
Despite a 55-81 record in 2019, no team may have a higher upside in the Cubs system than Myrtle Beach in 2020. That mainly is due to their 34-35 second half last season and an influx of potential players that ended up winning the Midwest League title in 2019 this season.
Regardless of who comes in and who goes, expect a lot of eyes on Myrtle Beach, especially early this season, as they will be the team to watch in terms of prospect development. You don't have to go far on the list to see why as the organizations No. 2 prospect Miguel Amaya, and No. 4 prospect (top pitcher) Brailyn Marquez will headline what looks to be a much-improved roster in 2020.
Amaya certainly dealt with his fair share of ups and downs in 2019 as he never lived up to the expectations fans expected from him. His dismal .232 average is a bit deceiving as he ended up with nine home runs and a team-high 57 RBI's, which is a good building block moving forward. Marquez, on the other hand, was as good as advertised once he was promoted and will most likely enter this season as the team's ace of the rotation.
Although a limited sample size of just five starts, the 20-year-old flame thrower dominated Carolina League hitters in his 26 1/3 innings of work, going 4-1 with a 1.71 ERA. That thing that stood out the most was his command as he walked just seven batters compared to 26 strikeouts, nearly double the ratio he put up in A ball. Marquez appeared to find his rhythm the final months of the season, and if that continues this year, good luck to all hitters in High A and beyond as Marquez is flat nasty.
Other pitchers looking to contribute in the rotation this season are fast-rising Jeffrey Passantino, Brendon Little, and Javier Assad. All three had their moments of success and failures, but they also got better as the season went on, proving that the Cubs do indeed have some help on the way in terms of arms.
The bullpen appears to be in great shape as a ton of great arms return yet again. Look for Ethan Roberts to get a crack at the closer role to open the season as he did great in high leverage situations last year, posting a 2.59 ERA on the season with a 2.63 in 15 games for Myrtle Beach.
His 13 saves also leads the team, which is why the closer role is his to lose at this point. Ryan Kellogg, who started the season in the rotation, bounced around to the bullpen in the second half, where he found new life. Although I could see him back in the rotation this season, I like the role he played in the pen, which is where he should stay.
Tyler Peyton, Alexander Vargas, Ryan Lawlor, and Jesus Camargo are just a few of the other pitchers that will be competing for time on the Myrtle Beach staff. Camargo has the most upside among this group, but based on last season, Lawlor appears the readiest to contribute long term.
Offensively is where things need to change as the Pelicans certainly struggled with their share of consistency at the plate. With Amaya most likely set to handle the catching duties, he is the one guy you should be able to count on in the middle of the lineup, but the rest remains open. The infield quartet of Aramis Ademan (ss), Cam Balego (1b), Delvin Zinn (2b), and Tyler Durna (1b/3b) should be the ones seeing a bulk of the starting time early on as they did an excellent job contributing last season. That an especially be said for Zinn and Durna as they were thrown right into the fire following a South Bend promotion and were able to handle things as if they never moved up.
Luke Reynolds, Jhonny Bethencourt, and Wladimir Galindo will all see plenty of time off the bench but may not see the starts they saw last season. With the infield looking pretty set in terms of who earns the starting spots, the outfield is a different story as the Pelicans have plenty of options to sort through.
Ideally, I would love for Brennan Davis to get a chance with Myrtle Beach this season, but with just 60ish games under his belt, I feel the Cubs will start him in South Bend once again with hopes he can stay healthy and get promoted later this year. That leaves D.J. Artis, D.J. Wilson, and Grant Fennell as the most likely players to be named starters, but don't count out Zac Taylor or Kevonte Mitchell as all five of these men will be battling it out for three starting spots.
The rest of the roster will come together during spring training, but judging by this, Myrtle Beach certainly has the capabilities to make a nice run at the postseason this year.
Season Projection: 68-68:
Looking at a .500 season and you would think that it would be another disappointing year. Well, given how they won 55 games a season ago, Myrtle Beach should be drastically improved and will compete for a postseason berth. How is that possible with a record like that? Well, it is a flawed system in the lower level minor leagues as they break the postseason down into the first and second half winners.
I expect the Pelicans to be one of the top two teams in the division during the first half of the season, which would qualify them for postseason play. However, the second half will not be as smooth as a lot of their players will start moving through the system, especially guys like Marquez, Amaya, Passantino, among others, if they continue to develop. That will put a strain on this organization during the second half, but their overall body of work will be much better this season.