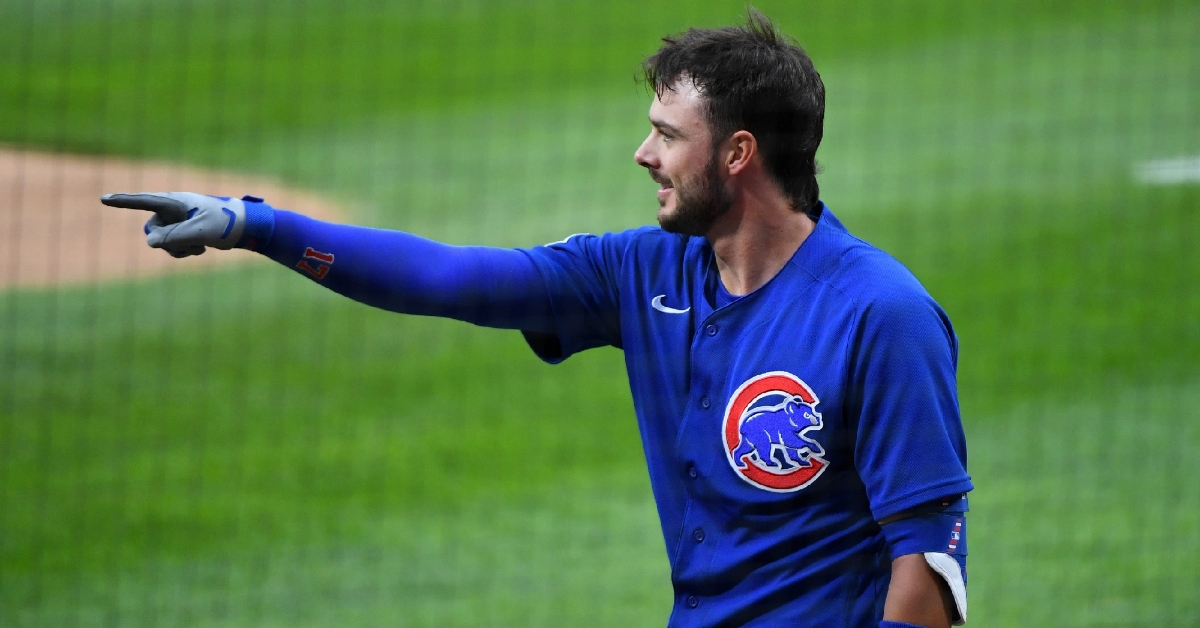 | | |
| --- | --- |
| What to make of Kris Bryant's future? | |
---
Before we get into this story, let me reiterate this. I am by no means a Kris Bryant hater. I know this is a touchy subject regarding him, but it does need to be discussed. After witnessing him struggle all season long and battle what looks to be another injury, I must wonder if we saw the last of him as a Chicago Cub or the last of him this season.
When Theo Epstein and Jed Hoyer took over the front office, the duo had a plan in place. They wanted to create a winner that was based on pure power hitting ability. 2013 was the first piece of that process as the Cubs drafted Kris Bryant No. 2 overall in the first-year player draft. The San Diego University product was known for his power after winning the Golden Spikes award his final season in college.
Following that draft pick, Bryant went on to play just one and half seasons in the minor leagues where that power was on full display. The awards kept coming as he earned minor league player of the year in 2014 and was set to make his Cubs debut in 2015. After crushing the ball in spring training of that season, the Cubs elected to send Bryant to the minors for two weeks, gaining another year of control in the process. A cowardly move, sure, but one that every other organization would make.
Bryant came to Chicago in late April 2015 and launched 29 homers and drove in 99 RBIs en route to rookie of the year honors that season. The next season, those numbers got even better as Bryant not only had a career-best 289 average, but a career-high 39 homers to go with 103 RBIs as he brought home the National League MVP honors that season. No player has ever accomplished what he accomplished during those four years, culminating by a World Series title that season. The sky was the limit for Bryant, or so we thought.
Then 2017 came, and things began to change. Bryant started to focus more on launch angle and hitting for average as the power numbers decreased. He finished that season with 27 homers but failed to reach 80 RBIs. The next season was a wash for Bryant as he was hit in the head early in the season. He never seemed to recover from that and dealt with other nagging injuries that season to finish with just 11 homers and 43 RBIs.
Last season, Bryant had an excellent bounce-back year, topping 30 homers once again, but much like the previous three seasons, he could not hit with runners in scoring position, and the RBIs continued to be low for a person counted on to drive men home. That led to trade talks this past offseason as many felt Bryant was on the way out sooner rather than later.
Still on the roster this season, Bryant was expecting big things from himself in 2020, but once COVID came about, expressed concerns about even playing this season. He ultimately chose to play with a .195 average, two homers, and just five RBIs.
Given that Bryant appears to have injured his oblique and David Ross seems concerned about it, I wonder if we have seen the last of Bryant this season.
David Ross hopeful re Kris Bryant. Said he was day to day but anytime an oblique is involved usually takes time to heal.

— Jesse Rogers (@JesseRogersESPN) September 22, 2020
Oblique injuries are some of the most challenging injuries to gauge in baseball. Sometimes they can last a few days, and sometimes they can last weeks or even months. Given that the season ends on Sunday, the Cubs are hopeful of keeping Bryant off the IL so they can use him for the postseason. Should he have to go on the IL, Bryant is most likely of the Wild Card roster, causing an issue for the next round should the Cubs advance.
At this point in the season, I am all about production over your place on the team. I love what Bryant has done for the Cubs, especially early on in his career, but lately, he hasn't lived up to his hype. Not to mention the nagging injuries that are popping up more frequently, and it seems as if he is more of a liability now than ever before.
We are six games from the end of the season, and Bryant is only at .195 but has just two homers and five RBIs to his name. For example, David Bote may only be hitting .208 but has 25 driven in and five homers in about the same amount of games.
At this point in the season, I want the best hitters on the field who are producing. Bryant is not one of those hitters. Bote has better numbers than Bryant and should be starting from here on out, especially if Bryant is hurt. We knew David Ross was going to have to face some tough decisions as a manager. None might be tougher than the one he is about to face with Bryant.
Not only was Bryant a star for this team, but he was a huge part of the world series title. Ross now must decide if Bryant is healthy enough to avoid an IL stint and, if so if he deserves to start the postseason. No question about it. If Bryant was healthy and 100%, this offense would be a lot better off. However, he isn't healthy, and a blind man can see that.
If this is indeed the last time we see Bryant in 2020, it could also be the end of his time with Chicago. Next year is the final year of arbitration, in which he is scheduled to make around 19 million dollars. Chicago reportedly offered him a seven-year 200-million-dollar extension two offseasons ago, which he turned down in hopes of getting a contract of 30 million per year. I can tell you that he will not get that from the Cubs and may not get that from anyone.
20 million is not out of the question, but 30 million has probably come and gone because of so many injuries. The fall from the top for Bryant is so mysterious that even the best fortune teller probably didn't see this coming. I pray this is not the way he goes out. I pray he comes back to the Cubs for one more season and shows us all that he is still the player he was in 2016, but I have a hard time believing that is possible.
My heart literally aches for Kris Bryant.

This is an MVP caliber player who has not had "it" this year. Clearly has been off.

His physical health is comprised, which undoubtedly puts a player's mental well being in jeopardy.

All the best to KB. Us Cubs fans just love him.

— Andrew Belleson (@ChicagoCubsPA) September 22, 2020