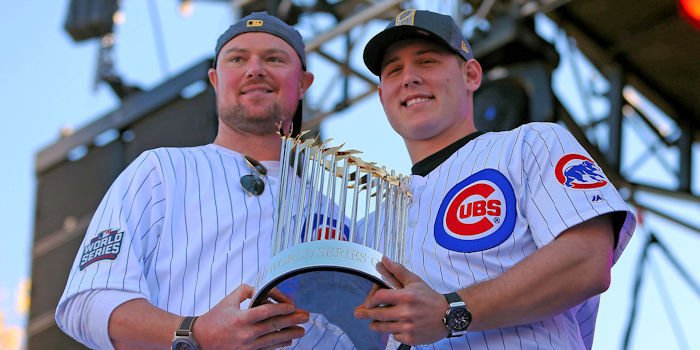 | | |
| --- | --- |
| Whatever happens, Jon Lester is forever a Chicago Cub | |
---
| | | |
| --- | --- | --- |
| Sunday, October 4, 2020, 9:35 AM | | |
When a major league pitcher has a career spanning nearly two decades, it's not surprising to see him rack up both individual and team-oriented accolades – Jon Lester is no exception.
Over his 15 seasons, Lester has become a three-time World Series champion (Red Sox: 2007, 2013. Cubs: 2016), a five-time, All-Star (Red Sox: 2010, 2011, 2014, Cubs: 2016, 2018), a National League Championship Series MVP (Cubs: 2016), was the 2018 National League wins leader with the Cubs (18 wins).
Additionally, the left-hander boasts an impressive 193-111 career record with a 3.60 ERA, including a 2008 no-hitter with Boston. Such statistics have allowed 36-year-old Lester to take the mound on Opening Day eight times, including three straight appearances with the Cubs (2017, 2018, 2019).
The southpaw's accomplishments are plentiful, but few can argue that Lester's most important seasons were those spent on Chicago's North Side – where No. 34 donned the blue pinstripes in the friendly, ivy-laden confines of Wrigley Field since 2015.
As a free agent in December 2014, MLB brass was swooning over the big lefty, the Cubs included. While the interest in the veteran starter was high, it was far from certain Lester would land in Wrigleyville. Sure, there was optimism surrounding a young nucleus of infielders – Anthony Rizzo, Javy Baez, and Kris Bryant – a trio that was expected to all be with the big-league club in the coming seasons, but in reality, the Cubs were coming off a 73-win season in 2014 and still considered a couple of years away from being dominant in the NL Central and capable of making a legitimate postseason run.
As it turns out, the Cubs were able to win the Lester-lottery before the 2015 campaign – signing Lester to a six-year, $155-million deal with a team option in year seven. The consensus was that not only did Lester's familiarity with the Cubs management (mainly Theo Epstein who drafted Lester in Boston in 2002), but also the opportunity to be a leader in a young clubhouse was appealing. Plus, the chance to potentially end an extended World Series drought for a proud and passionate baseball city that was deemed cursed likely wasn't lost on Lester.
Today, in what surely seemed like the blink of an eye to not only the Cubs faithful but also to Lester himself, six seasons have passed, and the burly lefty's days in the Windy City might be numbered. It wasn't until his September 16th showing – an extra-inning victory where Lester pitched five innings and gave up just two runs but not earning the decision – that the conversation shifted to the uncertainty of the Cubs picking up his $25 million option in 2021.
"I didn't think six years would go this fast." An emotional night for Jon Lester in what might have been his final start at Wrigley. He said it was especially hard with no fans in the stands. pic.twitter.com/2bAkjB9osw

— Krista Ruch (@KristaCBS2) September 17, 2020
In six seasons as a Cub, Lester racked up 77 wins and was on the hook for just 44 losses with a 3.64 ERA. Additionally, Lester went the distance – pitching a complete game four times.
While the World Series, two All-Star appearances, three consecutive Opening Day starts, and dozens of individual statistical achievements Lester accrued during his time in the Windy City are impressive in their own right, it will likely be the accomplishments that a numerical value cannot be attached to that No. 34 is most revered for among executives, coaches, teammates, and fans alike.
"If it actually was (his last start at Wrigley), he's the biggest and best and most impactful free-agent signing in club history," Cubs executive vice-president and general manager Jed Hoyer said on 670 The Score following Lester's final home start of the pandemic-shortened 2020 season. "His influence and his impact on this organization is sort of beyond reproach. It's very rare that you set a plan, and it works out almost exactly as you want. But in the case of Jon, what we signed him to do both in the clubhouse and on the mound, I mean you can't deliver more than he did. We wanted a guy who could come in here and change the mentality of the organization. We wanted a guy who could pitch in huge games for us and have that experience, and a guy that's sort of the ultimate competitor that we knew would bring that fire and change the way the clubhouse acted every fifth day. And he did that and then some."
As for his clubhouse's impact, look no further than shortstop Baez, who was 22 years old and in just his second season when Lester signed with Chicago.
"I've learned a lot from Jonny," Baez said to Chicago-Sun Times reporter Russell Dorsey following Lester's last appearance. "I talk to him a lot. I learned a lot from him — the way he sees the game. The way he prepares. The way he's got a routine and all that stuff.
"We share conversations — not just me and him [but also] some of our teammates, and it's impressive to see a guy come this far and still pitching. The game has changed a lot, and he's still doing his thing and is still throwing the ball really well. . . . A tip of the cap to Jonny."
Outfielder Jason Heyward was equally complimentary of his pitcher and Cubs teammate of five years after Lester's last home outing.
"We all play this game because we love it — we all play this game to compete to win, and he embodies that," outfielder Jason Heyward said to the Chicago Sun-Times. "Anything else can be going on in the world, but when you step in between those lines, you go out there, give it your all and get a 'W' for your team. That, to me, is Jon Lester."
In a 2020 season that is unlike any other in the history of the MLB, if Lester's five innings in the Crosstown Series were indeed his last in a Cubs uniform at Wrigley Field, it is a shame that Jon did not get a proper goodbye – a tip of the cap, a curtain call or a final salute to the fans that cheered just as hard when he exited a complete game with a win as they did when he labored his way to a quality start despite not having his best stuff.
Unfortunate as it may be, and as uncertain as Lester's future is with the club, he hopes to return in 2021.
Blown away by all the love y'all. Make no mistake Chicago is home, the Cubs are family, and there's no uniform I'd rather wear next year for my 200th win. But for now let's ring in 2020 like it's 2016! #NVRQT

— Jon Lester (@JLester34) September 17, 2020
If Cubs manager and Lester's former batterymate of David Ross has anything to say about where his former teammate will suit up for season 16, it'll be right here in Chicago.
"I look through things with a different lens," Ross said, told Mark Gonzales of the Chicago Tribune Friday, two days after pulling Lester after five innings during a 3-2 win against the Cleveland Indians in his last home start of the regular season. "I don't see it as his last start here, for me. I see him coming back — that's my hope. I think he's got a lot more to prove. He's got a lot more to do in this game. I know 200 wins is a goal."
Whatever happens, Jon Lester is forever a Chicago Cub.
Jon Lester forever. pic.twitter.com/1EOxsmWtS0

— Chicago Cubs (@Cubs) September 17, 2020