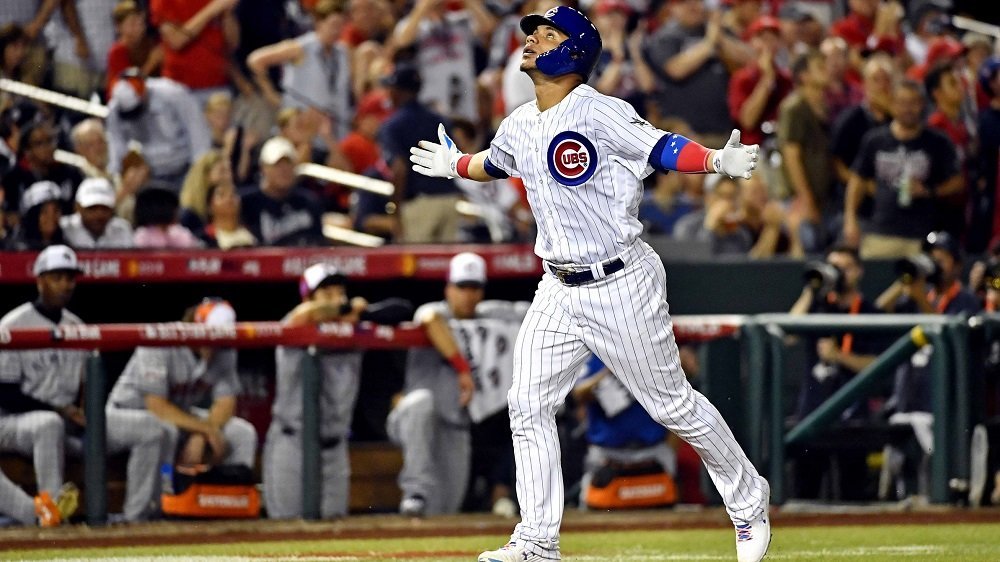 | | |
| --- | --- |
| Willson Contreras' future: Stay or Go? | |
---
| | | |
| --- | --- | --- |
| Monday, December 9, 2019, 10:50 AM | | |
After a disappointing end to 2018 and an underwhelming 2019 season for the Cubs, Theo Epstein and the rest of the front office have hinted that significant change is coming to the team. While this is expected to be the offseason of reckoning that Epstein has promised, will they really deal from their so-called core?
It is believed that Anthony Rizzo is as close to an untouchable as the Cubs have. Javier Báez is a long-term target that the Cubs have begun discussions to resign. Kyle Schwarber is coming off a breakout campaign and is expected to stay, as the Cubs finally seem to have seen what they've always hoped Schwarber could be. And Kris Bryant is the most attractive piece the Cubs have to offer. Would a team dump their prospects for two years of an MVP-caliber talent before losing him just two seasons later (or one if he wins his service time grievance), which is believed to be Bryant's future as Scott Boras represent him. Bryant is a stud, even with his injuries, but sure would be costly.
Or would you trade for a two-time all-star catcher who is under team control for three more seasons, has a rocket of an arm and arguably the best bat the position has to offer — in an offseason where catchers are in high demand? This option seems like a no brainer for most teams.
But would the Cubs really trade their 27-year-old backstop?
The short answer is yes, and they would if the price was right. The Cubs are making an effort to win-now and replenish to contend in the future, and dealing Contreras for a boatload of prospects is a move that makes sense.
This especially makes sense because the Cubs have a practical option to replace Contreras in Victor Caratini, and an up-and-coming prospect in Miguel Amaya.
Contreras is a steady, professional at-bat with some pop. From both sides of the plate, the 26-year old hit .266 with 11 homers a year ago. While Contreras certainly has a better arm, Caratini is a more consistent defender and more efficient at pitch-framing, where Contreras continually ranks near the bottom of the MLB. Amaya is only 20 years old and has been in the Cubs organization for four years. He provides a lot of raw talent and is increasingly maturing and readying for his inevitable MLB debut.
Even with Caratini ready and Amaya in the wings, replacing Contreras is no easy task. Both Joe Maddon and Theo Epstein have sited his "MVP-level production" when healthy, and he has frequently been noticed for provided the same type of spark and energy that Javier Baez does day in and day out. Contreras accumulated a 3.1 WAR last year, launching 24 bombs, driving in 64 runs, and slashing .272/.355/.533. The righty has been an all-star in each of the previous two seasons and even homered in the midsummer's classic in 2018.
While he certainly would be valuable for another team, the Cubs have also taken some very strategic steps to keep him in place and improving. As pitch framing has been a steady criticism of his (which may not even matter in a few seasons if an automated strike zone is put in place), the Cubs have taken various steps to help that.
For starters, the Cubs hired Contreras' best mentor of his career, David Ross, to be his new boss. Contreras has given Ross credit for his improvement in pitch blocking and game-calling. With Ross, the Cubs also hired former catcher Mike Napoli to be the quality assurance coach — a player known for being a great teammate from behind the plate. In addition to those two moves, the Cubs also hired Craig Driver as their first base coach. Driver is another former catcher who is known for helping JT Realmuto improve on his catching metrics with the Phillies last year. Finally, the team retained Mike Borzello as an assistant pitching coach, who has been helping Contreras over the previous few seasons.
On the Cubs' bench, they will have over 10,000 professional innings logged at catcher, and four men to help coach Willson to steadying improvement behind the plate.
Contreras has various outlets that could lead to improvement, and the Cubs have an opportunity to get the most out of their young, already all-star catcher.
So why get rid of a guy already this good, who has all the tools to get better?
My answer is, don't.

Tags: Chicago Sports Baseball
,
Anthony Rizzo
,
Kyle Schwarber
,
,
Victor Caratini
,
Miguel Amaya
,
,
David Ross
,
Joe Maddon
,
Mike Borzello
,
Theo Epstein