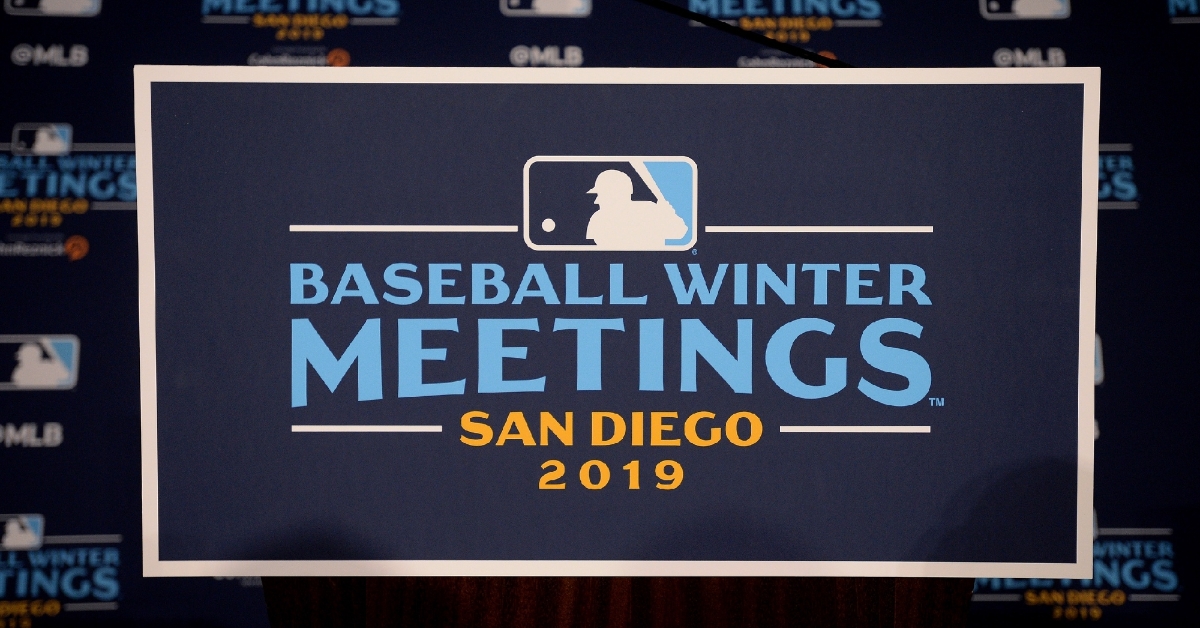 | | |
| --- | --- |
| Winter Meetings: It's time for change in Chicago | |
---
| | | |
| --- | --- | --- |
| Monday, December 9, 2019, 5:29 PM | | |
Early Monday morning, David Kaplan tweeted, "It's incredible to think the last time MLB Winter Meetings were in San Diego, the Cubs stole the show by landing Jon Lester. Five years later, they are stuck in payroll hell because of bad contracts and a farm system that has struggled. How the hell did we get here?"
It is incredibly sad that the Cubs rose from the cellar to become the World Series champions, only to start collapsing the minute they slipped on their championship rings. Even with a ton of salary saved and shaved this winter, the Cubs are already bumping the luxury tax line, and they've done nothing to improve the team yet.
They're still reeling from the contracts belonging to Brandon Morrow, Jason Heyward, and others. Yu Darvish looked like a total bust, but after finally getting healthy, Darvish has started to pull his weight, as has Tyler Chatwood, though I'm not sure that he'll ever be worth the $38M he received.
To date, this winter Theo has landed a pair of injury-prone relievers (Jharel Cotton and Daniel Winkler), while snatching up lefty reliever, CD Pelham via a waiver claim from the Rangers; these acquisitions aren't going to do a ton for the Cubs in the grand scheme of things.
Winkler has some merit and MLB experience, but we're talking about a guy who literally snapped an arm previously while throwing to the plate. Jharel Cotton may have a bounce-back season, but even after a full season of rest and rehab, he's still not fully recovered from a 2017 Tommy John Surgery. CD Pelham is coming off a brutal 2019 season, and despite being motivated to turn things around for Chicago, it's still not enough.
"Man, the Cubs are trying to move money, and the White Sox are all in to try and compete. Talk about role reversal in the Windy City!" -anonymous, "well known" agent speaking to Kaplan at the Winter meetings
The message continues to resonate from San Diego: Kris Bryant will be traded – probably within the next week to ten days – yet fans still somehow seem surprised and shocked. How far will Theo go? That remains to be seen, but even without KB, the Cubs can still be contenders, if Theo plays his cards correctly. Willson Contreras remains a hotbed for trade talks, and while he wouldn't cost the Cubs nearly as much to keep as Bryant would in the near future, he may very well bring back a better return.
Phillies are on Donaldson so there's competition in division. They remain in spend mode. Incumbent Braves and Nats also in 3B market. Rangers are too. Looks like musical chairs with more teams than available stars. Rendon the other big 3B free agent, Bryant potential trade guy.

— Jon Heyman (@JonHeyman) December 9, 2019
The definition of insanity is doing the same thing over and over while expecting a different outcome, and Theo Epstein appears to have finally learned that lesson. The Cubs cannot afford to send the same nine out there and expect to be World Series contenders. Moving Joe Maddon out was a big step. Still, at the same time, it left David Ross with a seemingly insurmountable task of resurrecting the Cubs with no managerial experience, through the use of a skeletonized roster.
Theo's intent to trade a key player seems to revolve around three main factors: (1) shedding payroll while; (2) getting the most that he can out of a trade; and (3) the exhibiting the desire to shake things up, to end the complacency that this team has played with for three years now. It's fine that fans have come to embrace the members of the Cubs' roster as "friends," but you have to be willing to step back and understand that players like Bryant, Contreras – even Anthony Rizzo – are cogs in the machine and when a cog isn't functioning right, it gets replaced.
In this case, the entire machine broke down, but replacing the entire roster isn't an option, although the Cubs lost a good chunk of it between free agency and non-tenders. Do the Cubs want to trade Kris Bryant (or others)? Absolutely not. Do the Cubs have to trade Bryant? Probably not, but it appears that doing so may benefit them. I'm not homing in on Bryant as some personal attack; it's simply because his name is the one that continues to be mentioned – although I did mention trading him six months ago.
Cubs have had talks with Phils on Bryant . Nothing there at the moment. Service time grievance still an issue .

— Bruce Levine (@MLBBruceLevine) December 9, 2019
Jesse Rogers mentioned on Sunday that he didn't think Theo Epstein would stay with the Cubs, once his contract expires after the 2021 season. In the meantime, Rogers says that Epstein's mission is to set the roster up for the next wave of players and upper management: Translation – it's time for some radical changes.
There's only one problem here – short of dealing KB, Willy, or Rizz, the Cubs currently have very little in trade value to offer an interested trade partner. The farm system isn't loaded, and those who show potential are going to need to stick around for the next big wave of free-agent departures.
Yes, the Cubs are in a rut. The team hasn't functioned right for two years, and now the checkbook is closed. Trading a high profile player seems to be some sort of Hail Mary for Theo and the Cubs, which is sad, but at this point, it's the only way. Hope for the best, but I caution you to prepare for the worst: Radical changes are coming.

Tags: Chicago Sports Baseball
,
,
Brandon Morrow
,
Jason Heyward
,
Yu Darvish
,
Tyler Chatwood
,
,
Willson Contreras
,
David Ross
,
Anthony Rizzo
,
Joe Maddon
,
Theo Epstein