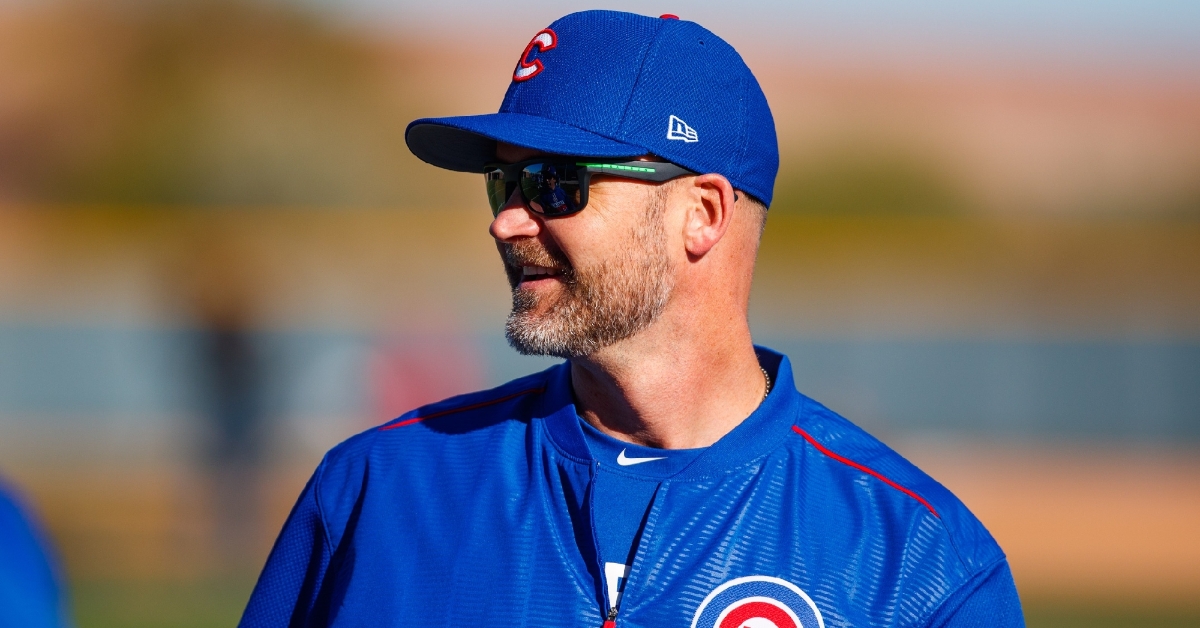 | | |
| --- | --- |
| Year One: The highs, the lows, and what is ahead for Cubs skipper David Ross | |
---
| | | |
| --- | --- | --- |
| Monday, October 12, 2020, 6:36 PM | | |
As a player, David Ross had a solid MLB career. He saw 15 seasons behind the plate for eight different teams. He helped the Red Sox to a World Series in 2013 and the Cubs to a title of their own in 2016 – snapping a 108-year championship drought. Additionally, Ross possesses a veteran leadership quality that is still widely known and respected around the league today.
Following his playing career, Rossy put his baseball IQ, infectious and amiable personality, and eloquent speaking on display for all to see while serving as a color analyst for ESPN from 2017 to 2019.
Rossy's time behind the camera was short-lived. Following the 2019 season, Ross was once again called to the big leagues, this time though, he was brought in to manage his former club – becoming the 55th manager in Chicago Cubs history.
"David is as gifted a leader as I've ever come across, and I expect him to become a great manager," Cubs president Theo Epstein said in a statement following the hiring. "He is a natural connector with a high baseball IQ and a passion for winning. He earned the job on the merits, and he will move the team forward in a new and different direction."
"We are excited to hire David as our manager and look forward to working together to foster a winning culture and build the next Cubs championship team."
Ross' inaugural season in a managerial role was a 60-game sprint that featured new rules, roster sizes, procedures, and protocols due to the COVID-19 pandemic.
Chicago's season came to an end nearly two weeks ago after the Cubs were swept (5-1, and 2-0) by the Miami Marlins at Wrigley Field. Despite brilliant performances on the hill by both Kyle Hendricks and NL Cy Young hopeful Yu Darvish, the Cubs could muster just one run – an Ian Happ home run — through 18 innings.
While the season ended prematurely, with the Cubs failing to capture the hardware they desperately coveted, there are not only some encouraging takeaways to be had from Rossy's first season in the front office but also some cause for optimism heading into 2021.
He set a high standard
To win a division title, it takes focus. During the 2020 season, it was likely harder for players, coaches, and executives to focus on baseball than any other season of their career. This year, a global pandemic and numerous social unrest instances were present for teams to contend with while on the diamond. As far as the coronavirus is concerned, some teams were more successful than others. The Marlins and divisional foe St. Louis Cardinals both had large outbreaks within their respective clubhouses, bringing their seasons to an abrupt pause. The Cleveland Indians made headlines in August when pitchers Mike Clevinger and Zach Plesac broke COVID-19 protocols while playing in Chicago against the White Sox, reportedly causing a rift in the locker room. The Cubs, however, were the only team not to record a positive test during the season. This feat indicates that Ross successfully got his players to realize the 2020 season was bigger than one player, that it would take a complete team effort to get through this season healthy – which they did.
He achieved the best start in baseball
In a shortened 60-game season, there are no "meaningless games." Every regular-season game has heightened importance. Every win and every loss are akin to roughly three wins or losses during a 162-game season. Ross' squad responded accordingly, winning 10 of their first 12 contests. Through the first quarter of the season, the Cubs 13-3 record was a league-best. As the season progressed and struggles persisted, it was that strong start the Cubs relied on to clinch the NL Central crown.
Cubs at start of season vs. Cubs at end of season. pic.twitter.com/8IRDjCt2yW

— nascarcasm (@nascarcasm) October 2, 2020
He allowed the team to enjoy baseball during challenging times
A packed Wrigley Field – complete with nearly 40,000 screaming Northsiders – is one of baseball's best environments. In 2020, that home-field advantage didn't exist to the same degree as fans were not allowed in stadiums. With an empty Wrigley Field, Cubs still created quite the party in the dugout, whether they were winning or losing. Third baseman Kris Bryant likened their celebratory, trash-talking approach to a college team.
"Not necessarily inappropriate, but loud and obnoxious stuff that you just wouldn't do on the street," Kris Bryant told NBCSports.com in September regarding their ruckus dugout antics.
What???

You don't have a dozen personal hype men? pic.twitter.com/25WRmbGw2T

— Chicago Cubs (@Cubs) August 15, 2020
He handled adversity on the mound
The Cubs exceeded the experts' expectations – many of whom predicted Chicago would finish in the lower half of the NL Central. Despite winning the division for the third time in the last five seasons, the 2020 division title path was far from smooth. The Cubs showed flashes of dominance in every phase of the game – starting pitching, relief pitching, closing pitching, fielding, and even hitting at times. However, these flashes of greatness never seemed to coincide.
When starters were among the best in the MLB during the seasons opening weeks, the relievers were among the worst. There were also stints where, after some tinkering, Rossy's trusted core of relievers seemed to peak, only to see the starting rotation falter. Additionally, closer Craig Kimbrel had a rough start to the season, including a high ERA, a contact rate above 70%, and blown saves. Ross made the tough call to take Kimbrel out of high-leverage situations briefly. The choice, risky as it was, paid off. Jeremy Jeffress proved a capable closer in the interim, and Kimbrel was back to the reliable closer for the Cubs by seasons end.
Injuries and rough patches for Cubs throwers forced constant adjustments, but Ross figured it out in time. Heading into 2021, Chicago has Kyle Hendricks – who's 2.88 ERA was worthy of the Opening Day nod, and Yu Darvish – a Cy Young contender who ended 8-3 with a 2.01 ERA and 93 K's through 76 innings, will both anchor the starting rotation. Additionally, strong seasons by youngsters Alec Mills, who recorded his first no-hitter in 2020, and Adbert Alzolay should leave Cubs fans optimistic.
Alec Mills was a walk-on at University of Tennessee at Martin. He was also a 22nd round pick. He just threw a no-hitter, Never give up. ???? pic.twitter.com/ldAl3IQ7oa

— Ballplayer City (@BallplayerCity) September 14, 2020
He showed resolve in the face of offensive woes
The Cubs bats too, much like their arms proved inconsistent at times. During certain stretches, the Cubs bats were hot, showing the ability to put up ten runs in a game. The very next game, though, they may struggle to score a single run. Similarly, the infield core of Anthony Rizzo, Javier Baez, and Bryant were virtually nonexistent at the plate down the stretch and in October.
While these struggles offensively are nothing new to the Chicago faithful, I give Rossy credit for keeping them in the lineup as fans and analysts started to question his decisions. It's encouraging to see that Ross will not give in to the skeptics and the naysayers even when times are tough. This will create a strong sense of trust and respect between manager and players.
Hey, Rossy, any thoughts on people who post hot takes on social media? pic.twitter.com/QIJDsSvvHd

— Jordan Bastian (@MLBastian) September 27, 2020
Full quote from Kris Bryant: "I don't give a sh--. I really don't. That's a good answer. I'm over it. Sometimes I go out there and go 4 for 4 and its not good enough for some people so I DON'T GIVE A SH--."

— Jesse Rogers (@JesseRogersESPN) September 27, 2020
He manages relationship with players exceptionally well
The pandemic and social unrest were not the only challenges for the first-year skipper. He also had to walk a fine line and wear multiple hats – friend, former teammate, and manager. Having played in a Cubs uniform as recently as 2016, Ross is now coaching nine former teammates – and ultimately nine really good friends.
Throughout the season, Ross was forced to make tough decisions and manage personal and professional relationships daily. During the regular season, Ross did the following: benched his closer, pulled his starting left fielder during a game on national TV for poor defensive play; optioned a former teammate to South Bend; pulled his former batterymate early in a game when he didn't have his best stuff. These decisions proved that he could put aside his longstanding friendships and do what is best for the team when a game is on the line.
All good.@Cubs #GoCubsGo pic.twitter.com/iRTnGWEKDD

— Billy Krumb (@ClubhouseCancer) September 22, 2020
As it relates to your three outfielders, common managerial philosophy usually results in your best outfielder assuming center field. In 2020, Ross and the Cubs didn't abide by this unspoken rule. Rossy left his best outfielder, veteran Jason Heyward, in right field, while fourth-year man Ian Happ remained in center.
Ross understands that right field is where Heyward is most comfortable. Right field is where Heyward will be the biggest asset to the Cubs. Any struggles in center field and left field are unfortunate, but he is willing to accept those if it means keeping one of the best outfielders in baseball in the position accustomed to. Statistically, Heyward's play in right has remained dominant. Heyward has prevented a league-leading 87 runs since 2014, a handful of which came in 2020.
If his glove is gold, what's J-Hey's arm made out of? pic.twitter.com/CxVVFaGY6G

— Chicago Cubs (@Cubs) September 16, 2020
Looking ahead to year two
Few familiar with the Cubs would argue that the 2020 offseason will be one of the biggest in recent memory. Currently, there is an air of uncertainty around exactly who will be suiting up for the Northsiders. Jon Lester may not have his seventh year picked up. Additionally, it is unlikely that arguably the four most significant bats in the starting lineup – Rizzo, Baez, Bryant, and Kyle Schwarber – will all return after 2021. It also appears that after the 2021 campaign, Cubs president of baseball operations Epstein likely will not return.
"For me, as an individual, there is benefit for change, after a significant amount of time on the job," he said on Monday, days after his team was eliminated from the postseason. "I have to keep that in mind without making any definitive statements.
"I'm not going to run away from those feelings, but I'm also as invested in the Chicago Cubs as I was at any point in the last nine years."
Epstein also did not mince words when admitting that while there is a lot to be proud of from this shortened season, there is still work to be done and many roster decisions to be made.
"It certainly is still the case there are no untouchables," he said to ESPN's Jesse Rogers following their early postseason exit.
"Clearly, some change is warranted and necessary. We have not performed up to our expectations offensively. And simply hoping for a better outcome moving forward doesn't seem like a thoughtful approach. Embracing some change, even significant change, is warranted."
Rather than predicting the future, Cubs faithful can take comfort in knowing that whoever takes the field or the front office for Chicago in the coming seasons, the Cubs have David Ross leading the charge.
Because "Rossy" is a players manager. pic.twitter.com/lDG1xIZTVw

— Raging Babe Schwarber ?? (@excelsiorder) August 23, 2020

Tags: Chicago Sports Baseball
,
David Ross
,
Kyle Hendricks
,
Yu Darvish
,
Ian Happ
,
Kris Bryant
,
Craig Kimbrel
,
Jeremy Jeffress
,
Alec Mills
,
Adbert Alzolay
,
Anthony Rizzo
,
Jason Heyward
,
Jon Lester
,
Kyle Schwarber
,
Theo Epstein