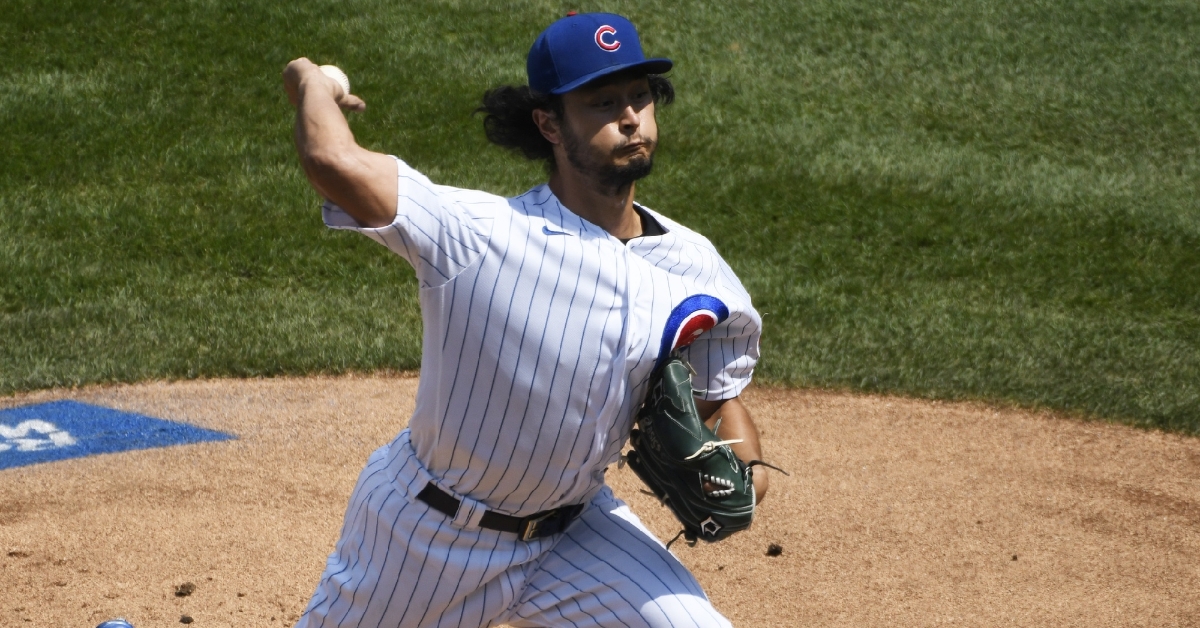 | | |
| --- | --- |
| Yu Darvish, Kyle Schwarber take down White Sox in crosstown clash | |
---
CHICAGO — Three runs constituted a 2-1 nail biter in Sunday's series finale between the Chicago Cubs (17-10) and the Chicago White Sox (17-12). White Sox first baseman Jose Abreu continued with his unbelievable homer-hitting tear via a solo bomb in the top of the second, but a two-run jack off the bat of Cubs left fielder Kyle Schwarber in the bottom of the sixth served as the winning hit on the afternoon.
Cubs ace Yu Darvish dominated in his seven innings of work, consistently bamboozling White Sox batters with filthy off-speed pitches. Darvish drew 26 swings and misses in the winning start, which is the third-highest total of his career. At the plate, the Cubs squandered multiple scoring opportunities as they closed out a 12-game homestand at Wrigley Field, but Schwarber's go-ahead dinger proved to be enough, as the North Siders downed the South Siders 2-1 and avoided suffering a three-game sweep.
---
Inning-by-Inning Breakdown:
---
T1: A 3-6-1 double play closed out the top of the first. Yasmani Grandal was initially called safe at first, but a Cubs challenge overturned the ruling, as Darvish was, in fact, able to step on the bag in time.
Score: White Sox 0, Cubs 0
Cubs challenge call that Yasmani Grandal is safe at 1B in the 1st; call overturned, runner is out. Powered by @Mitel. pic.twitter.com/QNvxD6wNQN

— MLB Replays (@MLBReplays) August 23, 2020
---
B1: Dylan Cease started on the bump for the White Sox. The former Cubs prospect was traded, along with Eloy Jimenez, to the White Sox in 2017 as part of the Jose Quintana deal. He walked Ian Happ to begin the bottom of the first but garnered three straight outs after that.
Score: White Sox 0, Cubs 0
---
T2: With his sixth round-tripper of the series, which tied an MLB record for homers hit by a single player in a three-game set, Abreu belted a 449-foot no-doubter out to left-center to lead off the second. Including Abreu's three moonshots from Saturday, Sunday's rainmaker provided Abreu with four home runs in four straight plate appearances, which also tied an MLB record. The White Sox tagged Cubs pitching for a grand total of 12 homers in the three-game affair, and Abreu was responsible for half of them.
Score: White Sox 1, Cubs 0
How many times do we have to teach you this lesson?! pic.twitter.com/Zk9NnHh5KC

— Chicago White Sox (@whitesox) August 23, 2020
---
B2: Cease sat the Cubs down in order his second time out.
Score: White Sox 1, Cubs 0
---
T3: Darvish recorded two strikeouts in a 1-2-3 frame.
Score: White Sox 1, Cubs 0
---
B3: Answering Darvish's dominant inning with one of his own, Cease struck out a pair in a three up, three down bottom of the third.
Score: White Sox 1, Cubs 0
---
T4: Other than a two-out single from Jimenez, the White Sox did not get to Darvish in the fourth. Abreu grounded out to end his home run streak, and Cubs first baseman Anthony Rizzo was seen jokingly calling for the ball to be thrown to the Cubs' dugout as a souvenir.
Score: White Sox 1, Cubs 0
---
B4: A disappointing turn of events resulted in the Cubs coming up empty-handed in a promising inning. Rizzo started it off with a single, which was the Cubs' first hit of the contest. Two at-bats later, Schwarber moved Rizzo over to third with a double down the third baseline. Rizzo came home on an ensuing groundout by Willson Contreras and was called safe. The White Sox challenged the call, though, and, apparently, there was enough evidence to determine that Rizzo was out. Contreras' bat obstructed Rizzo on his slide, but certain replay angles made it seem as though Rizzo's foot might have touched home before catcher James McCann tagged "Big Rizz." Regardless, Rizzo was called out, and a delayed steal of sorts by Contreras on a pitch in the dirt followed. Contreras was gunned down, and, just like that, the inning was over.
Score: White Sox 1, Cubs 0
White Sox challenge call that Anthony Rizzo is safe at home plate in the 4th; call overturned, runner is out. Powered by @Mitel. pic.twitter.com/PxnToAIlgw

— MLB Replays (@MLBReplays) August 23, 2020
---
T5: A couple of singles and a groundout culminated in the White Sox boasting men on second and third with two outs. Darvish struck Yoan Moncada out with a foul tip on a 98-mph sinker to leave the baserunners stranded. The right-hander was fired up about the clutch K as he walked off the mound.
Score: White Sox 1, Cubs 0
Yu Darvish, Sick 98mph Two Seamer...and scream. ?? pic.twitter.com/egtollgo1Z

— Rob Friedman (@PitchingNinja) August 23, 2020
---
B5: Moncada suffered an even worse misfortune in the bottom half of the inning. After Cease walked the leadoff man, Jason Heyward, Victor Caratini grounded into what should have been a routine 5-4-3 double play, but Moncada booted the ball at third base and then made an errant throw in a feeble attempt at outing Heyward as he took third. Moncada was charged with two errors on the play, but, once again, the Cubs were unable to produce any runs. Nico Hoerner walked to load the bases with no outs. However, Jason Kipnis struck out on a checked swing that he went around on, and Ian Happ grounded into a 6-3 double play to end the inning.
Score: White Sox 1, Cubs 0
To the 6th! pic.twitter.com/0uDY0c7ST7

— Chicago White Sox (@whitesox) August 23, 2020
---
T6: Darvish continued to dominate, breezing through a 10-pitch sixth. Abreu popped up on the infield.
Score: White Sox 1, Cubs 0
---
B6: A one-out double hit to left field by Javier Baez set the stage for Schwarber's fifth long ball of the season. The 430-footer off Cease sailed over the center field wall, placing the Cubs ahead 2-1.
Score: White Sox 1, Cubs 2
Fifteen more of those and we'll call it even.@BinnysBev pic.twitter.com/RDNM6Qn1zG

— Chicago Cubs (@Cubs) August 23, 2020
---
T7: In his last inning of work, Darvish went out with a bang by recording three swinging strikeouts. Nomar Mazara smacked a two-out single that ricocheted off the barrier down the left field line and into left field, likely preventing Mazara from stretching it into a double, but Darvish fanned Danny Mendick to leave him stranded.
Score: White Sox 1, Cubs 2
---
B7: With a new pitcher on the mound, Jason Kipnis hustled for an infield single with two outs. Ian Miller, who was added to the Cubs' roster earlier in the day, pinch ran for Kipnis. Miller did not have a chance to show off his baserunning ability, though, because Happ grounded out to usher in the eighth frame.
Score: White Sox 1, Cubs 2
---
T8: Craig Kimbrel relieved Darvish at the start of the inning and struck the first two batters out swinging before issuing back-to-back walks. Jeremy Jeffress replaced Kimbrel and drew a lineout from Jimenez.
Score: White Sox 1, Cubs 2
---
B8: Two strikeouts and one groundout made up an uneventful bottom half of the penultimate inning.
Score: White Sox 1, Cubs 2
---
T9: Jeffress was able to record the four-out save, but the White Sox made things interesting. The veteran reliever tallied a strikeout and a lineout in short order before Mazara reached base on a lucky infield single hit into no man's land near the third baseline. Adam Engel pinch ran for Mazara. Mendick and Tim Anderson walked in consecutive plate appearances to load the bases. The game nearly ended on a popup hit into foul ground by Moncada, but David Bote, who was manning third base, slipped and fell in front of the dugout and was unable to make the catch. On the very next pitch, Moncada grounded out to Baez, who was standing between first and second due to a defensive shift. Baez lobbed an easy throw to Rizzo, and the Cubs were able to exhale.
Although the White Sox took two of three from the Cubs, Sunday's installment of the Crosstown Classic snapped the South Siders' seven-game winning streak. With his three round-trippers on Saturday and his second-inning home run on Sunday, Abreu became just the 43rd player in major league history to homer in four consecutive at-bats. Darvish, whose ERA through six starts stands at 1.70, earned the win to become 5-1 overall, and Cease dropped to 4-2 with the loss. Kimbrel was credited with his third hold of the year, and Jeffress attained his third save of 2020 as well as the seventh four-out save of his career.
Final Score: White Sox 1, Cubs 2
There was never a doubt! pic.twitter.com/Blx0dIlmSj

— Marquee Sports Network (@WatchMarquee) August 23, 2020
---
Statistical Breakdown:
Chicago Cubs: Batting: 2 R, 5 H, 2 2B, 1 HR, 2 RBI, 1 GIDP, 1-4 RISP, 5 LOB; Fielding: 0 E, 1 DP; Pitching: 7 H, 1 R, 1 ER, 1 BB, 10 K, 1 HR, 0 HBP, 0 IBB, 0 WP
Chicago White Sox: Batting: 1 R, 7 H, 1 HR, 1 RBI, 1 GIDP, 0-4 RISP, 10 LOB; Fielding: 2 E, 1 DP; Pitching: 5 H, 2 R, 2 ER, 3 BB, 6 K, 1 HR, 0 HBP, 0 IBB, 0 WP
---
Studs of the Game:
Chicago Cubs: Yu Darvish (SP): 7.0 IP, 6 H, 1 R, 1 ER, 1 BB, 10 K, 1 HR, 0 HBP, 0 IBB, 0 WP; Kyle Schwarber (LF): 2-4, 1 R, 2 RBI, 0 BB, 0 K, 1 2B, 1 HR, 1-1 RISP
Chicago White Sox: Jose Abreu (1B): 1-3, 1 R, 1 RBI, 1 BB, 0 K, 1 HR, 1 defensive assisted DP
---
Duds of the Game:
Chicago Cubs: Willson Contreras (DH): 0-3, 0 R, 0 RBI, 0 BB, 0 K, 0-1 RISP
Chicago White Sox: Yoan Moncada (3B): 1-5, 0 R, 0 RBI, 0 BB, 3 K, 0-2 RISP, 2 E
---
Up Next: Fresh off a 5-7 homestand, the Cubs will now embark on a 10-game road trip, beginning with a three-game series versus the Detroit Tigers (11-15) at Comerica Park. The series opener on Monday, Aug. 24, is slated to feature a pitching matchup between Cubs right-hander Alec Mills (2-2, 4.76) and Tigers right-hander Casey Mize (0-0, 6.23). The Tigers selected Mize with the No. 1 overall pick of the 2018 MLB Draft. There is a small chance for thunderstorms on what should be a hot, humid night at the ballpark. The first pitch in Detroit is penciled in for 6:10 p.m. CDT.
---
Highlights:
Upgrade Your Account
Unlock premium boards and exclusive features (e.g. ad-free) by upgrading your account today.
Upgrade Now

Tags: Chicago Sports Baseball
,
Kyle Schwarber
,
Yu Darvish
,
Jose Quintana
,
Ian Happ
,
Anthony Rizzo
,
Willson Contreras
,
Jason Heyward
,
Victor Caratini
,
,
Javy Baez
,
Ian Miller
,
Craig Kimbrel
,
Jeremy Jeffress
,
David Bote
,
Alec Mills