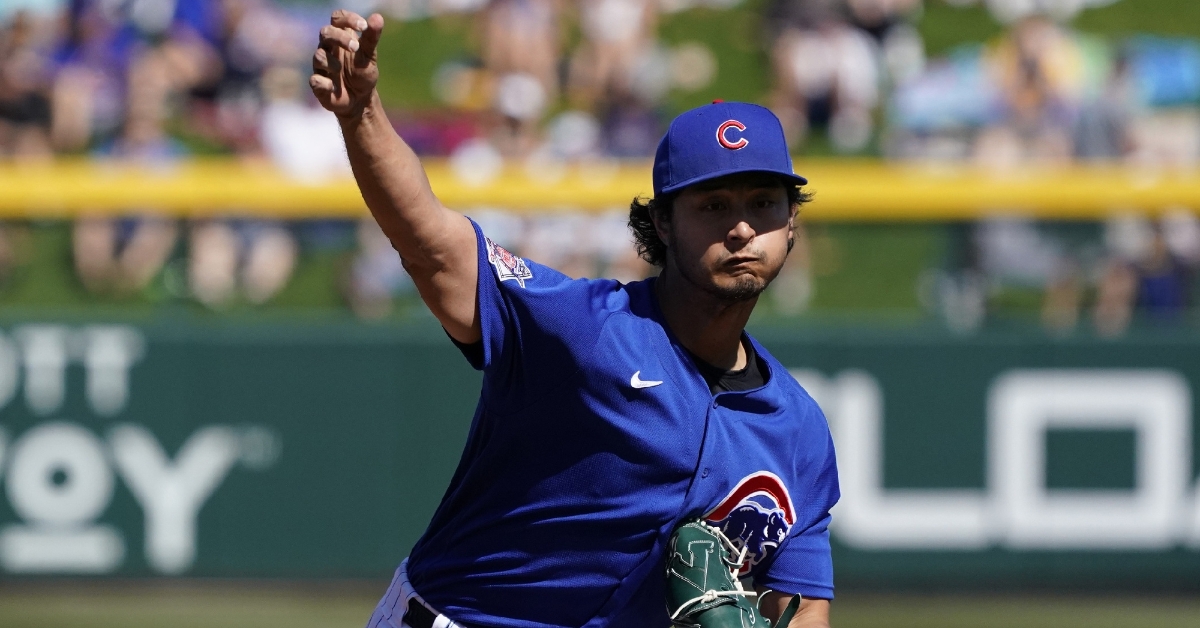 | | |
| --- | --- |
| Yu Darvish impressive in loss to Brew Crew | |
---
| | | |
| --- | --- | --- |
| Saturday, February 29, 2020, 6:20 PM | | |
After a late-inning meltdown on Friday night, the Cubs (3-4) returned home to host the Brewers (4-2) this afternoon. The Cubs started last night's game with Kris Bryant, Anthony Rizzo and Javier Baez all reaching, but after a run in the first, they wouldn't score again all night. The pitching was relatively good until the seventh, but from there on out, it was chaos at its finest.
Today was Yu Darvish's first appearance of the spring, as he works to secure the #1 spot in the rotation. Jon Lester seemed prepared to fall back to number three when he was questioned by the media after his outing earlier this week.
The Cubs starting lineup was as follows: Ian Happ (CF), Nico Hoerner (SS), Kyle Schwarber (LF), Steven Souza Jr. (RF), Victor Caratini (C), David Bote (2B), Hernan Perez (3B), Josh Phegley (DH), Robel Garcia (1B).
T-1 It didn't take long for the Brewers to score. Arcia took Darvish's first pitch of the game and deposited it in the left-field stands. Yu immediately recovered and settled in, getting an FO-9, and a pair of Ks on a few wicked pitches. Cubs trail 1-0.
Darvish pitching mad after that home run! Hits 98 on the gun to strikeout Garcia

— Jesse Rogers (@ESPNChiCubs) February 29, 2020
B-1 (RHP Freddy Peralta) Cubs do in order: Happ (K), Hoerner (LD-6), Schwarbs (FO-6).
T-2 Darvish got a quick pop out to Bote, then gave up a line-drive double to center. Darvish would get another K, then a groundout to end it. Darvish finished with 2.0 IP, 2-H, 1-R, 1-ER, 0-BB, 3-K, 1-HR. Nice outing after the first pitch. During the contest, he threw six different pitches and topped out at 98 MPH several times.
Three strikeouts on the day for @faridyu. pic.twitter.com/Oe75QDhZF1

— Marquee Sports Network (@WatchMarquee) February 29, 2020
Darvish after first spring start. Threw six different pitches. Press box wag: "Holy crap." pic.twitter.com/3xnICf9P7P

— Gordon Wittenmyer (@GDubCub) February 29, 2020
B-2 (RHP Freddy Peralta) Cubs go in order: Souza (K), Caratini (Deep flyout to left), Bote (po-foul to first). Cubs trail 1-0.
T-3 RHP Adbert Alzolay: GO-6, GO-4, then walk, single homer. Finally, gets a groundout to first to end the frame. Cubs down 4-0.
B-3 (RHP Freddy Peralta) Perez worked a walk, then Phegley got robbed by Broxton on a bloop fly to shallow right. Garcia fanned, Happ flew out to center. Cubs without a hit, trailing 4-zip.
Former #Brewers utility player Hernan Perez looks different in a Cubs uniform, doesn't he? pic.twitter.com/VLCLc7jFTx

— Tom (@Haudricourt) February 29, 2020
T-4 Alzolay goes 1-2-3: FO-8, K, FO-4.
Exceptional catch in shallow right by Bote to rob Nottingham of hit to end the 4th.

— Mark Gonzales (@MDGonzales) February 29, 2020
B-4 (RHP Devin Williams) Hoerner lined-out to the right, but then Schwarber singled to right. Souza fans, Caratini fans. Cubs down 4-0.
T-5 RHP Rowan Wick got a groundout but then gave up a double to Hiura. Wick the gets a K, GO-6.
B-5 Former Cubs' RHP Justin Grimm pitched the fourth, fanning Bote and Perez before getting Phegley to pop out to short.
Cubs Subs Noel Cuevas (RF).
T-6 RHP Duane Underwood Jr. gets a pop fly to the right, a groundout to first, then ends it with a K. Cubs need to generate some offense. 4-0.
B-6 (RHP Jake Faria) Robel Garcia opened the inning with a triple to the right. Should have been a single, but Castro muffed an attempt at a diving catch. Happ's flare to shallow left nets the Cubs their first run (Charcer Burks in for Happ). Burks steals third. Next, Hoerner singles to left, then Schwarber doubles to the right (Trent Giambrone replace Schwarbs). Cuevas FO-9, then Caratini ground2 out to first. Bote walks. Pitching change.
Laser to the gap. pic.twitter.com/EFNj4O2n0M

— Marquee Sports Network (@WatchMarquee) February 29, 2020
RHP Thomas Jankins: Perez grounds out to end the inning. Cubs trail 4-3.
"Cubs-titutions:" Alfonso Rivas (1B), Jhonny Pereda (C), Trent Giambrone (LF), Zack Short (SS), Charcer Burks (RF), PJ Higgins (3B), Carlos Asuaje (2B), PJ Higgins (3B)
T-7 RHP Ben Taylor get them in order: FO-8, GO-6, K.
B-7 (RHP Drew Rasmussen) Phegley pops out to short, Rivas GO-6, Burks GO-6. Cubs down 4-3.
T-8 LHP CD Pelham: FO-9, GO-3, K. Nice frame.
B-8 (RHP Trey Supak) Cubs go in order: Short (K), Giambrone (K), Cuevas (GO-4). Cubs need to walk this off. 4-3.
T-9 RHP Dakota Mekkes: FO-9, K, K.
B-9 (RHP Phil Bickford) Nothing for Chicago: Pereda (GO-6), Asuaje (K), Higgins (GO-6).
Final score: 4-3 Brewers
Cubs' Offense: 5 for 32 (.156); 2 for 5 (.400) with RISP.
Next Game: Today: 2:05 PM: Mariners @ Cubs from Sloan Park.
ICYMI, Yu was ?? after allowing a leadoff homer yesterday. He retired 6 of 7 batters faced, and hit 98 on the radar gun...on the last day of February. pic.twitter.com/pE81WDX0Dc

— Cubs Talk (@NBCSCubs) March 1, 2020

Tags: Chicago Sports Baseball
,
Kris Bryant
,
Anthony Rizzo
,
Yu Darvish
,
Jon Lester
,
Ian Happ
,
,
Kyle Schwarber
,
Victor Caratini
,
David Bote
,
Hernan Perez
,
Robel Garcia
,
Adbert Alzolay
,
Rowan Wick
,
Justin Grimm
,
Noel Cuevas
,
Duane Underwood
,
Charcer Burks
,
Trent Giambrone
,
Alfonso Rivas
,
Jhonny Pereda
,
Carlos Asuaje
,
Dakota Mekkes