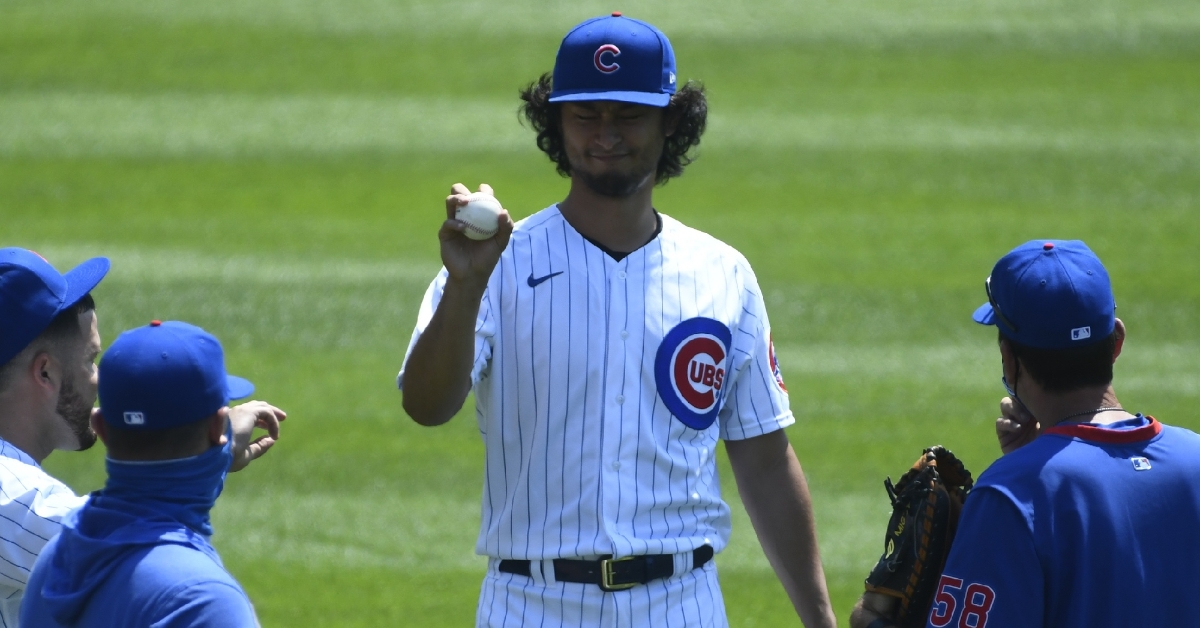 | | |
| --- | --- |
| Yu Darvish still a frontrunner for NL CY Young | |
---
| | | |
| --- | --- | --- |
| Thursday, September 10, 2020, 1:13 PM | | |
When Yu Darvish takes the ball for the Cubs has simply been renamed by manager David Ross as "Win Day." It was not the case today for the Cubs' ace, but his season has been marvelous up to this point.
For the second straight week, Darvish has matched up against the Reds' Trevor Bauer, another ace pitcher in the national league. Darvish had the better of the righty last time around, a 3-0 win over the Reds in game one of a doubleheader two weeks ago. But Bauer out dueled Yu on Wednesday night at Wrigley, as the Reds beat the Cubs 3-0.
But Darvish certainly pitched well enough to win, delivering a quality start for the 8th time in 9 tries this season. He did not have a quality start in the one game; he only gave up three runs but did not finish the needed six innings. Their record now drops to just 20-2 in games for the Cubs when they receive a quality start. The Cubs have been wildly successful when their pitchers deliver quality starts, and Darvish has been as reliable as any in that category.
The "Win Day" label is fitting as well, as this is the first time the Cubs have lost a Yu Darvish start since back in July in the second game of the season, an 8-3 loss to Milwaukee. Since then, David Ross and the Cubs have been able to count on Darvish to deliver not only a quality start but a win for the Cubs.
Darvish has not given up more than three runs in any start this year, and Wednesday night was no different. Darvish walked two batters in the first inning (as many as he has given up in any game this season) and then a home run to Mike Moustakas, putting the Cubs in a 3-0 hole.
Darvish gave up a hit to the following batter but did not give up another hit the rest of his outing.
Amazing that no starting pitcher since 1988 when this stat was first tracked has a lower batting average allowed with two strikes than @faridyu! .129! ?????? https://t.co/dyBbpvE7VY

— Codify, Inc. (@CodifyBaseball) September 10, 2020
Darvish settled in to allow just two hits and three walks through six innings while striking out nine.
For this shortened season, Darvish has emerged as a potential favorite for the NL Cy Young.
For the Cubs, Darvish has been a formidable ace. He has also served as the stopper for multiple starts, as three of his seven wins have followed losses.
Darvish leads the National League in wins, strikeouts, strikeout to walk rate, and trails just Kyle Hendricks in innings pitched. When it comes to ERA, Darvish entered Wednesday's outing as the National League leader.
He now trails only Jacob DeGrom by .08 points and Bauer by .3.
When it comes to the Cubs, Darvish leads the team in ERA, wins, strikeouts, WHIP, batting average against, and more — the point is, he has anchored a pitching staff that has needed anchoring.
Some attribute Darvish's success to his personal catcher Victor Caratini. Others think that Darvish pitching in an empty stadium has been beneficial for a player who has traditionally been thrown off by fans. But the bottom line is Darvish's stuff is nasty, and his 11 pitch arsenal command has been phenomenal this season.
Darvish had a solid start on Wednesday, but this outing tightened the race for hardware and showed that the margin of error for the Cubs' ace is slim to none if he wants to take home NL Cy Young hardware or pitch deep into the playoffs.
Where does Yu Darvish stand in the NL Cy Young race? pic.twitter.com/04f1wb9zWk

— Marquee Sports Network (@WatchMarquee) September 10, 2020
As for the Cubs, their success has been highly dependent on their starting rotation's success, so they will lean heavily on Darvish as this 60-game sprint continues. Darvish likely has three starts left, one against either Cleveland or Minnesota, one against Pittsburgh, and one against the White Sox.
The race for the Cy Young now seems to be between Jacob deGrom of the Mets, Trevor Bauer of the Reds, Max Fried of the Braves, and, of course, Darvish — who I believe was the favorite until Wednesday night.
Some dominant performances could leave Yu as the last man standing for the NL Cy Young — but all the Cubs hope is that "Win Day" rings truthful again.