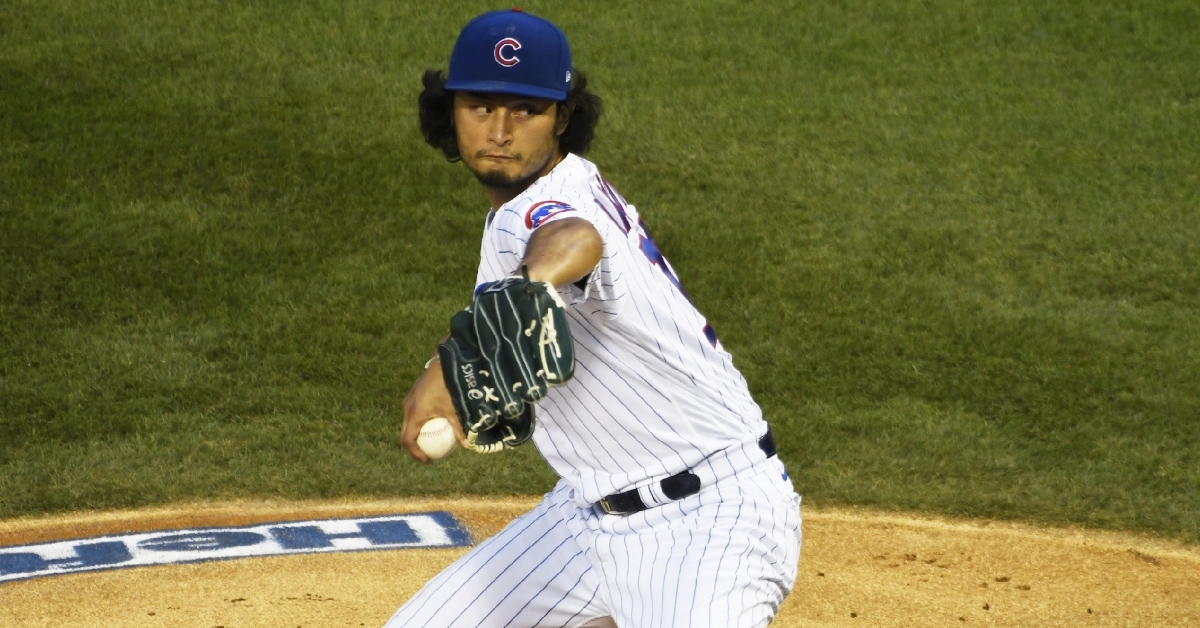 | | |
| --- | --- |
| Yu good: Darvish pitches gem in win over Pirates | |
---
CHICAGO — Redeeming himself from a subpar performance last weekend, Chicago Cubs (5-2) ace Yu Darvish dominated the Pittsburgh Pirates (2-5) in a six-inning start that saw him face little resistance at the plate. Darvish struck out six in the scoreless outing at Wrigley Field on Friday, and the Cubs defeated the Buccos 6-3.
After not taking the field on Thursday due to a rainout in Cincinnati, the Cubs returned home for the opener of a three-game series versus the Pirates. With the wind blowing in for much of the night, the long ball was not much of a factor for most of the game, but the Cubs came up with just enough critical hits to earn the victory.
It's gotta be the hair, Cotton, it's beautiful.
Feathered and lethal.
You just don't see it nowadays! pic.twitter.com/2LLQ0rO73J

— Marquee Sports Network (@WatchMarquee) August 1, 2020
---
Inning-by-Inning Breakdown:
---
T1: The first out of the game was recorded via a pickoff. Darvish fired to first baseman Anthony Rizzo, who swiped Adam Frazier as he attempted to dive back to the bag. Initially ruled safe, Frazier was called out after the Cubs challenged the call.
Score: Pirates 0, Cubs 0
---
B1: Trevor Williams started on the mound for the Pirates, and he sat the Cubs down in order in the first frame.
Score: Pirates 0, Cubs 0
---
T2: Darvish gave up a leadoff single but struck out the next two batters as part of a scoreless inning.
Score: Pirates 0, Cubs 0
---
B2: Jason Heyward smacked a two-out single to center and then advanced to second on Victor Caratini's base hit to center. Heyward nearly got tagged out after the throw back into the infield was made. Jason Kipnis struck out swinging thereafter, leaving both baserunners stranded.
Score: Pirates 0, Cubs 0
---
T3: The Pirates did not reach base in the top of the third.
Score: Pirates 0, Cubs 0
---
B3: A perfectly executed bunt by Javy Baez contributed to the Cubs striking first. With one out, Kris Bryant was walked, and Williams then hit Rizzo on the knee with a pitch that got away from him, marking the sixth HBP of the season drawn by Rizzo. After that, Baez surprised Williams with a bunt. "Javy" was credited with a bunt single, but Williams committed a throwing error in an ill-fated attempt at throwing Baez out. Bryant scored as a result of the error, and Baez and Rizzo reached second and third, respectively. Williams struck out the next two batters to escape the jam relatively unscathed. Willson Contreras was angry with himself after striking out to end the inning, and the Pirates' battery took offense to Contreras' exclamations, leading to words being exchanged as they headed to their dugouts.
Score: Pirates 0, Cubs 1
Bryant walks, Rizzo hit by pitch and Baez drops a bunt single that leads to an error and scores a run.

Cubs up 1-0 in the 3rd. pic.twitter.com/tRIF0GPBhm

— Jordan Bastian (@MLBastian) August 1, 2020
---
T4: Darvish struck out the side in the fourth, including a strikeout of Josh Bell that required just three pitches.
Score: Pirates 0, Cubs 1
---
B4: With two outs, Kipnis, a Chicago native, came through with his first regular season homer as a member of the Cubs. Driven out to right field, the 418-footer left the bat in a hurry.
Score: Pirates 0, Cubs 2
First #Cubs home run for @TheJK_Kid!@BinnysBev pic.twitter.com/pJyMLIQlEc

— Chicago Cubs (@Cubs) August 1, 2020
---
T5: The Pirates finally advanced a runner into scoring position when Cole Tucker hit a two-out single and stole second base. However, Darvish forced an inning-ending groundout after that.
Score: Pirates 0, Cubs 2
---
B5: Bryant and Rizzo were walked in back-to-back plate appearances to start the bottom of the fifth. Rizzo wound on the opposite end of a pickoff play after pulling one off in the opening inning. Rizzo was picked off at first, but Kyle Schwarber filled the void when he was walked with two outs. Williams was pulled after walking Schwarber, bringing reliever Nik Turley into the game. Turley walked Contreras to load the bases, and, on an 0-2 count, Heyward hit a two-run single to right.
Score: Pirates 0, Cubs 4
Heyward with the 2-out, 2-run single ?? pic.twitter.com/Wo77C0uRdT

— Marquee Sports Network (@WatchMarquee) August 1, 2020
---
T6: The Buccos went three up, three down in the sixth. The third out saw a comebacker graze Darvish's thigh and ricochet right to Baez at shortstop. Baez fired to first base for the out, and, although he was wincing, Darvish was able to walk off the field with no problem.
Score: Pirates 0, Cubs 4
---
B6: Geoff Hartlieb toed the rubber for the Pirates in the bottom of the sixth. Kipnis and Happ both singled to begin the half-inning. Next, Bryant grounded into a fielder's choice that resulted in a force out at third. Rizzo skied a fly ball to deep right field for the second out, and Baez grounded out to end the inning.
Score: Pirates 0, Cubs 4
---
T7: Reliever Kyle Ryan worked the seventh inning for the Cubs. The Pirates failed to reach base.
Score: Pirates 0, Cubs 4
---
B7: A one-out double by Contreras that chased Hartlieb from the game was not converted into a run. Miguel Del Pozo replaced Hartlieb on the bump and drew two consecutive groundouts.
Score: Pirates 0, Cubs 4
---
T8: Following a leadoff double hit to deep right-center by Gregory Polanco, Rowan Wick relieved Ryan. After recording two outs, Wick faced adversity. Jarrod Dyson tallied an RBI single that plated Polanco, and Frazier followed that with a single that advanced Dyson to third. Wick regained his composure and forced an inning-ending lineout.
Score: Pirates 1, Cubs 4
---
B8: The first three batters of the bottom of the eighth reached base, with Del Pozo issuing a walk and giving up two singles. Dovydas Neverauskas was brought into the game to pitch, and he gave up an opposite-field single to Rizzo that scored two. Eventually, Contreras grounded into an inning-ending double play, but the Cubs boasted plenty of breathnig room heading into the final inning.
Score: Pirates 1, Cubs 6
---
T9: Cubs closer Craig Kimbrel did not assuage any fears concerning his struggles out of the bullpen. Making his second appearance of the season, Kimbrel, who was disastrous in his first outing, gave up a leadoff jack to Josh Bell and got taken deep by Colin Moran on the very next pitch. However, Kimbrel remained in the game and outed three batters in a row to finish off the contest.
Final Score: Pirates 3, Cubs 6
---
Statistical Breakdown:
Chicago Cubs: Batting: 1 2B, 1 HR, 5 RBI, 3 2-Out RBI, 1 GIDP, 4-16 RISP, 11 LOB; Baserunning: 1 Picked Off; Pitching: 7 H, 3 R, 3 ER, 1 BB, 8 K, 2 HR, 0 HBP, 0 BB, 0 WP
Pittsburgh Pirates: Batting: 1 2B, 2 HR, 3 RBI, 1 2-Out RBI, 1-5 RISP, 4 LOB; Baserunning: 1 SB, 1 Picked Off; Fielding: 1 E, 1 DP; Pitching: 11 H, 6 R, 5 ER, 7 BB, 7 K, 1 HR, 1 HBP, 0 BB, 0 WP
---
Studs of the Game:
Chicago Cubs: Yu Darvish (SP): 6.0 IP, 2 H, 0 R, 0 ER, 1 BB, 7 K, 0 HR, 0 HBP, 0 IBB, 0 WP; Jason Heyward (RF): 2-4, 0 R, 2 RBI, 0 BB, 0 K, 2 2-Out RBI, 1-2 RISP
Pittsburgh Pirates: Colin Moran (3B): 2-4, 1 R, 1 RBI, 0 BB, 0 K, 1 HR
---
Duds of the Game:
Chicago Cubs: Craig Kimbrel (RP): 1.0 IP, 2 H, 2 R, 2 ER, 0 BB, 0 K, 2 HR, 0 HBP, 0 IBB, 0 WP
Pittsburgh Pirates: Trevor Williams (SP): 4.2 IP, 4 H, 3 R, 2 ER, 3 BB, 6 K, 1 HR, 1 HBP, 0 IBB, 0 WP, 1 E; Kevin Newman (SS): 0-4, 0 R, 0 RBI, 0 BB, 1 K, 0-1 RISP
---
Up Next: Game two of the three-game set will take place on what is expected to be a clear night at the Friendly Confines. The Saturday, Aug. 1, matchup will begin at 7:15 p.m. CDT. Coming off a solid season debut, Cubs right-hander Tyler Chatwood (1-0, 1.50) is scheduled to start against Pirates right-hander Mitch Keller (1-0, 1.80).
---
Box Score:
Pittsburgh Pirates at Chicago Cubs
Jul 31, 2020
1
2
3
4
5
6
7
8
9
R
H
E
Pittsburgh (2-5)
0
0
0
0
0
0
0
1
2
3
7
1
Chicago (5-2)
0
0
1
1
2
0
0
2
-
6
11
0
W: Yu Darvish (1-1) L: Trevor Williams (0-2)
---
Highlights:

Tags: Chicago Sports Baseball
,
Yu Darvish
,
Anthony Rizzo
,
Jason Heyward
,
Victor Caratini
,
Javy Baez
,
Kris Bryant
,
Willson Contreras
,
Kyle Schwarber
,
Kyle Ryan
,
Rowan Wick
,
Craig Kimbrel
,
Tyler Chatwood