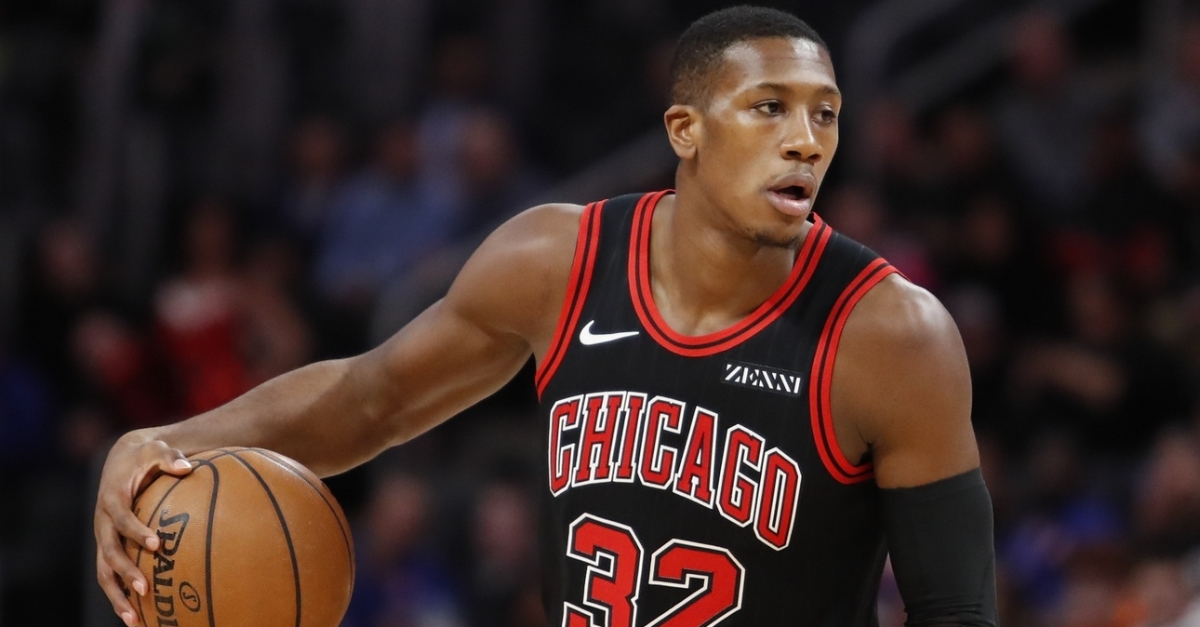 | | |
| --- | --- |
| 2020 Season Grade: Kris Dunn | |
---
It is hard to believe that five years ago, the Bulls were still one of the better teams in the east and always competing for a postseason spot. That was until the front office, and Tom Thibodeau decided to part ways as Fred Hoiberg was named the man in charge.
Although his first two seasons were not terrible, making the postseason once and nearly pulling off an upset against the Celtics until Rajon Rondo got injured, the last two seasons for Hoiberg were less than appealing, which has translated over to current head coach Jim Boylan. Injuries to key players certainly had its fair share to do with it, but so did trades to unload what was left of a solid Bulls core.
One of those trades was sending Jimmy Butler to Minnesota for Zach Lavine, Kris Dunn, and an eventual draft pick, which turned out to be Lauri Markkanen. At the time, the Bulls appeared to be the winners of that deal, but as we sit now, only Lavine has panned out with the other players not living up to expectations.
Dunn is undoubtedly one of those players who hasn't lived up to his first-round billing, as he has been marred with injuries and inconsistency since arriving in Chicago. The 26-year-old fourth-year player was taken fifth overall in the 2015 NBA draft but has played more like a second-round pick or even less than that during his NBA career. After playing in a career-high 78 games as a rookie, starting seven of them and averaging less than four ppg, Dunn was dealt to Chicago where the Bulls hoped he could replace Derrick Rose at the PG position.
Instead, Chicago received a defensive first type of player whose offensive game has plenty of holes. His first year in Chicago happened to be his best NBA season as he averaged a career-high 13.4 PPG, in 52 games 43 were starts. That was his first real opportunity to make an impact and had his season not been cut short with injuries it would have looked even better.
Dunn followed that up with another decent season despite battling foot and ankle injuries half the season. In 46 games (44 starts) last year, Dunn's production went down to 11.3 PPG but continued to average six assists and four rebounds per game as he was one of the Bulls' best on-ball defenders that year. Fast forward to this season, and Dunn continued to take steps back as his time with the Bulls may be coming to an end.
After hearing his name brought up in trade talks this offseason, Dunn missed the first few weeks of training camp with a minor injury before losing his starting spot to open the season. He did manage to play in 51 games this season, but only 12 were starts as his season came to an end in mid-February after suffering an MCL sprain.
Once again, the offensive numbers continued to dip as he averaged just 7.1 PPG, which was lower than his career 8.6 PPG average. His 3.6 RPG and 3.4PG were also down from seasons past, but that is what happens when you see a decrease in minutes. The thing Dunn did to make up for his lack of offensive game was continue to play fantastic defense as he averaged nearly three steals per contest, which had him ranked first in the league much of the season before falling to third by seasons end.
Season Grade C -: Dunn has shown flashes of being a solid PG when given a chance, but he is not the long-term answer or long-term starter. His inability to remain healthy and inconsistency in his overall offensive game are huge red flags for anyone looking to add his services to their roster long term. The one thing he will continue to do to earn playing time is displaying his lockdown defense. The longer and better he does that, the better chances he will remain on an NBA roster in the future.
Upgrade Your Account
Unlock premium boards and exclusive features (e.g. ad-free) by upgrading your account today.
Upgrade Now