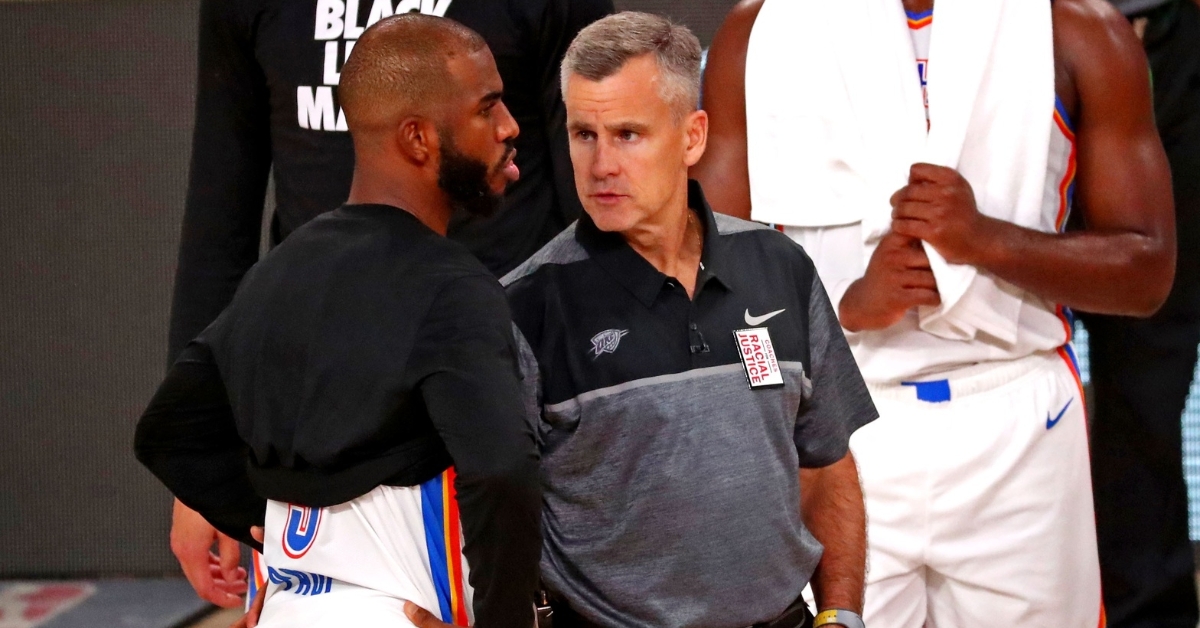 | | |
| --- | --- |
| Did Chicago jump the gun on hiring Billy Donovan? | |
---
Immediately upon Jim Boylen's firing, the Bulls immediately jumped to the top of the list of Head Coaching destinations. Not only is the Bulls a historical organization, but it is a job that everyone dreams of taking knowing what it can become if you win.
It seemed like numerous great candidates were thrown out in terms of who they were interviewing, which was expected. However, after the first round of interviews, it seemed as if the Bulls got quiet on their coaching search, which was a bit alarming.
Then out of nowhere, Billy Donovan was let go by the Thunder, and the Bulls organization pounced on the opportunity to bring him aboard. He agreed to become the Bulls next head coach and was signed to a four-year 24-million-dollar deal. This was a slam dunk hire for Chicago and, at that time, was the best candidate for the job. Some wonder if the Bulls jumped the gun just a week later, seeing as a new name emerged.
I'm talking about now-former Head Coach Doc Rivers as he and the Clippers agreed to part ways following another post season exit. The former NBA guard and Chicago native has been one of the more consistent coaches across the past two decades but hasn't produced the way some have thought he would.
Rivers has coached three organizations in Orlando, Boston, and Los Angeles Clippers, with all three of them having something in common. He took over a team in rebuild and transition mode and led them to great things. Take the Magic, for example. He improved Orlando to a 41-41 his first season and missed the postseason. The next three seasons, Rivers averaged 43 wins and made the playoffs in each season, failed to win a series. He was fired the following season after going 1-10 to start the season.
Rivers sat out the rest of that year before coming to Boston in 2004. After a promising 45-37 mark in his first season, Rivers lost another first-round postseason series before entering a two-year rebuild mode that saw the Celtics win 33 games or less each season. Following two years in purgatory, Rivers and the Celtics inherited a team of Paul Pierce, Ray Allen, and Kevin Garnett as Rivers was finally given the tools needed to win.
His first season with that group saw a team that won 24 games before improving to 66-16. They went on to win the NBA championship that season. That was just the beginning for Rivers as the Celtics went on to win five straight Atlantic division titles making the NBA finals one more time before losing. His time with the Celtics ended in 2013 when he went 41-40 and lost in the first round.
Rivers then left for the Clippers organization, and immediately the success followed. His 57-win season in 2014 was the most during his tenure but failed to get it done in the postseason losing in the second round. He made the postseason in all but one season with the Clippers but failed to reach the second round three of the six times they went.
This season, Rivers was handed perhaps his best team since his days in Boston. Not only did he have the core he built with the Clippers, but Paul George and Kawhi Leonard came aboard. Through 72 games, the team went 49-23 and earned the No. 2 seed in the west. However, once again, it was a playoff failure as the Clippers lost in the second round, which ultimately led to his exit.
Had the Bulls known Rivers would have been relieved of his duties, do you think they would have waited to nab him over Donovan? The guy is a Chicago native and has posted a 943-681 career mark, so he knows what he is doing as a coach. Unlike most of his past teams, this wouldn't be some all start team he would have been handed.
Instead, it would have been a group of young stars looking for a leader, similar to how things began in Orlando. The Donovan hire was the obvious pick for the Bulls as the new front office had to make a splash. However, with Rivers becoming available now, it would have been interesting to see if the Bulls would have waited another week to try and bring him aboard.
Rivers will undoubtedly find work somewhere soon, even if it means he takes a year off to reassess the market next season. What I wouldn't mind seeing is for Rivers to join Donovan's staff as an assistant giving him an excellent veteran presence on the bench. That is unlikely to happen, but it certainly would open eyes to see him come aboard even if he was an assistant for just one season.
Upgrade Your Account
Unlock premium boards and exclusive features (e.g. ad-free) by upgrading your account today.
Upgrade Now