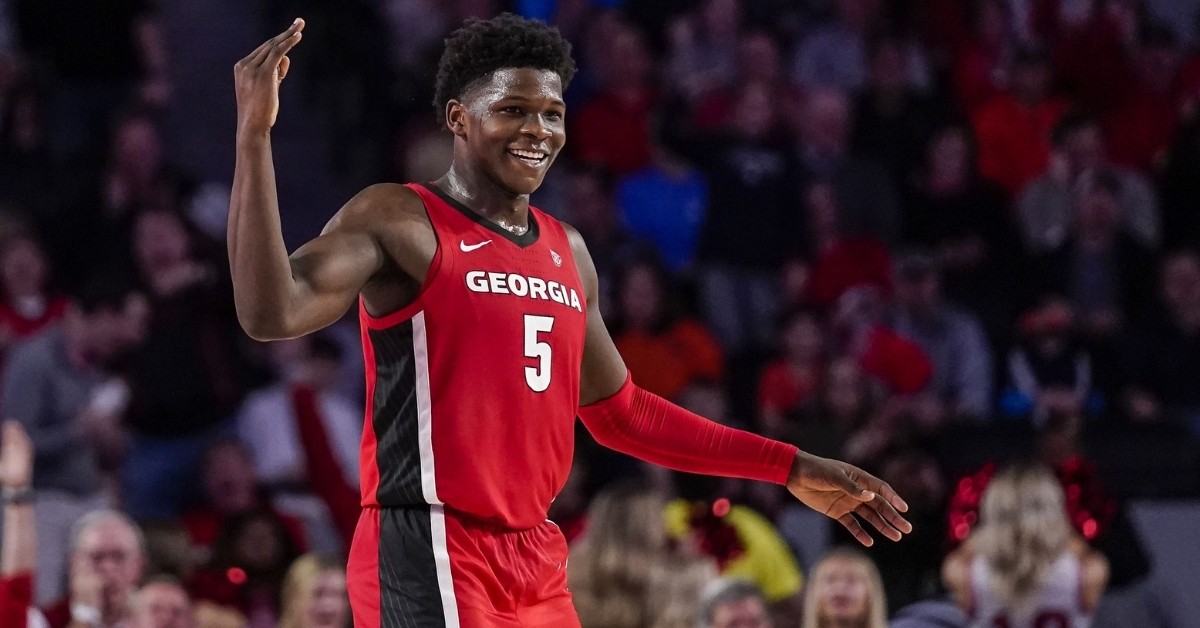 | | |
| --- | --- |
| Getting to know NBA draft prospect: Anthony Edwards | |
---
Unless you're a big fan of College Basketball, the name Anthony Edwards may not ring a bell. Let me tell you, the 6-5 SG from Georgia will certainly catch your eye when you watch him play as many people view him as the top draft prospect in this year's class. For the Bulls to have a realistic shot at grabbing him, they almost certainly need to land the No. 1 overall pick, or at the very worst land in the top three and hope for some magic.
Chicago already has Coby White and Zach Lavine, who look like they will be a dynamic duo next season. Adding a player like Edwards could give the Bulls their version of Steph Curry, Klay Thompson, and Kevin Durant. I am not going to go over the top and say they will win 73 games like that Warriors club did, but these three paired together should help the Bulls reach 50 wins once again if the other pieces remain intact.
I have not seen much of the Edwards game, but he was born to score from all accounts. Some feel he could be a poor man's version of James Harden, which is certainly something I would take on a team that lacks overall scoring. Adding Edwards would be a significant boost offensively for Chicago and would force players like Lauri Markkanen and Wendell Carter to become more of a pass-first player to free up the shooters.
Edwards is not only a strong combo guard but extremely physical, which has drawn comparison to Bradley Beal in terms of body type and style of play. Unlike Beal, Edwards didn't shoot the three-ball well in college, but I would expect that to change at the NBA level. Listed as an SG right now, Edwards may work better as a pure PG, which is still a position the Bulls don't have long term.
I know the NBA is all about finding talent and then letting the talent figure things out. After all, you can't coach talent and pairing Edwards with Lavine, and White is certainly an intriguing scenario. Should the Bulls get the top pick, I don't think they take Edwards as they have other pressing needs. However, if Chicago lands in the top five and is still available when they pick, it would be next to impossible to let him go elsewhere.
Edwards brings a lot of strengths to his game as do most combo guards who can play both guard positions. Not only is he an elite athlete with great competitive nature, but he has an excellent feel for the game at such a young age. His 6-9 wingspan is exceptionally long for a guard and has had an NBA body since his senior year in high school.
Some of the things Edwards needs to work on are free throw shooting, consistent shooting from deep, and cutting down on turnovers. All three of those are keys to having success at the NBA level, but I look for Edwards to put the work in to improve all aspects of his game. We all know Edwards knows how to attack the bucket and get to the rim, but he needs to utilize the mid-range game more to diversify his play adequately.
Player comparison: Whenever you look at combo guards, there are many things you need to consider when comparing them. There is style of play, multiple positions, and just competitive nature all play a huge role when looking at current NBA comparisons. Given what I have seen on film, Edwards is a mix of Dwayne Wade and Donovan Mitchell at this point in his career.
From an athletic standpoint, Edwards is basically a carbon copy of Mitchell, who brings excitement every minute he is on the floor. Style of play wise, he fits more in the mold of Wade as someone who is inconsistent shooting at times but knows how to get to the rim and make plays. Wade is a future Hall of Famer, and Mitchell is an all-star. To be compared to these two tells me the type of player he is and someone the Bulls need to have on their radar.