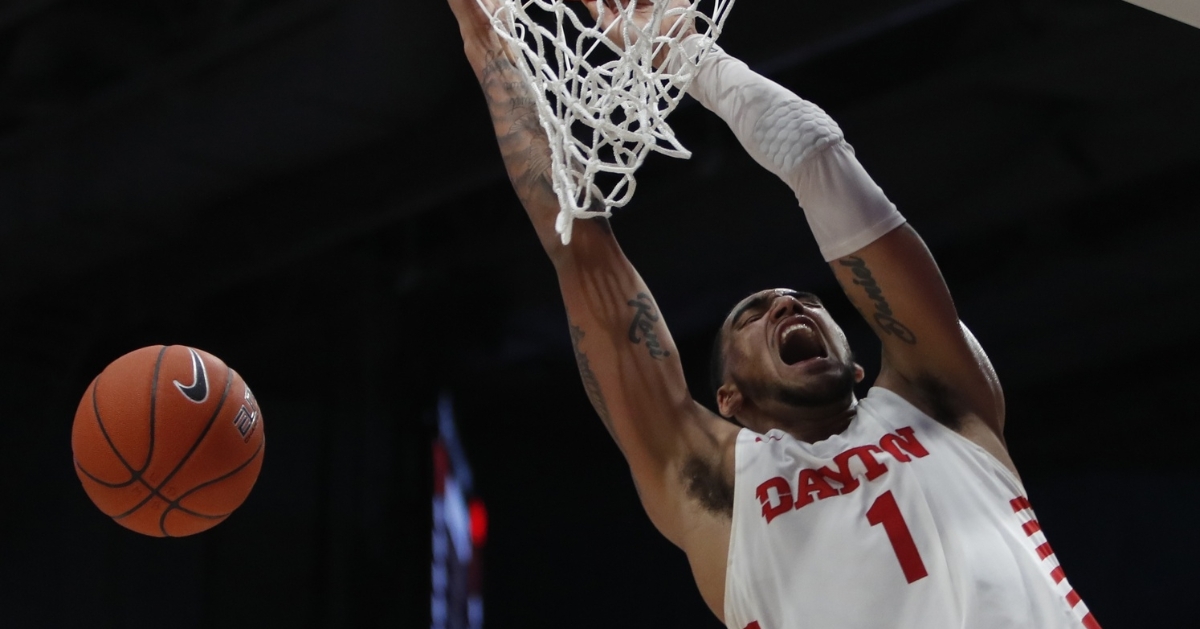 | | |
| --- | --- |
| Getting to know NBA draft prospect: Obi Toppin | |
---
One of the biggest stories in the NCAA basketball world this past season was the success of the Dayton Flyers. Despite playing in a rather weak conference, the Atlantic 10, Dayton was for real as they hovered around the top five all season and had a realistic shot at earning a N0. 1 seed in the NCAA tourney.
A large part of their success deals with the conference they play in as they are miles better than the rest of their league. However, the non-conference schedule they put together was no joke, and they proved they could play with anyone in the country. Even on a team without many actual stars, Obi Toppin was undoubtedly not the norm as he rightfully earned player of the year this past season.
At 22 years old, Toppin is a bit older than most of these college kids, meaning he is more NBA ready than some. The 6-9 power forward has an NBA type body and is as close as you can get to a can't miss prospect in this year's class. He is on the borderline of superstar with most scouts believing he will be an instant game-changer the moment he steps on the court.
Toppin is very active on both ends of the floor, uses his size to get physical with his opponents, and provides a good touch on the offensive end as he would slide right into the power forward spot with any team. The Bulls already have Lauri Markkanen as their power forward, but I don't feel that is the right position for him. Should the Bulls land Toppin, they are getting a legitimate power player who would be paired with Markkanen and slide him to the center position. That would mean current center Wendell Carter Jr. would now be coming off the bench, but that may not be a bad idea.
Toppin is big enough and strong enough to handle the more physical players that Markkanen cannot while he would struggle to guard smaller, quicker players. That would give the Bulls tons of flexibility on the floor where Markkanen could end up guarding on the perimeter, leaving Toppin to be the banger inside.
The other side of the spectrum consists of Toppin coming off the bench and backing up Carter Jr. Should he finally be past his injuries, Toppin and Carter would give the Bulls a defensive-minded approach that could help set the tone for the new head coach. Chicago is in desperate need of scoring, defensive help, and physicality, which Toppin brings to the table.
Toppin is why I want the Bulls to get one of the top three picks. He is a player that can jumpstart this rebuild and no team should pass up if available. With a new front office in place this season, I do not expect them to pass him up if available. Just look at the way the Denver Nuggets and Philadelphia Sixers are constructed.
The NBA has turned into a pick and roll league, and Toppin is the most talented big man off the roll in this year's class. He can beat you in a variety of ways using his 6-9 frame, which comes with a 7-2 wingspan to shoot over you but uses his size to body you up and get in position to finish at the rim.
His mix of length, strength, and explosion provides an elite talent set that not many college athletes possess. Add in the experience factor of staying in school for several seasons, and you have a player built for the NBA, but one who has the experience to start soon and make an impact.
Although at 22, he seems to have mastered a lot of his skills, questions still arise regarding his ceiling and how much better he can get. For that reason, teams wonder if there is another level he can get to, which could be viewed as a negative to some. If available and teams are looking to go with a safe pick, then Toppin is your man. However, if you want to swing for the fences given the uncertainty of his ceiling, teams may not take a chance at him.
Last season, Toppin shot 39% from deep but took limited three's, making it small. When left alone, Toppin was knocking down shots nearly 43% of the time as opposed to 33% when guarded. That shows you he can shoot, but may not turn into a real decent shooter if teams can defend him consistently.
In terms of player comparisons, Tobias Harris comes to mind as both have a similar style. They both like to play inside and can also step out and hit jumpers. The most significant difference to me would be Harris is a much better pure shooter while Toppin likes to sit around the rim. Regardless, if Toppin can put up Harris type numbers, the Bulls or any other team will gladly take it.
Upgrade Your Account
Unlock premium boards and exclusive features (e.g. ad-free) by upgrading your account today.
Upgrade Now