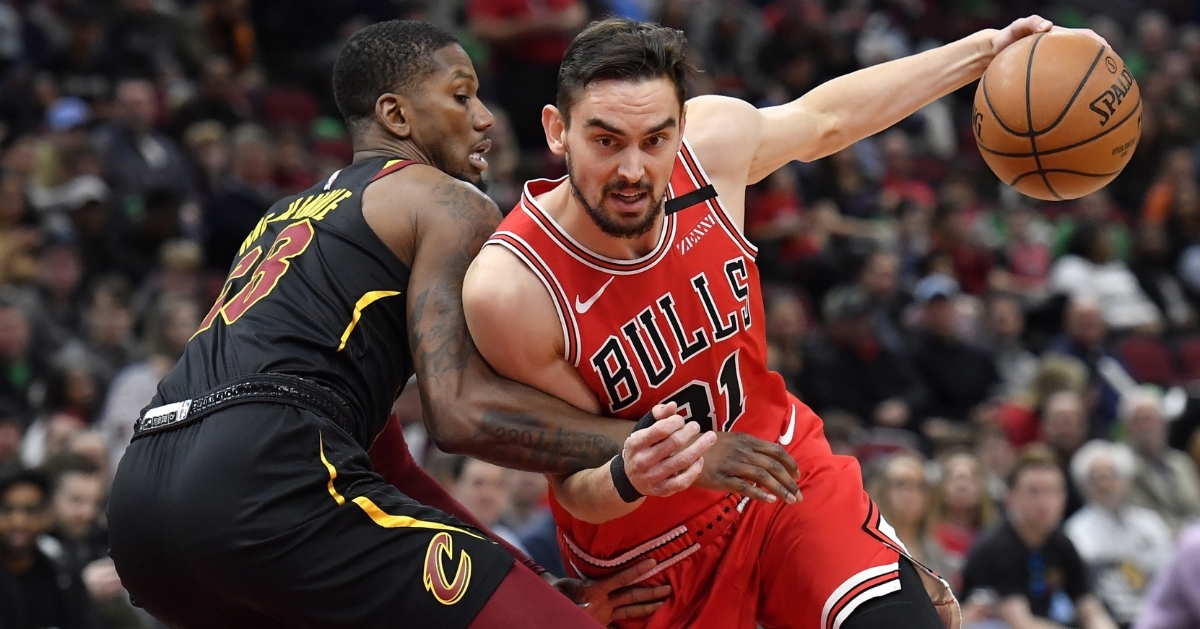 | | |
| --- | --- |
| Season in Review, Grade: Tomas Satoranksy | |
---
With basketball season all but officially over, I think it is safe to assume that we will not be seeing anymore Bulls basketball until next season. Let's face it, even if the NBA does come back to finish up the regular season or some variation of it, how does it really help the Bulls. They won't make the playoffs, and the only thing it would do is hurt their draft stock should they put together a nice series of wins.
As you may now know, the Bulls are actively looking for a new GM to run the team next season as they are heading in a different direction. Hopefully, that direction leads to the postseason. With the young core the Bulls have in place, and with the amount of money they can spend, it shouldn't be too hard to sign some better pieces heading into next season.
With pending trades, a large chunk of this roster will have to be retained heading into next season. I will be doing a player by player season in review story to keep Bulls content coming in as we wait for the final word on the return this season. We will start at the PG position in the NBA and work through the G League before switching positions.
Tomas Satoransky: Signed to a three-year 20-million-dollar deal this offseason, Satoransky was given his first starting role of his NBA career after serving as a bench piece for the Wizards the previous two seasons. A bigger guard size-wise, 6-7 210 pounds, Satoransky was known as a productive player during his tenure with Washington averaging roughly around 7.5 ppg off the bench to spare the likes of John Wall and Bradley Beal during the season.
Pronounced the starter in Chicago this season, Satoransky was going to have to deliver better numbers than that, but the Bulls also knew coming in that he was more of a facilitator, not a scorer. Born in the Czech Republic, the 28-year-old Satoransky was drafted in the second round of the 2012 NBA draft but didn't make his NBA debut until 2016 with Washington.
Entering this season, Satoransky averaged 6.6 PPG with a career-high 8.9 ppg last season. That is what the Bulls were banking on as they took a chance on him this year. That chance proved to pay off in some regards as Satoransky played in 65 games, including 61 starts this season. He finished the year averaging 9.9 ppg but was close to 11 for most of the year. Add in his 3.9 RPG and 5.4 APG, and you get the full display as to why he is viewed as a distributor, not a scorer.
Season Grade C+:
Given that this was his first season in a starting role, I knew Satoransky would struggle a little bit, but he still needed to do more offensively. Known as a pass-first type of guard, that is always going to be his bread and butter, as that is how his game has developed over the years. Coming to a team that needs as much offense as possible, Satoransky needed to score more and eventually lost his starting spot to rookie Coby White late in the season.
I get the Bulls took a chance on Satoransky but watching him play this season, and I don't think he is starting material. His mindset has always been that of a bench player, and I think he would be a perfect sixth man for the Bulls moving forward. They have young pieces in White, Harrison, and others who could easily start at the point guard position, while Satoransky could fill in off the bench for both point and shooting guard spots. We will see if Jim Boylen or a new head coach feels the same next year.