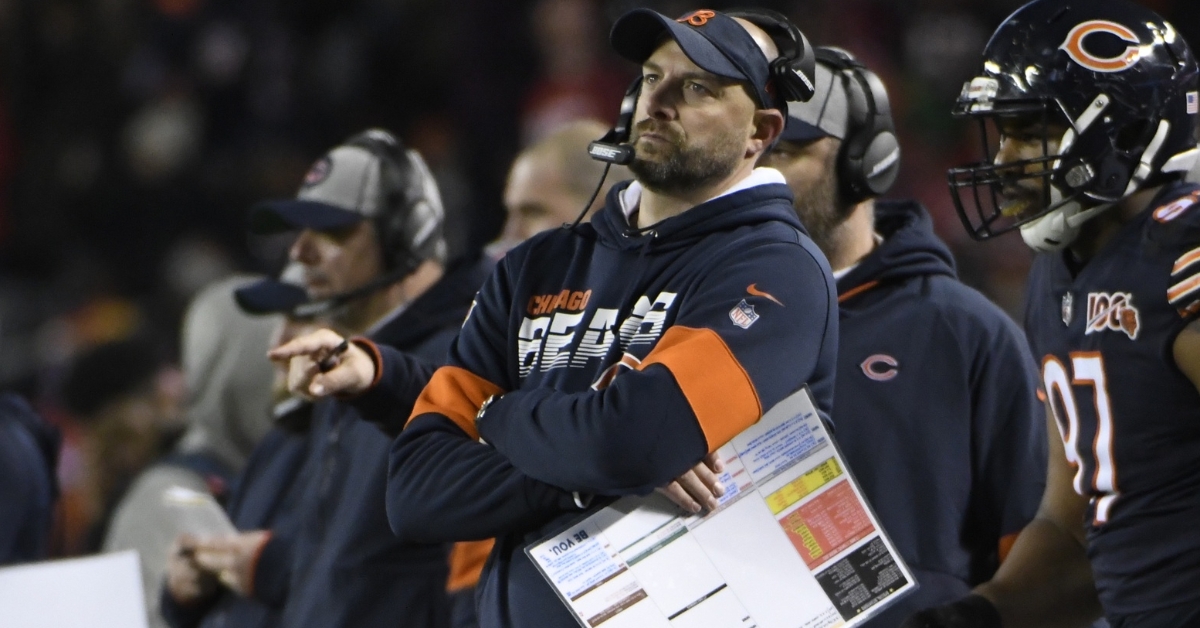 | | |
| --- | --- |
| Bears looking to move forward after COVID-19 scare | |
---
With the NFL entering the final three weeks until the regular season begins, teams have been going about their business in prepping for the first game. That includes taking regular COVID 19 tests to ensure the health and safety of the organization remains intact. All summer long, we have heard about the countless issues regarding some of the COVID testing returns, and the Bears learned the hard way Sunday that sometimes things are out of your hands.
At 2:51 AM on Sunday, Matt Nagy was caught by surprise when his cell phone began to ring. Typically, when your phone rings that early in the morning, it is met with bad news, but Nagy decided to answer it anyway. Upon talking to the person on the other line, Nagy was right to prepare for the worst as indeed, the news was not good.
On the other end of the phone call was head athletic trainer Andre Tucker who had to inform Nagy with the Bad news no coach wants to hear. Tucker informed Nagy that nine of the Bears COVID tests from Saturday came back positive, and now practice was on the verge of being canceled until things could get sorted out. Fortunately, those tests proved to be False Positives as were many others throughout the weekend, but that wasn't discovered in Bears camp until several hours later.
When a team has a positive test, you would expect things to get shut down immediately to disinfect and keep players safe. Upon receiving that news, Nagy met with Tucker and GM Ryan Pace via phone call to formulate a plan as to what steps need to be taken. Since this was the first time anyone in the Bears organization had to go through this, all sides needed to be on the same page as to what to do next.
After initial discussions, the plan was to inform all the players with a phone call around 4:30 that same morning, basically telling them not to report to Halas Hall later that day. The Bears were scheduled to hit the practice field at 9:20 so with most of the team sleeping, and it didn't give them much of a window to keep their players in the loop.
The second part of the plan was to have those nine individuals who tested positive to come into Halas Hall and run some follow-up testing to make sure. Once they were tested, it was revealed that all nine of those players tested negative that morning, meaning the previous nine positives were no longer valid. Those nine positive tests came from a lab in New Jersey that returned several other positive tests across the league. The NFL is now investigating what happened at this facility to kick back so many false positives.
Eventually, the Bears elected to reschedule practice later that day and moved forward at 1:30 once the good news was received. Nagy let the entire organization know the situation via Zoom call as he wants everything upfront and honest when dealing with COVID in any instance.
While the news was ultimately a good thing for Chicago, it paints a painful picture of how fast things can change this season. As of now, the NFL plans to start the season as expected and has done a great job keeping positive tests at a minimum right now. False positives aside, what would happen if there was a massive outbreak of positive cases across many different teams.
We saw how fast the Bears organization moved to figure out what to do next, but would the NFL be able to operate at that same speed. Getting in touch with one organization is hard enough, let alone trying to do that with 32 teams. Ultimately, it may come down to the team's trainers and Head Coaches more so than the NFL itself to keep the league running as scheduled this season.
With each team testing daily, the coaches and head athletic trainers are always in contact, discussing what happens next. They then report their discussions to the NFL to keep them in the loop. If a situation like what happened to the Bears this past weekend happens league-wide, you can bet that the coaches and the organization would know first before the NFL.
It would then be for those sorganizations to get in contact with the NFL to let them know what is going on so the league can decide as to what to do next. Unlike baseball, if there are positive tests on a team, I don't think they would cancel a game if the rest of the group tested negative. However, there has to be a level where the NFL deems it is too risky to play. Let's hope we never get to that level.