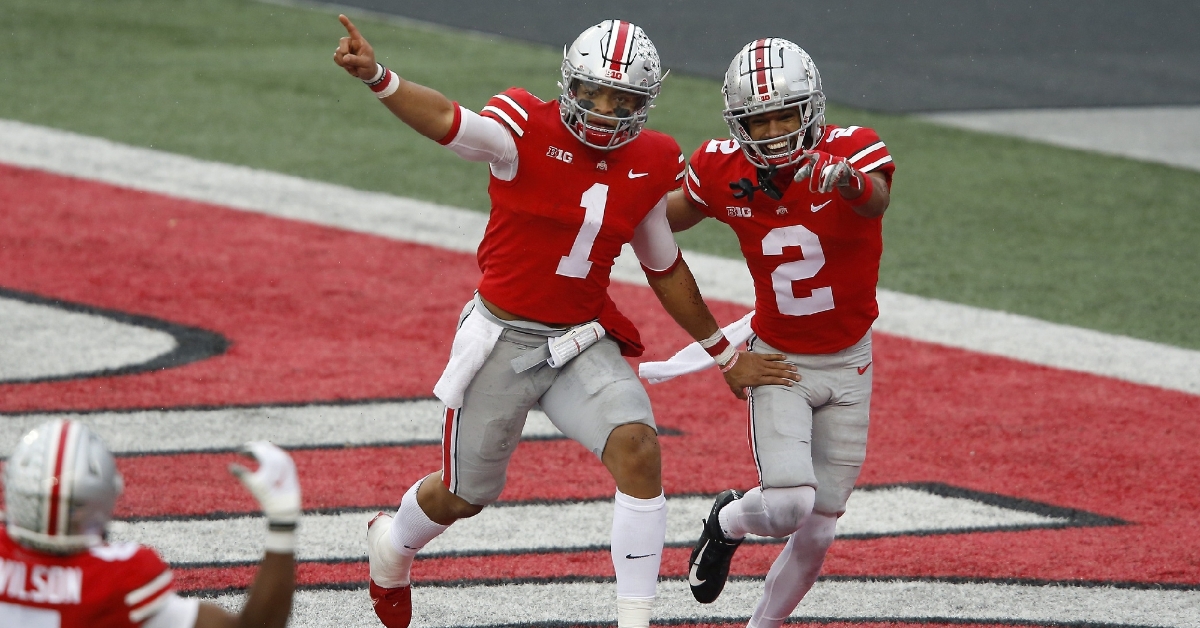 | | |
| --- | --- |
| Could quarterback Justin Fields be falling to Bears? | |
---
Three weeks ago, it was clear that the Bears had intentions of moving on from Mitch Trubisky following the season with the hopes of drafting a new QB next Spring. Given the recent play from Trubisky and how this offense has looked since, Chicago may want to change their mind if this strong run of play continues.
While the Bears defense has taken a few steps back over the past month, the offense certainly hasn't, as they are playing the best fans have seen in quite some time. Credit that to Trubisky and the growth he has made this season, but also credit Matt Nagy for finally admitting he shouldn't be calling plays and handing that job over to Bill Lazor.
Should the Bears keep this play up over the final two weeks and make the postseason, the questions surrounding Trubisky and what to do next will grow even louder as the Bears will face a tough decision. If the Bears miss the playoffs, which most experts anticipate they will, would Ryan Pace or the coaching staff return next season.
The consensus for that answer is up in the air, but nothing will be settled at this point. We know that there will be a strong quarterback class in this year's draft, and lots of teams will be targeting those players. From Trevor Lawrence to Zach Wilson to Kyle Trask and others, there will be many first-round quarterback talent called those first two days.
New York Jets ?? Justin Fields pic.twitter.com/wFcfz8GuEb

— PFF (@PFF) December 22, 2020
How does this play into the Bears, you may be wondering? Well, let's say that despite the recent play of Trubisky, maybe the Bears still don't trust him long term. I mean, sure, they could give him a one-year deal to return, but given the names in this year's class, Chicago could be passing on a golden opportunity at that point.
That is why if the rumors are true and the Bears are intent on drafting a quarterback this year, they go after one in the first two rounds before making a huge mistake. For the first time in my life, I watched more college football than NFL football this season, so I have seen firsthand a lot of the quarterbacks in this class.
From a skill side of things, Lawrence is by far the best in this class, and it will be shocking to see anyone pass on him if given a chance to take him. While Lawrence may have the most skill, guys like Mac Jones and Trask, I think, are poised to have the best careers out of this class. They may get drafted to a team with more weapons than the Jets or Jaguars and could succeed sooner rather than later.
Justin Fields is not Trevor Lawrence and now the Jets have a dilemma:

"I start looking around and everything changed... This morning, I'd keep Sam Darnold." — @ColinCowherd pic.twitter.com/EjcTpS7ZFg

— Herd w/Colin Cowherd (@TheHerd) December 21, 2020
Then you have guys who have great college careers, but how they will do in the NFL is a question. Trey Lance and Zach Wilson immediately come to mind, but suddenly Justin Fields is seeing his production on the field drop, which could force him to fall come draft weekend. Heading into this season, all the talk was about Lawrence and Fields, who would go number one.
Lawrence continues to live up to that hype, while Fields has struggled this season. Given Trask and Jones's resurgence, Fields may be the fourth or possibly the fifth-best QB now after many thought he was top two. At 6-3 228 pounds, Fields is the perfect size for an NFL QB and brings with him a valuable skillset.
From his big arm that has seen him complete nearly 70% of his collegiate passes for more than 5000 yards and 60 touchdowns to just eight interceptions, Fields certainly has the accuracy and skillset to make things happen on the field. Add in his 1024 yards on the ground and 19 scores, and Fields is the perfect dual-threat quarterback in the NFL.
I love what I have seen recently from Trubisky, but I still question if he can do this long-term or just an example of what a new play-caller can do. What happens if Lazor leaves next season for a different job? Would Trubisky's play follow? That is why I anticipate the Bears targeting a quarterback in April.
When you look at the Bears and how they do things offensively, Trask and Jones would be ideal for this team. Unfortunately, both in the Heisman running look for them to be top 10 if not top 5 selections. That would leave guys like Lance, Wilson, and Fields available for when the Bears pick.
I know everyone wants to give Trubisky the benefit of the doubt and bring him back, but if Fields was available in the first round when the Bears pick, do you see this team passing him up. I get that his stats haven't been great this season, but you can blame that on COVID and OSU not getting into a consistent rhythm.
Fields still has all the tools to be a great QB in this league and still could potentially one of the best quarterbacks from this class. While his play may have hurt his draft stock slightly, it could benefit teams like the Bears who thought they wouldn't have a shot at him to now falling right into their lap. Get ready for a wild offseason in Chicago, as this year's draft will be filled with plenty of turns.