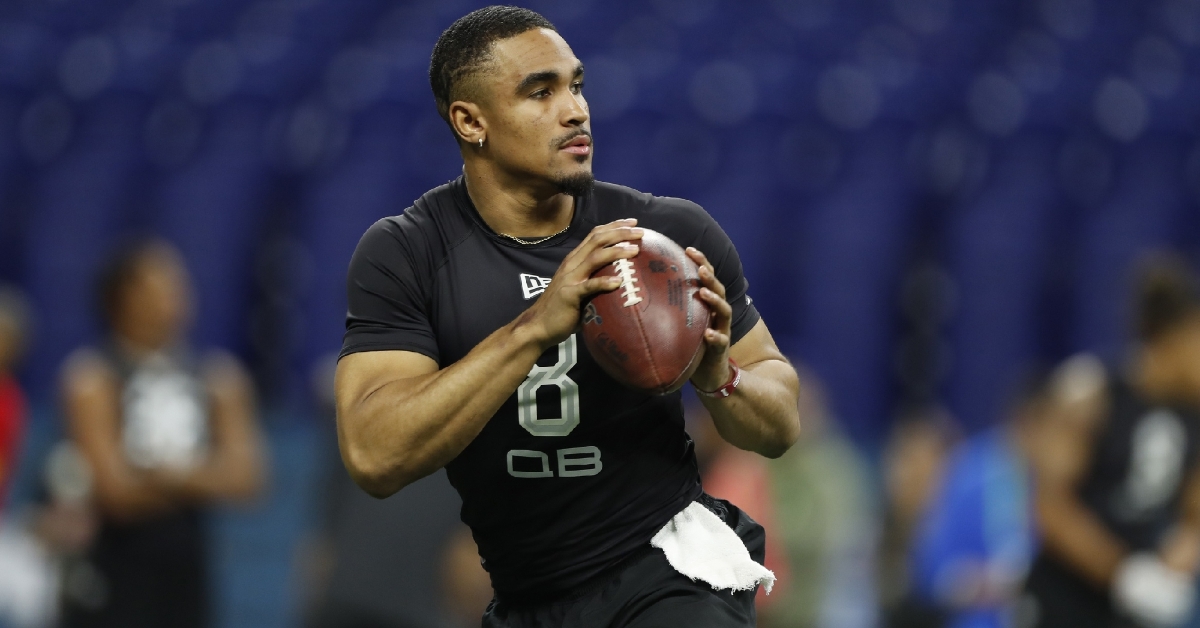 | | |
| --- | --- |
| Does Jalen Hurts fit Matt Nagy's system? | |
---
In case you haven't been keeping up with what the Bears have been doing this offseason, you have missed quite a bit. From the signings of Jimmy Graham and Robert Quinn as the teams, two splash moves thus far along with adding depth on the defensive side of the ball the Bears also elected to make a trade with the Jacksonville Jaguars bringing in Nick Foles.
That move ultimately led to the departure of Chase Daniel as the Bears were left with two QB's on the active roster. That didn't last long as Chicago decided to retain Taylor Brey, but that doesn't mean that Chicago shouldn't draft a QB with the potential to be the franchise leader going forward.
Ideally, Mitch Trubisky or Foles would be in the long-term future if things pan out, but at this point, Chicago needs to leave all options open.
Trevor Lawrence is not walking through the doors this season, and players like Tua and Joe Borrows will not be around when the Bears' first pick in the draft comes up, so a lot of the top options would be gone. However, one name that could be one to watch on day two of the draft is former Oklahoma Sooners QB Jalen Hurts as his name has been listed among the Bears potential picks.
With two open QB slots a week ago, trading for Foles and resigning Bray did fill both voids, but if Hurts is available, the Bears shouldn't hesitate to at least kick the tires on drafting him. The questions from there would be, does Hurts fit Nagy's system, and would he be the long-term answer at the QB position.
According to draft expert Matt Nagy, his dream scenario as to what type of offense Hurts would thrive in happens to be with Chicago. Given that the past two drafts have seen Oklahoma QB's Baker Mayfield and Kyler Murray go first overall, it would be weird seeing Hurts fall out of first round, but his talent is where the other two were.
Don't get me wrong, Hurts is immensely talented, and in the Lincoln Riley offensive scheme, he put up Heisman quality numbers without winning the award. A lot of scouts' rave about his overall talent ability as it is, but there are reasons the Bears should like it also. Not only is Hurts athletic and a game-changer, but he is more than battle-tested having standout seasons at both Oklahoma and Alabama. His leadership skills are also on point, as many front offices have come to like that most of all.
The obvious thing that Hurts could do for not only the Bears but for Nagy would be by bringing energy and new life to an offense that struggled last season. Looking at how Nagy composed himself on the sidelines, I feel like he needs a Hurts type of player to not only re-charge him but to light a fire under his butt to get him going.
Knowing what Nagy likes to do with his offense leads me to believe that it would be a dream come true for Hurts to somehow land in Chicago even if it meant he sits for a year. His ability as not only a thrower but as a runner also puts a coaches play calling ingenuity into overdrive as they become as creative as possible. The creativity that Nagy displayed in Kansas City could resurface in Chicago, which would help the offense finally get the best out of all their weapons.
As good of a possible fit this may be, Hurts is far from the perfect prospect, so fans shouldn't expect him to make that much of a difference right away. If he was the ideal prospect, he would be a lock in the first round and talks about the Bears drafting him would never be a thing.
Like Murray and Mayfield, for that matter, Hurts is not the biggest QB size-wise but makes up for that in pure athletic ability. The problem with that is how it will translate into the NFL game. We have seen running QB's in the past come into the league and make a difference most recently, Lamar Jackson. Eventually, the league figures them out, and if they don't adjust, they phase out faster than usual.
For shorter QB's especially, they need to find ways to adjust to throwing over the top of bigger lines in front of them. Yes, they do that in college, but every playbook in college is designed around the QB's strengths, so Hurts was more of a shotgun QB who could roll out plenty of times. The speed of the NFL is also an entirely different animal as a player needs to make reads and adjustments that much quicker.
While Hurts has the potential to check these boxes, he is not a first-round talent, hence why Miller listed him as a day two draft selection. Funny thing is this isn't the first time Hurts' name has come up in draft talks with the Bears. He is certainly someone to keep an eye during the Mid-rounds of day two when Chicago is on the clock.